I'm not really a winter person. I like climbing more than anything. Cold, sunny days in the desert, fingers and toes frozen on the rock are my preferred winter thing. I can't, however, turn down a good backpacking trip. With a sunny weather window this past weekend, it was the perfect opportunity to go backpacking in Mariposa Grove.
When can you snow camp in Mariposa Grove?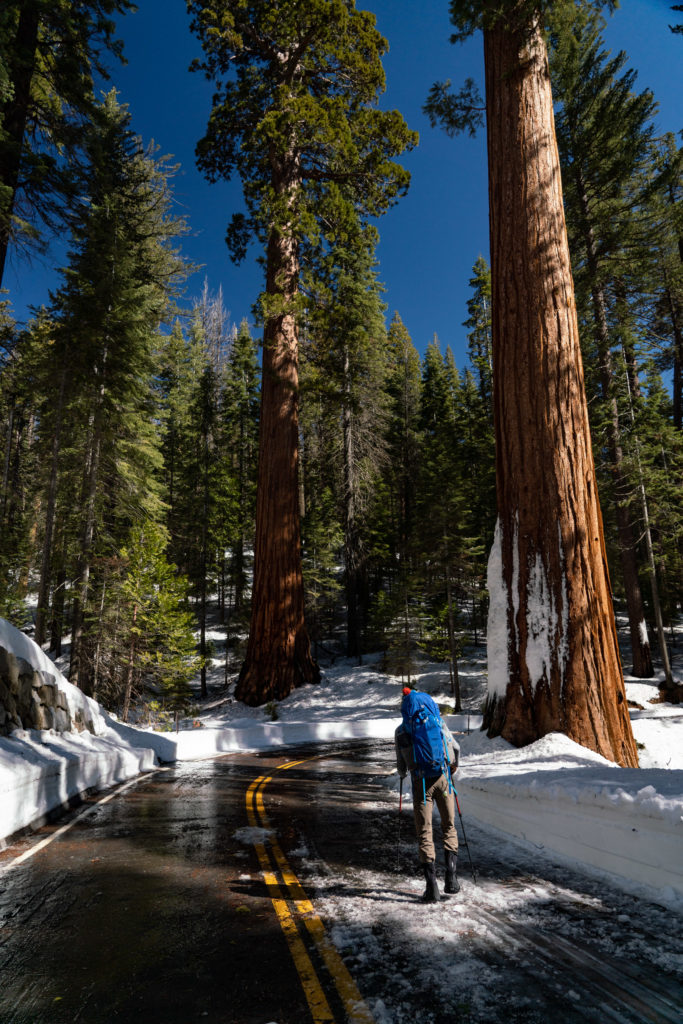 In spring, summer and fall, Yosemite National Park operates a free shuttle between the Mariposa Grove Welcome Center and the actual Mariposa Grove where the trees are.
In the winter, however, the road into Mariposa Grove is closed. The road generally closes around November 30, or earlier, depending on snow. When the road is closed, visitors can hike in and camp anywhere above the Clothespin Tree.
Getting to and from Mariposa Grove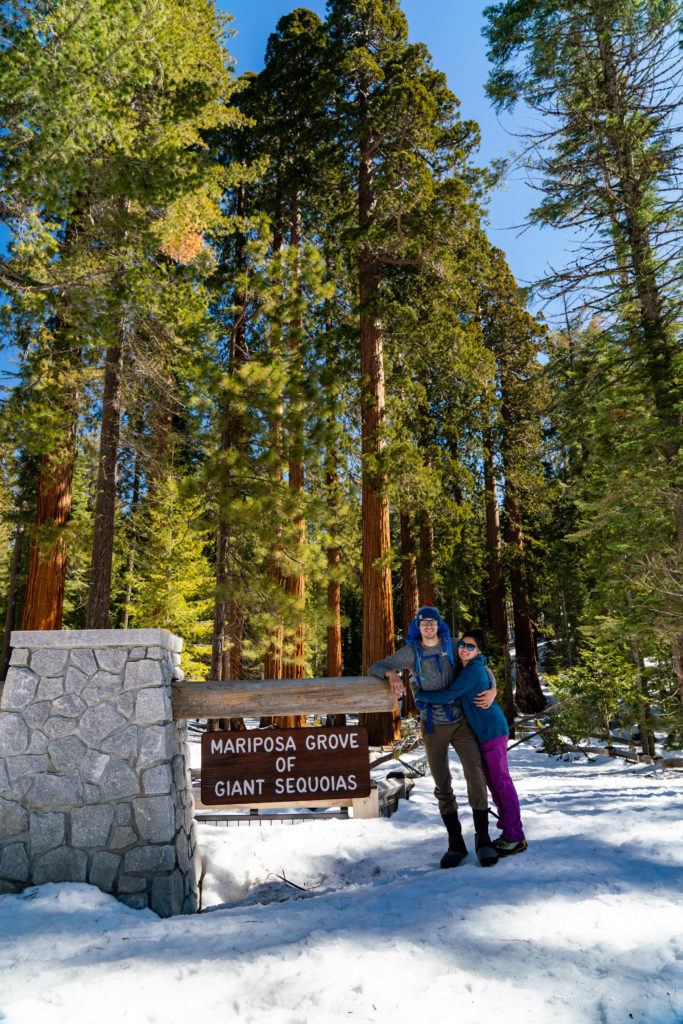 There are two ways to get to Mariposa Grove: the road from the parking lot or a trail. Each will be approximately 2 miles. On our trip in, we decided to walk along the road. In mid-March 2019, the road was free of snow, wide, and well graded. The Park Service was doing some work to clear the road as we were going up it. However, early in the morning, there were still a few patches of black ice.
We finished our backpacking trip on the trail that skirts Mariposa Grove Road. It was still quite snowy and slick in some spots, making us glad that we took the easy way in.
Hiking for the best campsite in Mariposa Grove
We started at the Mariposa Grove Arrival Center. The Arrival Center has pit toilets available for use in the winter.
From there, we decided to wander around the popular boardwalk area to the Grizzly Giant. At the Grizzly Giant, we took the Mariposa Grove Road to the Faithful Couple and then the Clothespin Tree, about 1 mile.
The Clothespin Tree marks where winter hikers are allowed to camp. This is also where most day hikers turn around and head back to their cars.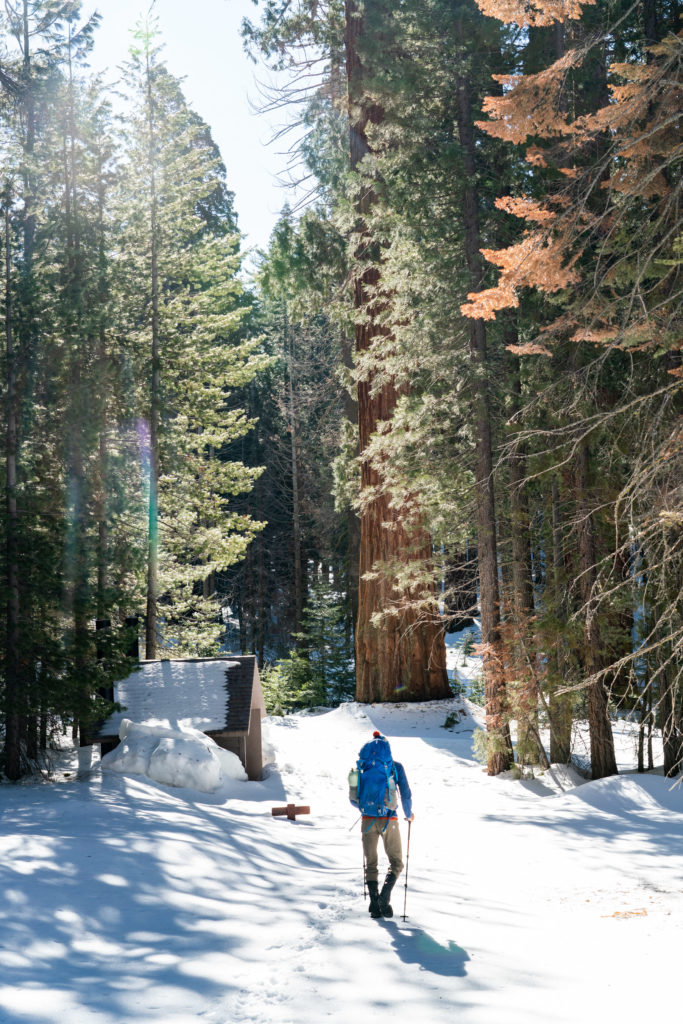 We followed the well marked Mariposa Grove Road up to the Mariposa Tree for 0.5 miles. A pit toilet was available shortly after. We spotted a good campsite in a small group of trees beyond the pit toilet. However, we wanted to check out other available campsites before making our decision.
We decided to continue on to Wawona Point to see if it was worth camping up near there. (Hint: it wasn't.) From the Mariposa Tree, we continued hiking for .3 miles until the Galen Clark Tree. As we kept hiking up, the giant sequoias began thinning out, not a good sign for us. We wanted to sleep beneath the sequoias.
We dropped our packs by the Galen Clark Tree to hike up to Wawona Point. Wawona Point was very much snowed under. The point opened up into views of Wawona. Wawona Point was unfortunately underwhelming. Camping up there would have been neat, but it wasn't the site we wanted. We turned around and headed back to our packs.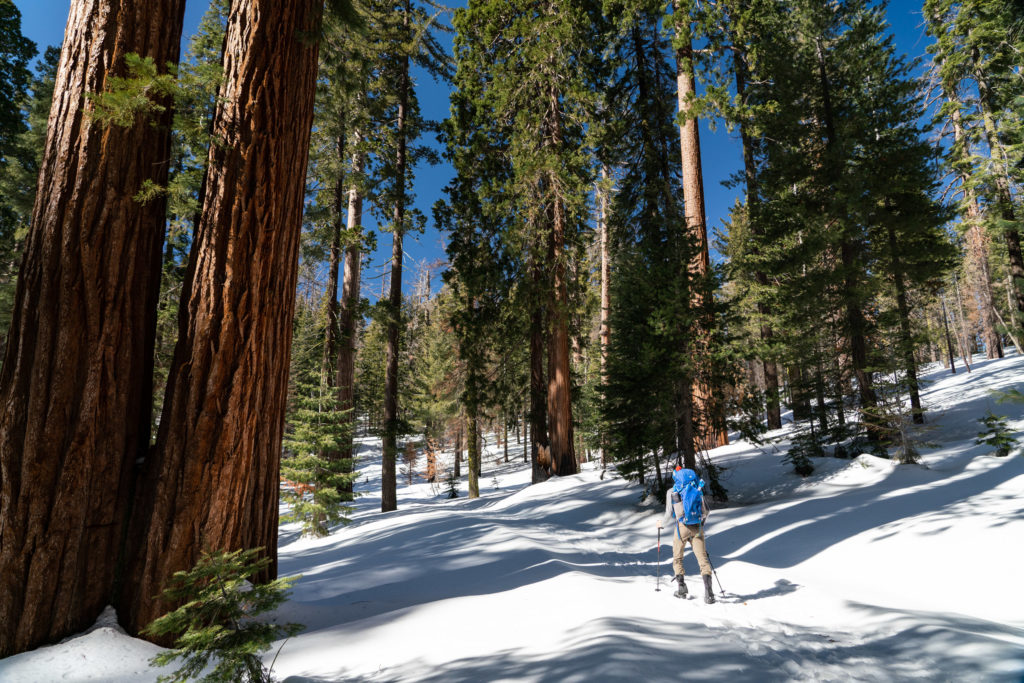 We ended up retracing our steps back down the Mariposa Grove Trail to the Mariposa Tree. This spot caught our eye on the way in and it was still empty. We hiked into the group of trees to set up camp.
I was also super excited to stay here because it was so close to the pit toilet! The pit toilet was partially snowed in. I dug out the door enough for me to slide in. My digestive system is very regular in the morning. I was happy to not carry out a bag of my poop.
Getting back to Mariposa Grove Welcome Center
In the morning, we woke up and broke down camp. We retraced our steps down the Mariposa Grove Trail to the Clothespin Tree and Faithful Couple. From the Faithful Couple, instead of walking back through the lower grove, we skipped the tourist-y spots and jumped on the Perimeter Trail.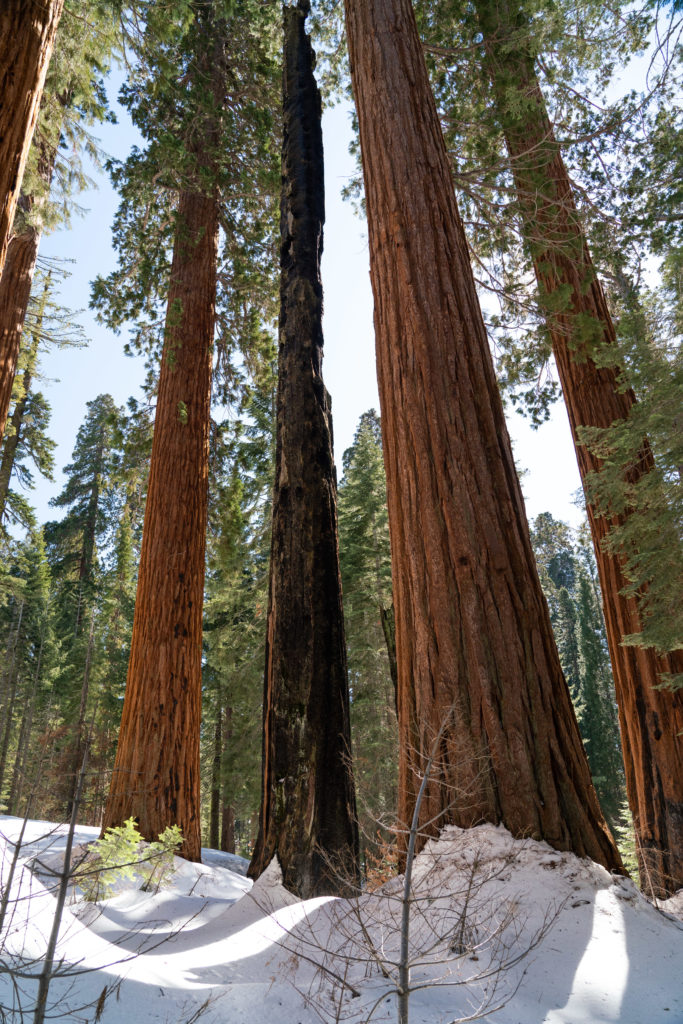 The Perimeter Trail shaved about a mile off our descent to the Arrival Area. Back at the Arrival Area, there were quite a few people making their way up into the grove. It was quite the shock because we'd seen so few people the night before. There were maybe only 2 other parties camping in the upper Mariposa Grove, which was absolutely magical.
From the Arrival Area, we took the Washburn Trail (about 2 miles) down to our car, concluding our trip.
How to get a camping permit for Mariposa Grove
Free walk in permits are available in Wawona at the Wawona Visitor Center at Hill's Studio, about a 10-minute drive from the Mariposa Grove Welcome Center. It's a small, unassuming structure. We parked in the back and walked around the front. The permit-issue station is right on the porch. You'll need to bring your own pen.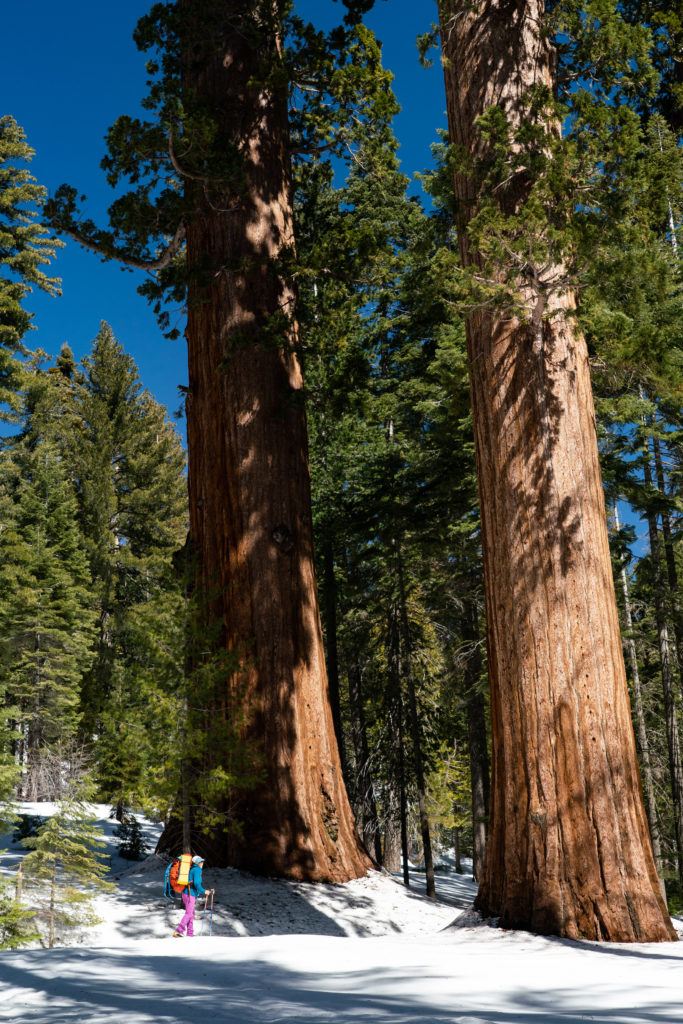 The permit didn't have Mariposa Grove on it, most likely because camping is only available in the winter. Nonetheless, Mariposa Grove is a Wawona trailhead.
Gear for snow camping Mariposa Grove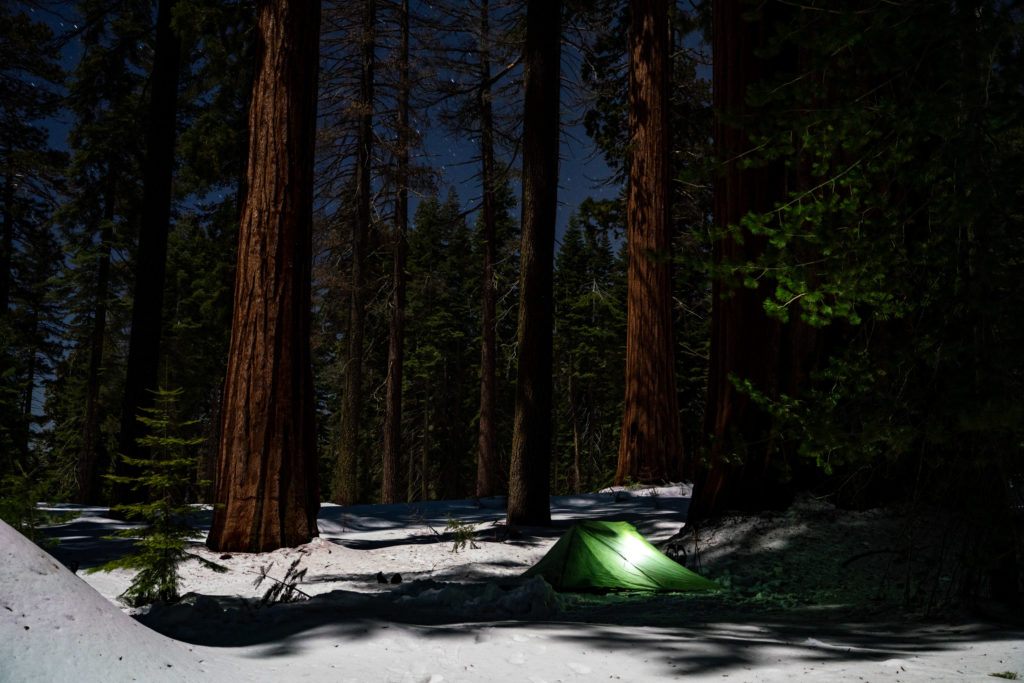 Shared gear: MSR Reactor Stove, Backcountry Shovel, BearVault BV450 Bear Can, Therm-a-Rest Z-Lite Sol Pad, TarpTent Scarp 2
The MSR Reactor was a lifesaver! We normally backpack with the Snow Peak Litemax but it's pretty finicky in the cold and it takes forever to boil. We had hot meals and hot tea ready in minutes.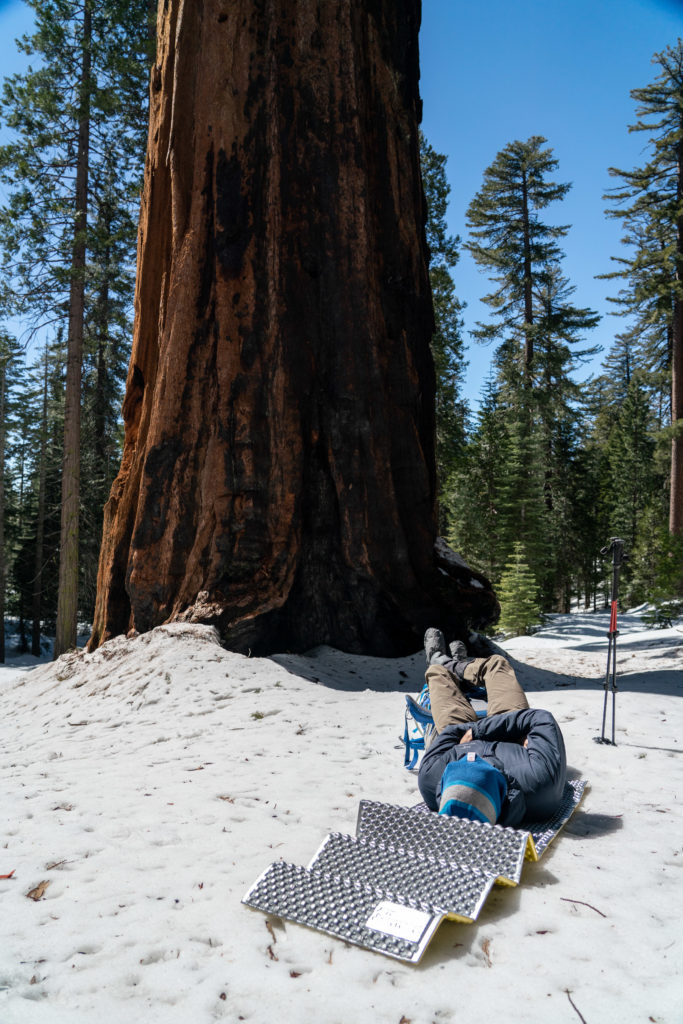 His gear: Mountain Hardwear Ozonic 50 Outdry Pack, Cabiniste Down Booties, Therm-a-Rest NeoAir X-Lite Sleeping Pad, Therm-a-Rest 20 degree sleeping bag, Arc'teryx Atom AR Jacket, Outdoor Research Ascendant Hoody
Josh forgot his hiking boots, so he hiked in down booties the whole way. His feet were a little wet.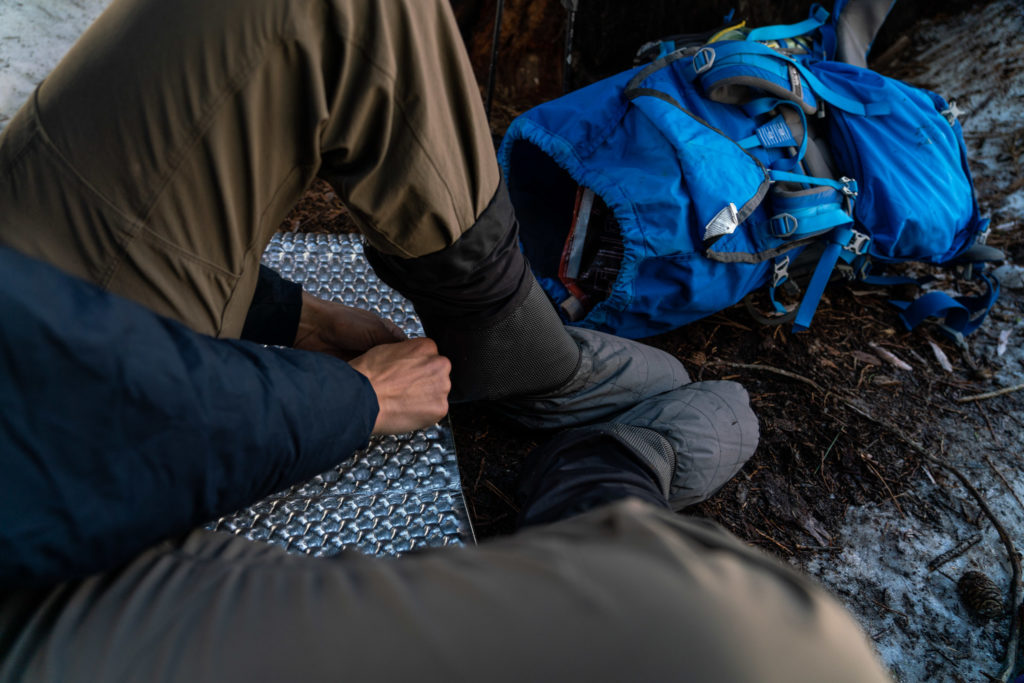 Her gear: Arc'teryx Kea 45 Pack, Sierra Designs 20 degree bag, Therm-a-Rest NeoAir X-Lite Women's sleeping pad, Western Mountaineering Down Booties, Arc'teryx Firebee Parka, Arc'teryx Atom LT Jacket, Outdoor Research Longhouse Gloves, Ridge Merino Leggings, La Sportiva Nepal Evo GTX Mountaineering Boots,
Snow camping Mariposa Grove might be one of my favorite backpacking trips yet. There's something so magical about seeing the giant sequoias with all the snow. Being able to camp right beneath them is an absolute delight. We got a perfect weather window for this backpacking trip. It was not too hot and not too cold.
The whole trip ended up being approximately 12 miles round trip, including walking on the road. Now that we've done it once, we know where to go and what to skip. I'm excited to shave off some miles and time to relax under the big trees. I'll be crossing my fingers for repeats of this backpacking trip for winters to come.
For other hikes in Yosemite National Park like Mariposa Grove, visit Tuolumne Grove and Merced Grove.
Last updated on March 19, 2019.