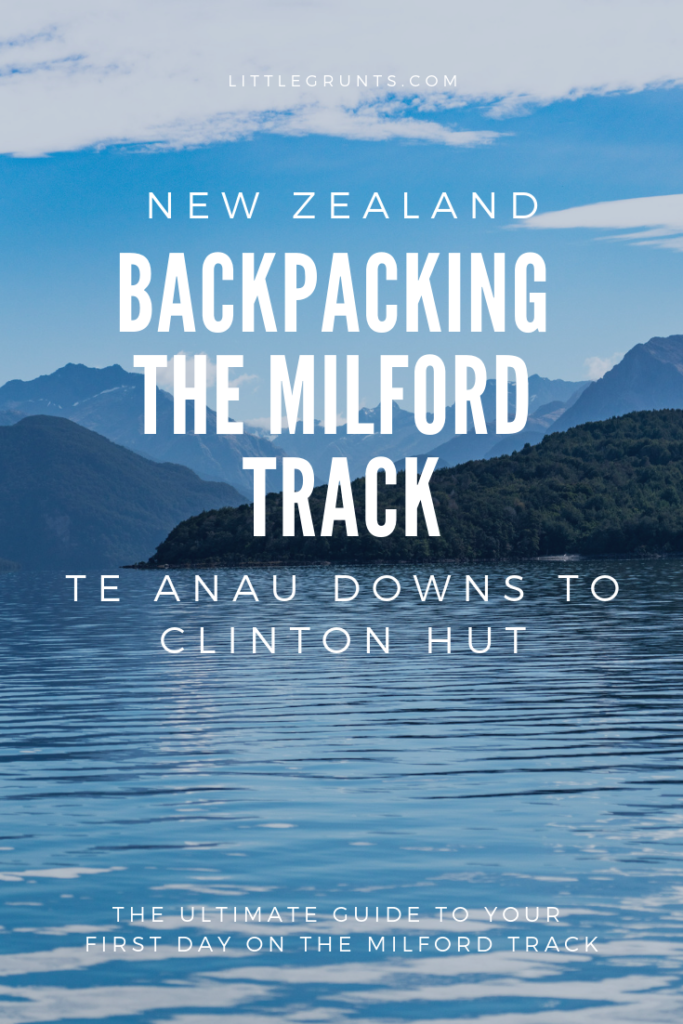 Ever since I did the Routeburn Track back in 2015, the Milford Track was very high on my list. Last year, I was lucky enough to score permits for this once in a life time backpacking trip. The Milford Track is a highly regulated Great Walk in New Zealand. Unlike other popular tracks, this one follows a strict schedule. Because of this, every hiker spends four days and thee nights on the trail. Read on to learn more about our first day from Te Anau Downs to Clinton Hut.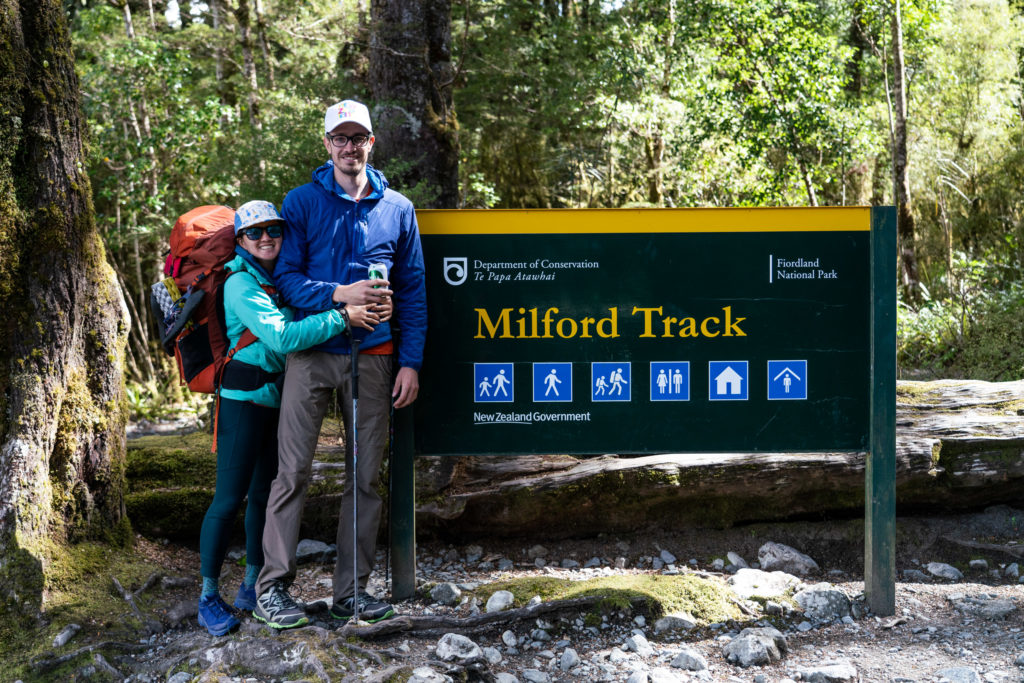 Day one on the Milford Track is ultra mellow. This whole section is 5km or 3.1 miles with very little elevation gain, about 110 ft. You spend more time getting to the official start of the trail than you do hiking.
The hardest part of this day is avoiding the sandflies. Don't forget your bug spray!
How to get to Te Anau Downs & Glade Wharf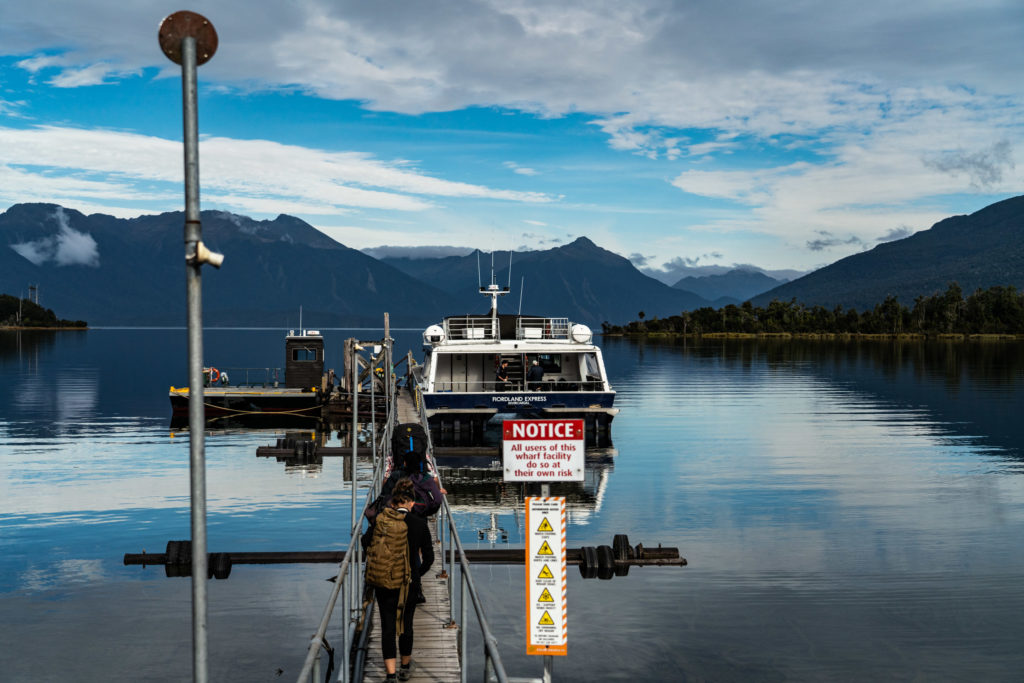 Te Anau Downs is where you hop on a boat contracted with New Zealand's Department of Conservation to get to Glade Wharf.
To get to Te Anau Downs, we took a Tracknet bus. Departing Queenstown at 6:55am, we arrived in Te Anau around 9:30am, with a brief stop in Mossburn for coffee and a bathroom break.
In Te Anau, we had a fifteen minute break to swap buses and pick up our permits for the Great Walk at the Fiordland Visitor Centre. The bus stops right in front of the Visitor Centre. We hopped back on the bus at 9:45am to go to Te Anau Downs.
If you're planning on driving yourself, there's plenty of parking.
Note: you do not need to catch the earliest bus out of Queenstown to get to Glade Wharf. This hour and 20 minute boat ride operates several times throughout the day. The first day of hiking is very mellow and short, so you do not need to rush to get there.
How to get to the Clinton Hut
You'll need to book your ticket to Glade Wharf on the Department of Conservation website. This ticket is only bookable if you have a Milford Track reservation.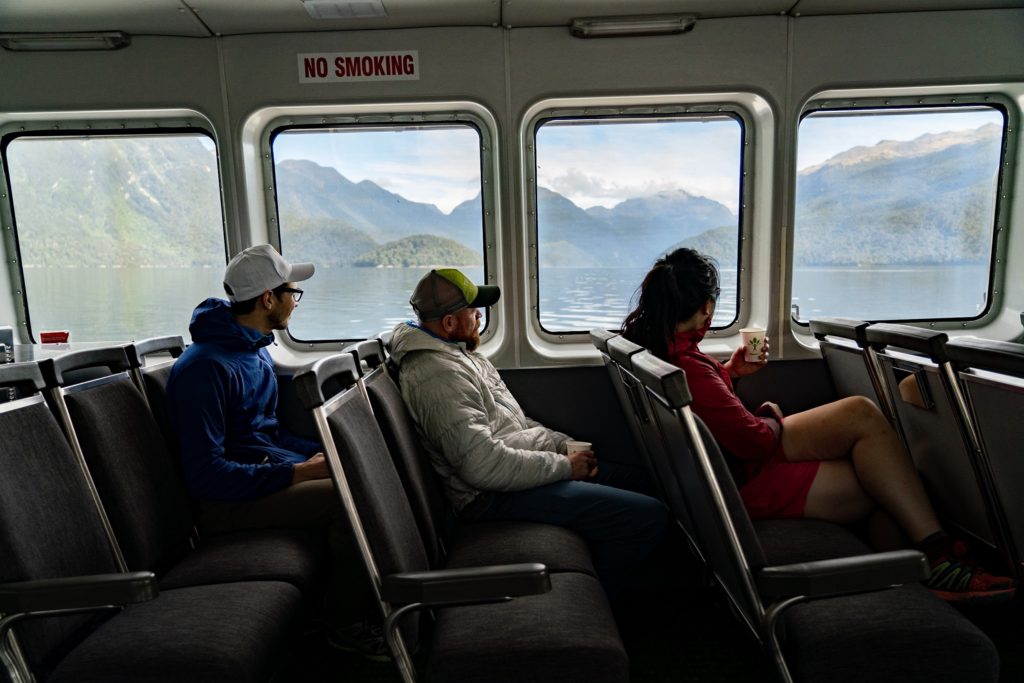 Cruising across Lake Te Anau is quite enjoyable. On a clear day, the views of the mountains in Fiordland are stunning. Free hot beverages are available on board. Throughout the hour and 20 minute cruise, the boat pauses near significant landmarks to share Maori and colonizer history.
The trail starts after at boat ride across Lake Te Anau to Glade Wharf. The first hut you come across is the Glade House.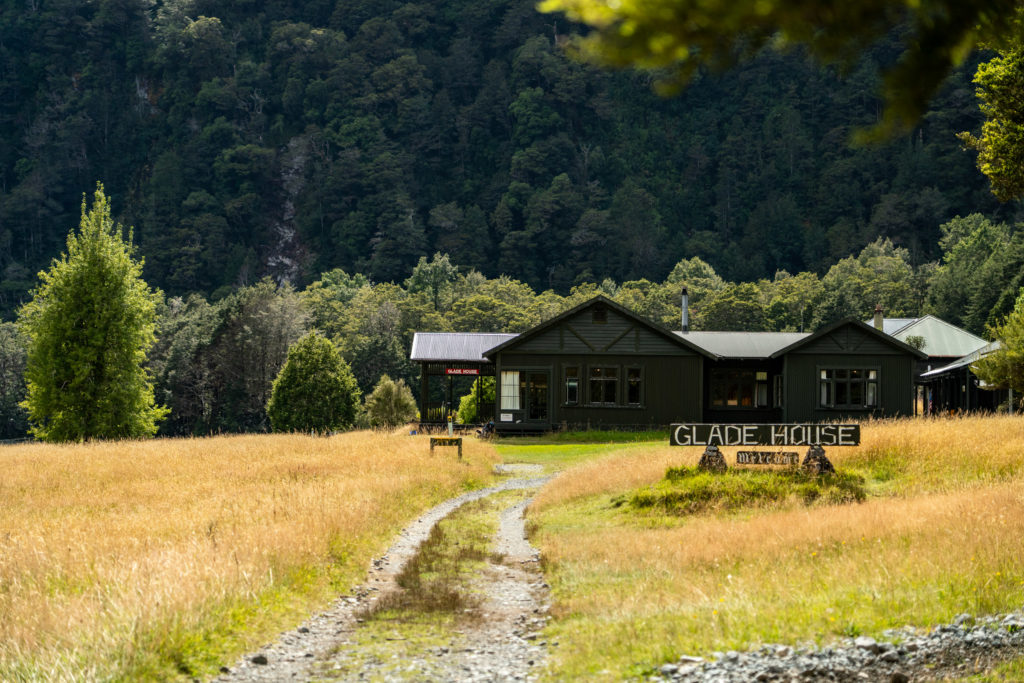 Glade House is the hut that guided walkers stay in. Independent hikers are not welcome here (despite the welcome sign), so keep your stay short.
After passing the Glade House on your right, you'll come across a bridge. Cross the bridge over the Clinton River. Don't forget to marvel over how dang clear the water is.
Follow the trail. It follows the Clinton River on your right. The path is well signed and marked. You can't miss it.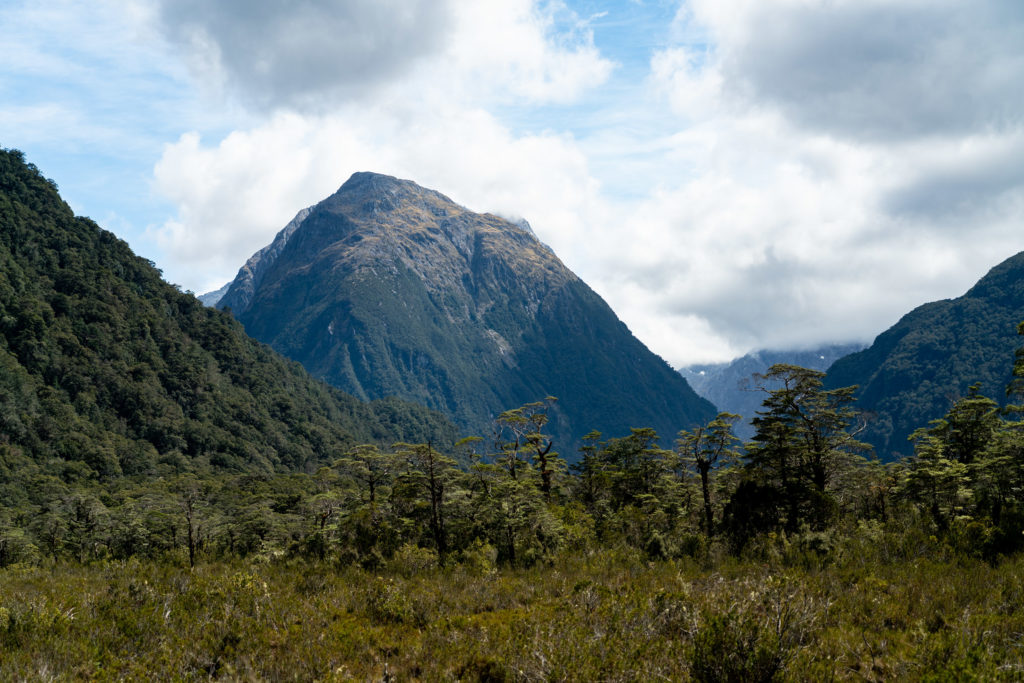 Right before you reach the Clinton Hut, you'll see a sign for a small detour. This detour takes you to a marsh area. This area opens up to the first grand views you'll see on this trip. Look down to see tiny red carnivorous plants called sundews.
What's the Clinton Hut like?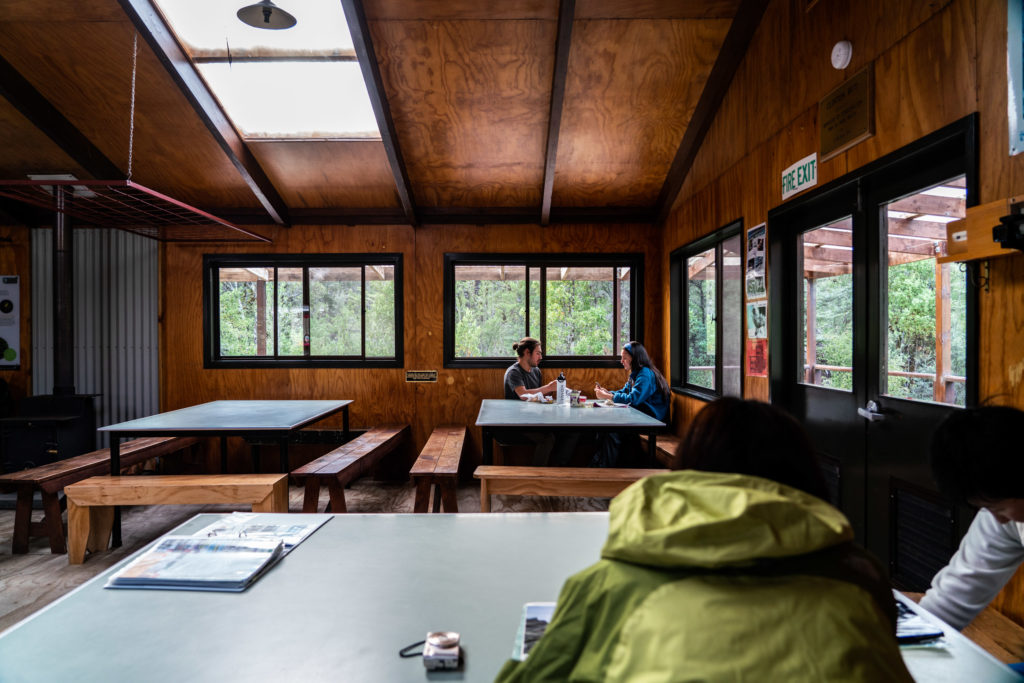 The Clinton Hut has two bunk rooms separate from the kitchen and common area. The bathrooms are several hundred feet away from the bunk and kitchen.
Stoves are provided. You need to bring your own cooking utensils, including pot. (This GSI Outdoors 1.8 L pot is perfect for boiling hot water for tea, coffee and backpacker meals.)
What to do at the Clinton Hut

Play lots of card games.
Go for a swim. It's cold, and so refreshing!
Check out the glow worms. There's a small glow worm grotto located about 5 minutes up the trail from the hut. You'll see some well worn paths on your left leading to some overhanging walls. It needs to be quite dark in this little alcove in order for you to see the worms.
Eat all the snacks.
Read. (I've really been digging Where the Crawdads Sing by Delia Owens.)
What's after Clinton Hut?
On our next day, we travel from Clinton Hut to Mintaro Hut. After Mintaro Hut, we climb up to Mackinnon Pass and down to Dumpling Hut. From Dumpling Hut, we hike all the way out to Milford Sound.
Check back soon for all the details you need to know for hiking the Milford Track.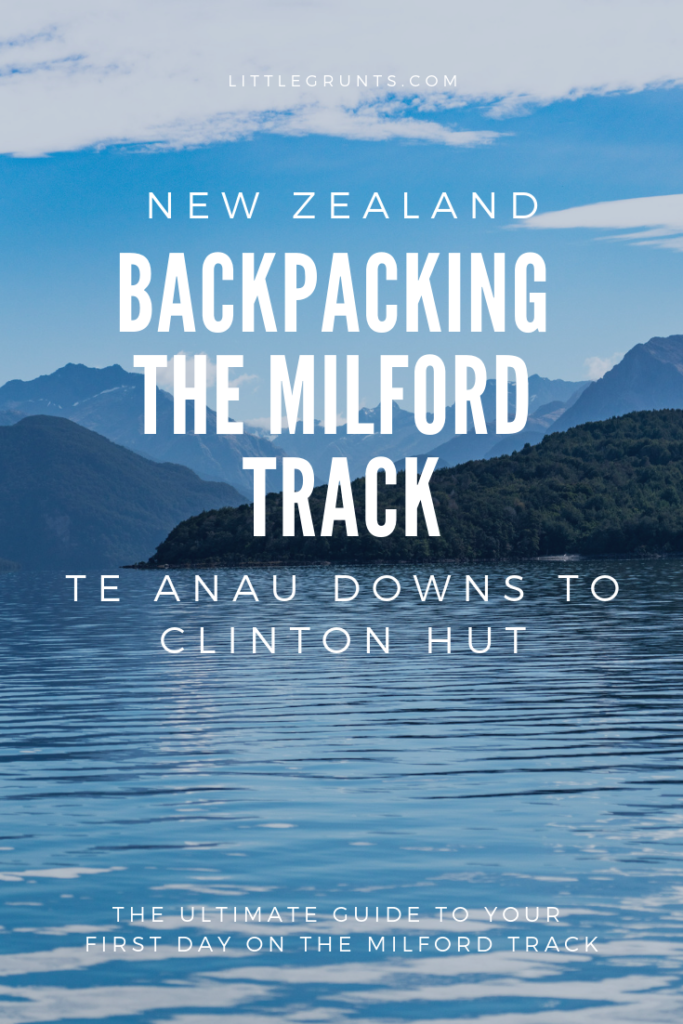 Last updated on March 26, 2019.