This winter season, I decided that I wanted to get into splitboarding. The only problem is splitboarding is not an accessible sport. You can't just go out and do it (especially this year, where the snowpack is all wonky in the Sierra!). There's so much more knowledge, gear, and skill involved. I also don't have many local friends who do backcountry snowsports, much less splitboarding. To safely learn the sport, I decided to take Alpenglow Expeditions' Women's Backcountry 1.0 and 2.0 course.
Who is the Alpenglow Expeditions Women's Backcountry 1.0 and 2.0 course for?
This class is for anyone who wants to learn how to backcountry ski or splitboard! One of the instructors rides a splitboard, so you'll be in good hands. This is an introductory course. You don't need to know anything about splitboarding (or backcountry skiing) to take it. Alpenglow Expeditions has all equipment for rentals, including your touring setup and snow safety gear.
Alpenglow Expeditions runs trips with one guide for every six people. The capacity for this trip is 12. My session had 8 folks and 2 guides, which gave us all individual time with our guides if we needed help.
The Alpenglow Expeditions Women's Backcountry 1.0 and 2.0 course will set you back $399.
What ski or ride level do you need?
I was super nervous about going into the class because I was scared about not being able to meet the rider/skier requirements that are listed on the site. I struggle in deep powder and tight trees, and do okay on black runs, but not moguls. Your guides will adjust your terrain according to the level of the whole group. You do not need to be an expert-level or advanced skier.
That being said, you still need to know how to ski or snowboard, and have some experience on ungroomed terrain and going through trees. You should also be in hiking shape because you will be hiking (or skinning) on both days to your destination. Don't forget that if you're coming from sea level, you may have a harder time in the mountains. (Me, I have a hard time in the mountains.)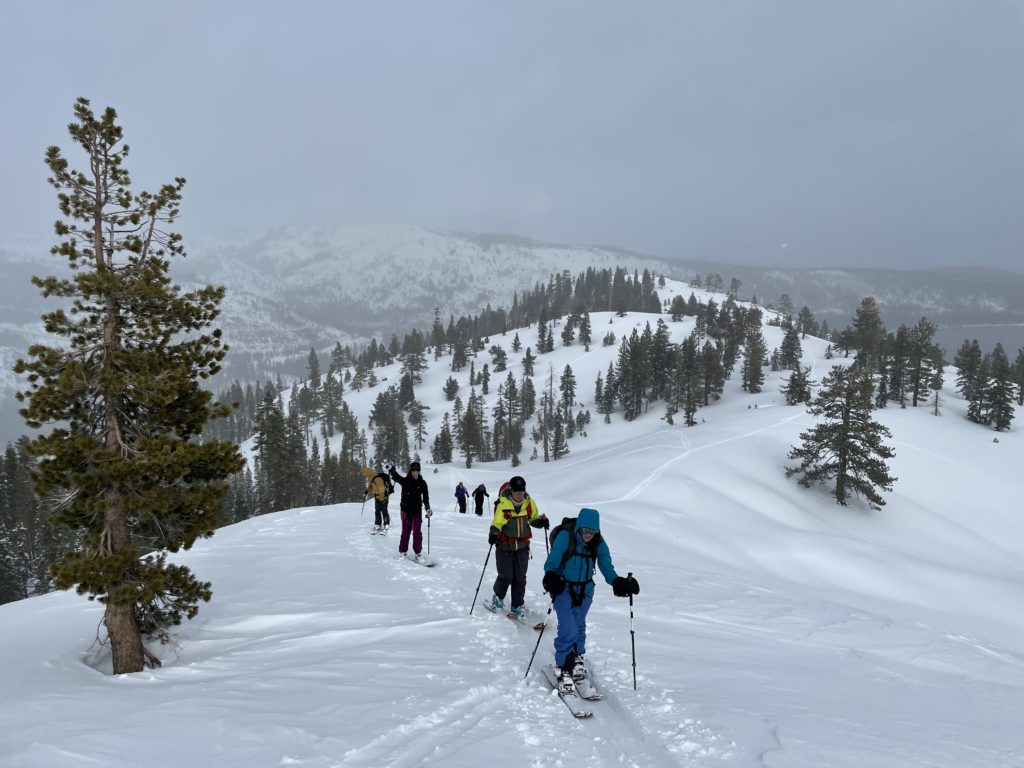 Gear You Need
Hard shell, ski pants, glove liners, gloves or mittens, helmet, sunglasses, goggles, puffy jacket, face covering, snacks, water
Gear Available for Rent from Alpenglow Expeditions
Touring setup
Splitboard (or skis), ski poles, bindings, skins, boots
Snow safety
Backpack, beacon, probe, shovel
Itinerary
Day 1 – Women's Backcountry 1.0
The Alpenglow Expeditions Backcountry 1.0 is an introduction to your gear. On our first day, we spent a good chunk of time outside the Alpenglow offices familiarizing ourselves with our gear. The group ranged from folks on rentals who've never done anything in the backcountry before to people who have a few tours under their belts. We went over how to put on skins and bindings, and how to pack our bags. We also got a brief overview of avalanche safety, and how our beacons worked.
From there, we walked over to some sidecountry at Squaw to get some mileage in. We also learned how to effectively skin and turn while skinning. Our group broke into two groups to practice locating and digging out a buried person. At the end of the day, we were able to get in some turns on the way out.
Day 2 – Women's Backcountry 2.0
For the second day of the Alpenglow Expeditions Women's Backcountry clinic, we headed out into Tahoe National Forest, off of Donner Summit. Our guides emailed us the trailhead the previous night after gathering conditions intel from other guided groups and assessing the skill level of our own little group. On day two, we got in a few miles of skinning, and found some sweet powder stashes for a full value day. We learned how to tips and techniques for traveling across different types of terrain in the backcountry. Since we were in the actual backcountry, our guides were able to show us various examples of avalanche terrain. We even saw an avalanche from afar!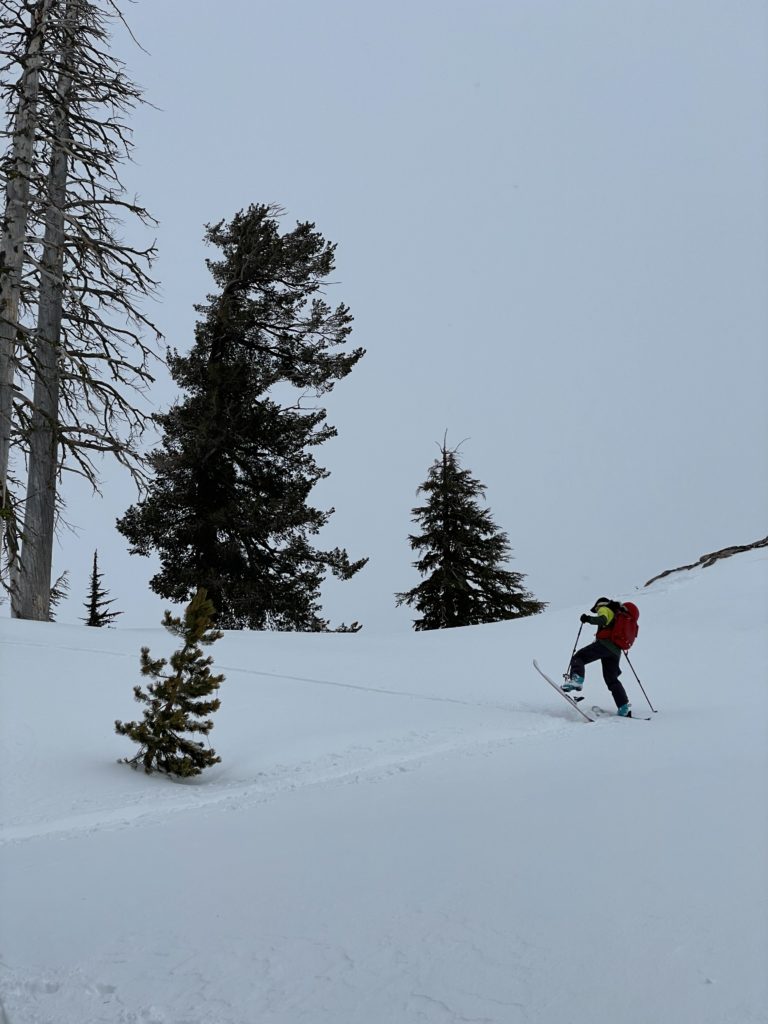 As clients, we were able to have input into what we wanted to see out of this day. The group consensus was more time skinning and transitioning and getting some turns in. However, if we wanted to do more beacon or snow safety practice, that was an option too!
Would I recommend Alpenglow Expeditions Women's Backcountry?
Absolutely! I left feeling incredibly stoked and empowered to get out there. If you do not have any friends who backcountry ski (or if you don't want to learn from friends), and you want to learn with other women in a safe space, this class is for you. The Backcountry 2.0 is also a great refresher course if you've been out of the game for a bit. Our guides were incredibly patient and kind with their instruction. I never felt like I was going to be left behind or forgotten or embarrassed.
The women's clinic was great because every single participant was incredibly supportive. I suck in powder and trees, and I was tumbling around all over the place. Regardless of how slow or buried I was, everyone was constantly cheering me on, or waiting for me. Ladies offered to help fish me out of deep powder or to lend me a pole when I was stuck in flat parts. It was such a great way to learn, and in non-COVID times, to meet new people and potential partners!
I also appreciated Alpenglow Expeditions' group sizes as it felt like I was never overlooked and I was able to ask questions one-on-one.
I'm so grateful to Alpenglow Expeditions for the opportunity to learn new skills in a safe, supportive environment, and to my guides, Tailer and Syd, for making something inaccessible feel a little more attainable. Next up, I'd love to see them offer a women's-specific AIARE.
How to book the Alpenglow Expeditions Women's Backcountry Course
The Alpenglow Expeditions Women's Backcountry 1.0 and 2.0 is booked through Alpenglow Expeditions directly. The course costs $399 per person and does not include food, rentals, or tips for your guides.
For the 2021 season, there are two sessions left in March.
Alpenglow Expeditions comped this course in exchange for an honest review. This post contains affiliate links.
Last updated on March 1, 2021.