This post is a paid partnership with Subaru of America.
I didn't grow up outdoorsy. My parents did not either. I recently had the chance to show my mom around Lake Tahoe. I'm lucky because my mom had to go along with whatever shenanigans I concocted. Most people are not as fortunate (or unfortunate?). After three days of making my mom try things out of her comfort zone, I have all the tips for you to successfully introduce a loved one to the outdoors. If I could do it again, these are the things that I would keep in mind.
Sit down and understand their baseline.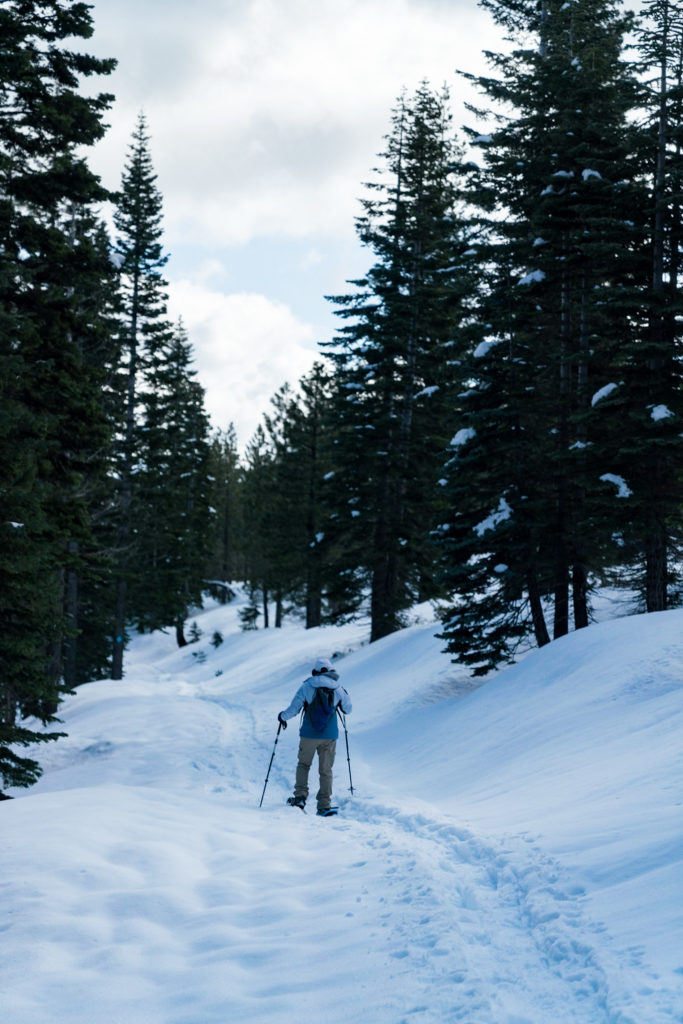 The most important thing to do when introducing someone to the outdoors is to sit down and get a feel of where they are at. What is their fitness level? Do they live at sea level or in the mountains? What are they comfortable with?
From there you can start to put a rough idea of things you can do together. I wouldn't take my mom on a long hike with elevation gain because I know that's not what she is used to doing.
Involve your loved one in planning.
I always find it helpful to give options and have them choose what sounds most interesting. Involving someone makes them feel like you're on a team, not like they are just along for the ride. This way, they know what they are getting themselves into. They sat, looked at all the available options, and made the decision. If you didn't know what someone's comfort zone or fitness level was before, this is another great way to find out!
Be flexible and don't be afraid to deviate from the plan.
You came up with a plan! You can also come up with a few back-up options too. Sometimes things don't pan out, or you're overly ambitious. It's okay to shift gears if something isn't working.
On my snowshoe adventure with my mom, I underestimated the length and elevation gain of the trail. I overestimated my mom's ability at higher elevations and forgot that she's getting older. We didn't make it to our intended destination. We were moving slowly. We were beginning to run out of daylight. My mom didn't feel like snowshoeing anymore.
We had the Subaru Outback full of snacks. The snacks were deemed more important and enjoyable than snowshoeing. With that in mind, we decided to turn around so we could keep enjoying our time instead of being hungry, tired, and frustrated.
Pack lots of snacks.
What keeps people happy? Food! And when people are not hangry, they want to do fun things. Food is something that I always make sure to stock up on well when I'm adventuring, especially with others. I'm very food-motivated, and like daughter, my mom is too.
The Outback was packed with snacks. I loaded a cooler filled with yogurt, cheese, and fresh fruit. I also tucked in chips, tuna, crackers, avocado, candy, multiple kinds of coffee, tea, and you get the idea. It is scientifically proven by me that hunger is one of the leading causes of grumpy people, so having yummy treats to look forward to helps to alleviate any unhappy feelings.
Shoulder the weight.
Keeping your adventure partner comfortable is another incredibly important thing to keep in mind when introducing a loved one to the outdoors! Recognize that this is your world. You'll keep doing this activity, time and time again. If your partner isn't having fun, there's a high chance they'll never come back.
Shouldering the weight might mean doing all the driving or carrying all the heavy things. For me, it was all the above, and pulling her back to the Outback on my splitboard after she no longer wanted to snowshoe.
It helps to feel helpful.
Sure, your loved one might be trying new things, but it doesn't mean they are completely useless. Give them small tasks to help you out, so it feels like they aren't just along for the ride. It might be navigating to the cheapest gas station. It could be getting things in and out of the Outback or the roofbox. Or, my personal favorite, removing the cap off my water bottle so I can stay hydrated while driving. These little things make them feel like they are involved and not fully relying on you the whole time.
Despite a couple mishaps, my trip with my mom worked out in the end. I'm lucky that she's such a great sport. What are tricks that have worked for you to get your loved ones into the outdoors?
Last updated on April 26, 2021.