I bought Opal the Outback back in January of this year. It was a scary decision to fork over so much money, but over time. I also realized she's one of the best decisions that I've ever made. Since then, I also started a new job, one that allows me to be remote most of the time. Over the past few months, I've been slowly perfecting my live-and-work on the road setup. I'm not very handy. I honestly don't really care to learn or acquire all the tools required for actual construction. I wanted to leave my car largely unmodified. So here's my guide to a Subaru Outback build out without actually building anything out.
The Sleep System
Exped Megamat Duo
The most important piece of a Subaru Outback build out is your sleep system. I mean, nobody wants to not sleep and be tired and cranky all the time. The Exped Megamat Duo (Regular) fits perfectly in the back of the Outback when the seats are folded down. It inflates on its own, or you can pump it up by hand with the included pump in three minutes. If you're drunk and you forget to pump up the pad (or if you forget the pump), it's still pretty comfy. The seats don't quite lay flat in the Outback, so you're at a bit of a slant. This helps eliminate that a bit. Placing a few items (shoes, books, reflectors) underneath your feet also helps to level it out.
At $369, it's a hefty chunk of change to shell out, but after a few nights of sleeping on this cloud, you'll be glad you bit the bullet.
Buy the Exped Megamat Duo through REI for $369. Don't forget that members get 20% off any one full-priced item from REI!
Sierra Designs Frontcountry 35 Duo
I'm a princess. I love double sleeping bags. And I especially love snuggling. This sleeping bag ticks off all those boxes. It's great for if you thrash when you're sleeping solo. It's even better when you have someone to cuddle with. The zipperless design is fantastic for tug-of-war in the middle of the night; you won't get hit in the face with a cold zipper. A foot vent lets you stick your feet out in the middle of the night if it gets too hot.
Buy the Sierra Designs Frontcountry 35 Duo from REI Outlet for $168.73. Don't forget that members get 20% off any one item from the REI Outlet!
Mesh Back Window Covers
These window covers from Amazon fit most cars. They drastically reduce light in the car and keep bugs out when you crack the windows. Open your door, slide them over the window, and you're good to go.
Buy from Amazon for $13.99.
Windshield Sun Shade
A sun shade blocks out sun when your car is parked. It blocks out a good chunk of light when you're sleeping in the back. It doesn't have to be fancy. It just has to work. I have this inexpensive generic, one size fits most sunshade for my windshield. Bonus: it packs up small.
Buy through Amazon for $12.90.
Storage
Yakima Skybox 16 Carbonite
My favorite Subaru Outback build out hack is the roof box. For increasing your living space and the amount of things you have to shuffle around for bedtime, get yourself the Yakima Skybox 16. It fits a small crash pad (like the Organic Simple Pad) and whatever knickknacks you have rolling around that don't need to be in the back of the Outback. My only gripe is that sometimes it pops off its hinge, but it's a minor inconvenience for all the inconvenience the Skybox provides.
Buy the Yakima Skybox 16 Carbonite through REI for $559.
Lighting & Power
Jackery Explorer 240
Sometimes you just need a little extra juice, or sometimes you're working on the road. The Jackery Explorer 240 provides all that and more. It has pass-through charging capabilities. You can also charge it while you drive.
Buy through Amazon for $250. Not convinced? Read my full review of the Jackery Explorer 240.
MPOWERD Luci String Lights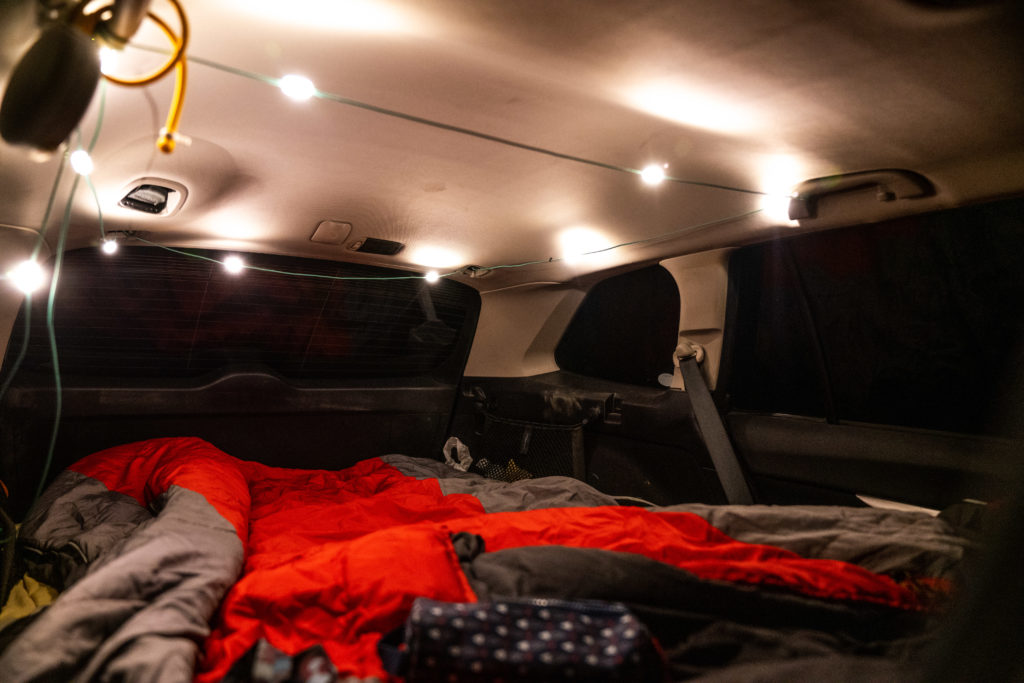 Is it really a Subaru Outback build out if you don't have twinkle lights? (Alternately, are you really doing #vanlife properly?) The MPOWERD Luci String Lights provide the sparkle. It's a bit of a pain to thread it through all the little things in your ceiling. Even on the lowest setting, it provides a ton of light. You can recharge it via USB while you are driving, or plug it into a battery pack for hours of fun. 
Buy the MPOWERD Luci String Lights for $39.95. Want something with a little less dazzle? The MPOWERD Luci Inflatable Pro Light does the trick for $35.95.
MPOWERD Luci Core
I've also been loving the Luci Core light for strictly just needing light without any pizazz or razzle dazzle. It's been so handy for reading in the car, getting ready for bed, and sometimes even evening sessions at the boulders. It's also easier to set up than the string lights, since I just loop it through the oh sh*t handles of the car, instead of stringing it through every little hook.
At $17.95, it's a much more affordable pick than the string lights. Both of them live in my car. Buy directly through MPOWERD.
Cook System
Ozark Trail 6-Gallon Water Jug
Every Subaru Outback build out needs some way of keeping you hydrated. The Ozark Trail Water 6-Gallon Water Jug slides perfectly behind the passenger seat, even when it's pushed all the way back. And there's still room for you to tuck items around it, like tripods, reusable bags, and more.
Buy through Amazon for $21.60. Also available at Walmart.
Otterbox Venture 25 Cooler
The Otterbox Venture 25 Cooler is the perfect size for a weekend-ish getaway. It keeps your food cold–provided you properly cool your cooler and store your food. It also doubles as an awesome table, leg rest, or chair.
Buy the Otterbox Venture 25 Cooler for $299.99. If this is still too bulky, try the Otterbox Trooper Cooler 20 for $249.99, though you lose all table and chair capabilities.
Primus Tupike Stove
The most essential part of being on the road is food. What better than a stove that is functional and aesthetic? The Primus Tupike Stove has two burners, a windscreen, and a piezo igniter. It runs off propane or canister fuel (adapter included).
Buy the Primus Tupike Stove for $249.95. Read my full review of the stove, if you're not convinced.
Am I missing anything in this Subaru Outback build out? What would you change? I'm always tweaking my setup; I'd love to hear your thoughts.
Last updated on December 29, 2020.