Bouldering outdoors is just about the laziest type of climbing you can do. Boulderers wake up late and get to the crag after 9am. We measure approaches by how close they are to the car. We don't like walking more than 15 minutes. Most of our time is spent laying on giant mattresses. I already put together a post on bouldering outdoor essentials. Now, it's time for bouldering non-essentials. This is a list of stuff you really don't need for bouldering, but they are so awesome, you'll be glad you have them.
Therm-A-Rest Honcho Poncho
If we're being honest, the Therm-A-Rest Honcho Poncho is super extra. But that is exactly what makes it awesome! Is it a blanket, or a poncho? Be the talk of the town in this ultra-fabulous piece of gear. You'll be guaranteed to make friends. And friends, my friend, are people who spot you on your project. The poncho tucks into your crash pad for bouldering outdoors.
Buy through Moosejaw for $100 or Amazon for $115.
Not convinced? Read my full Therm-A-Rest Honcho Poncho review.
To-Go Ware Travel Utensils
The To-Go Ware Travel Utensils may seem like a joke. They're just utensils! I threw the set into my pack one day for lunch. Now they live there. Say goodbye to greasy fingers and holds. The chopsticks come in clutch for picking up salami, chips and other miscellaneous snacks. They're seriously the best.
These are $11.99 for a single pack, $23 for a double.
Zippo Heat Bank 9S
It's kind of hard to climb when you can't even feel your fingers. Instead of using disposable hand warmers (which are $30 for 40 pairs and don't work half the time anyway), try the Zippo Heat Bank. This heat bank has several different heat settings and is rechargeable.
Buy from REI or Amazon for $39.95.
Full review coming soon.
Rawlogy Cork Balls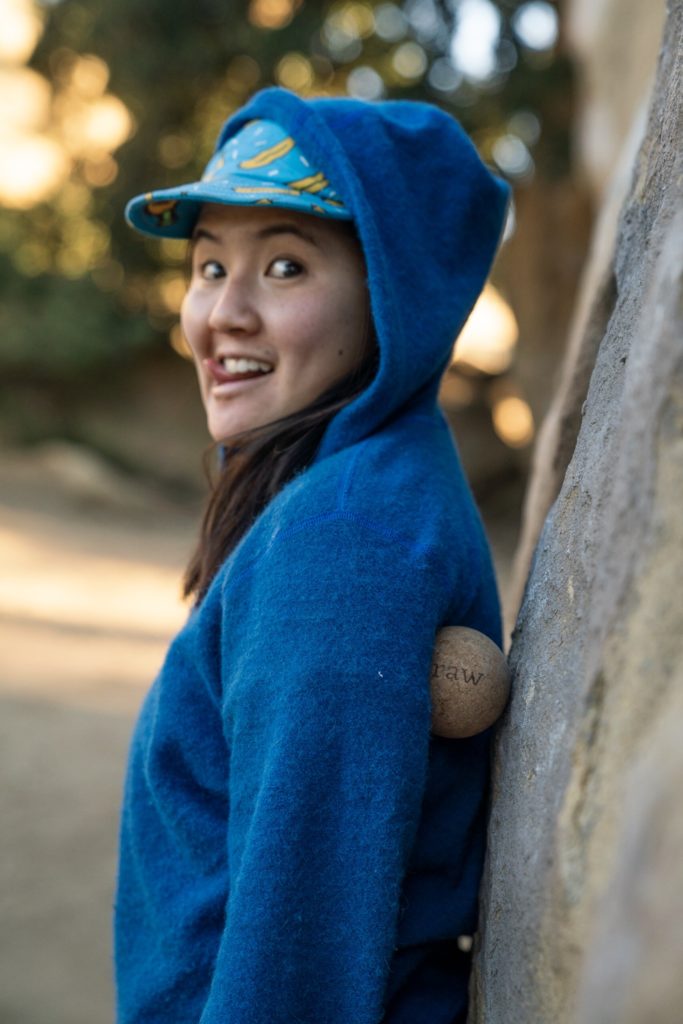 You can climb in the gym for days but outdoor bouldering wrecks your body. Loosen up your tight and aching muscles with the Rawlogy sustainable cork balls. They come in three different sizes for targeting problematic areas.
Buy the 2.5" ball from Amazon for $13.
Down booties
Treat yourself to some down booties. Your feet will thank you when you pull off your freezing shoes. You might be thinking… down booties? Probably so expensive! Cabiniste makes affordable booties with responsibly sourced down. They're durable and packable, too. My friend forgot his hiking boots on a backpacking trip and wore these the entire weekend.
Buy through REI for $55.
Fleece pants
We always bundle up our upper halves, but we leave our lower halves largely neglected. Get some fleece pants to keep your legs warm. You can toss them over leggings or your pants, then rip em off when you start climbing. Ultimate comfort leads to ultimate sending, right?
Buy the REI Teton Fleece Pants for $59.50. If you're a more petite person, the kids' version in L or XL may also fit. They are also more affordable at $34.95.
This post contains affiliate links.
Last updated on November 22, 2019.