I love merino wool, so much that I once put it in my Tinder profile. I'm constantly on the hunt for new merino wool that I can put to the test. Mammoth Lakes-based Ridge Merino entered the market a few years ago, and I got my hands on the Ridge Merino Solstice Hoody to test out. Here's how it fared.
Ridge Merino Solstice Hoody Details
Fabric
(m)Force™ Merino – 87% Merino Wool, 13% Nylon
Fit
Relaxed
Sun-protection
UPF-30+
Thumbholes
Yes
Helmet-compatible?
Yes
Weight
7.4 oz (women's S)
8.9 oz (men's M)
Sizes
women – XS-XL
men – S-XXL
Uses
hiking, backpacking, climbing
Price
$79.95, available through Ridge Merino
The Ridge Merino Solstice Hoody is a lightweight layer designed for long days in the sun. I put it to the test on several backpacking trips over the summer, including Mineral King, Lake Aloha, the Pyramid to Price Traverse, and the Sierra High Route. Merino wool is the only thing I wear these days. It's a natural, anti-odor, anti-microbial fiber. You can go days in merino without being horrendously stinky. It keeps you warm when wet. Merino is my jam.
What I Loved
The thumbholes. I'm out here trying to look 15 forever. The more skin I can cover, the better. Plus, I like to think that the thumbholes keep me warm. The Ridge Merino Solstice Hoody has some great thumbholes.
The hood. In line with looking 15 forever, the hood is a godsend for keeping me out of the sun. This is a very roomy hood, roomy enough for Emperor Palpatine-level creepiness. It's helmet-compatible. Because it's so lightweight, you could even fit it under a helmet if you desire.
The lightweightedness. Ridge Merino wasn't kidding when they said this was lightweight. I've spent several hundred miles hiking in the alpine in the summer. It doesn't get too hot, despite the long sleeves.
What's Okay
The drawstrings. While the Ridge Merino Solstice Hoody hood is one of the best parts about this top, the drawstrings are not my favorite. They are hard to cinch or tie down tightly and always come undone. It wouldn't be a huge problem, but this hood is so roomy that sometimes I feel like I'm drowning in it. Being able to reliably cinch the hood down when it's freakishly windy outside is helpful too.
The stains. I'm not sure what it is about this fabric but it holds onto stains like no other. The cuffs and thumbholes of my top are permanently brown, no matter how many times this goes through the laundry.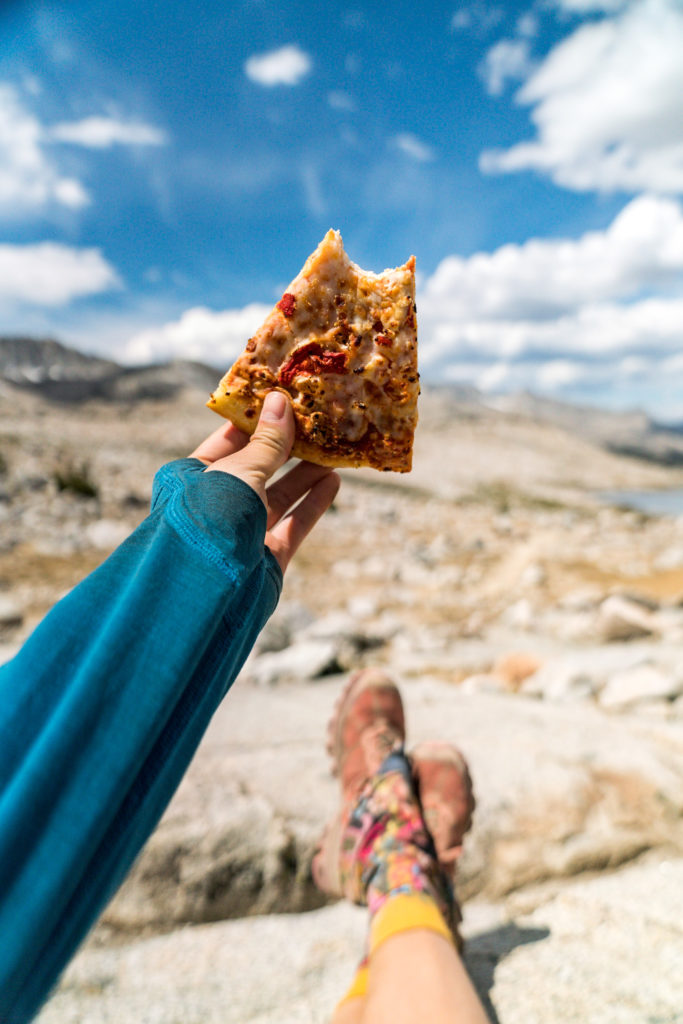 The Cons
The colors. When I got my hoody, there were only three colors available: blue (pictured here), black, and grey, for men and women. For 2021, there are new colors! Women get red, while men get highlighter yellow. I'd love more colors because I like obnoxious things and for people to see me in case I fall off a cliff.
Ridge Merino Solstice Hoody Sizing
For women, this comes in XS through XL. I'm typically an XS in most brands, but I sized up the Ridge Merino Solstice Hoody to a S. I wanted a roomier fit because I feel very uncomfortable in skin-tight shirts. I'm also incredibly vain and wanted to disguise the inevitable hip-belt-belly squish by being able to artfully arrange my shirt. Sizing up also helps if you are prone to accidentally tossing your wool into the dryer.
The Verdict
Would I buy this again? Absolutely. The Ridge Merino Solstice Hoody is a staple in my summer backpacking quiver. In fact, it is the shirt that I reach for first for any adventure. I don't have anything in my closet quite like it, and because I am a creature of habit, I want approximately six more of these, one for every day of the week.
This was sent to me for review. This post contains affiliate links.
Last updated on May 12, 2021.