Visible from Sacramento on a clear day, the Crystal Range is one of the most stunning ranges in the Lake Tahoe area. Desolation Wilderness from its lakes is great and all, but have you experienced it from above? The Pyramid to Price Traverse is a 3rd/4th class scramble along the Crystal Range. The traverse itself spans 2 miles. Getting out of the traverse is the toughest part. Here's everything you need to know about the Pyramid Peak to Price Traverse.
The Pyramid Peak to Price Traverse is as adventurous as you make it. It travels mostly over 3rd class terrain, but does have one small section of class 4 climbing. Exposure is something controlled entirely by you. If you stick to following the ridge line, you'll get some fun, heart stopping exposure. If you're not feeling too spicy, stay below the ridge line and travel across talus and scree instead.
This version of the Pyramid Peak to Price traverse enters via Rocky Canyon, the shortest and steepest way up Pyramid Peak. It traverses south to north from Pyramid to Agassiz and Price. After Price, this drops to Lake Aloha and follows Pyramid Creek out to Highway 50. The total length of this traverse is approximately 16 miles, but is highly dependent on you not getting lost when off trail.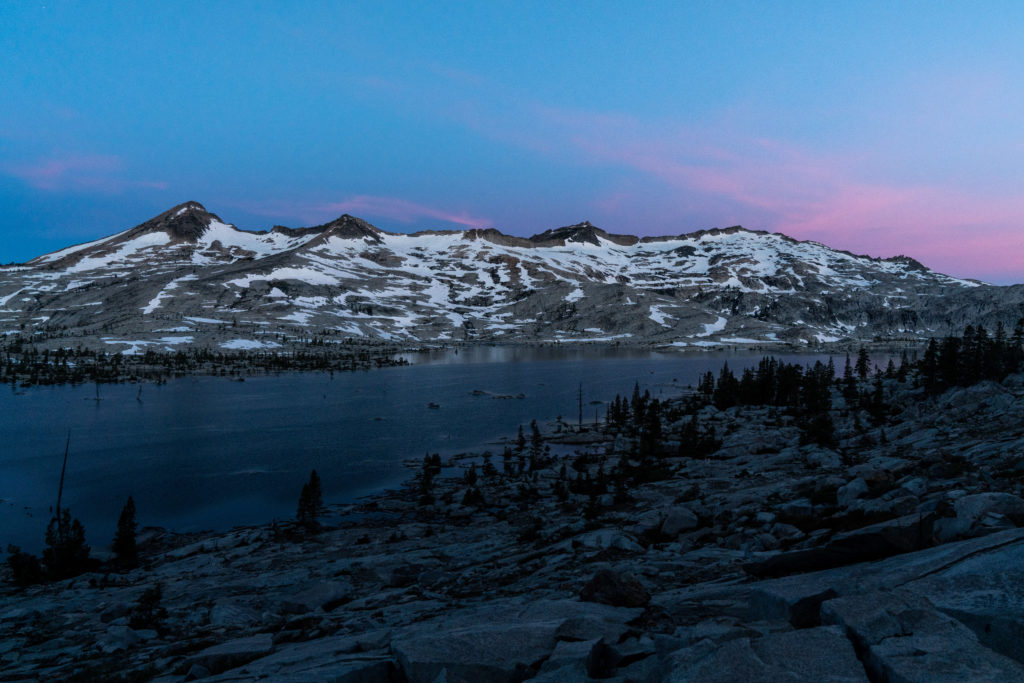 Why South to North
Hiking South to North on the Pyramid to Agassiz to Price Traverse gets the hardest climbing out of the way first. You gain the most elevation in the first 3 miles. You get the class 4 section early, when you aren't fatigued. Down climbing the class 4 step/ladder could be a pain with a pack on.
| | |
| --- | --- |
| Starting Trailhead | Rocky Canyon (GPS Coordinates: 38.807805N 120.136722W) |
| Ending Trailhead | Pyramid Creek (GPS Coordinates: 38.8116197N -120.1260629W) |
| Length | 16 miles |
| Elevation gain | 6,305 ft |
| Cost of Parking | $0 |
| Permit Needed | Yes, self-registered at Pyramid Creek Trailhead or ranger station |
| Cost of Permit | $0 |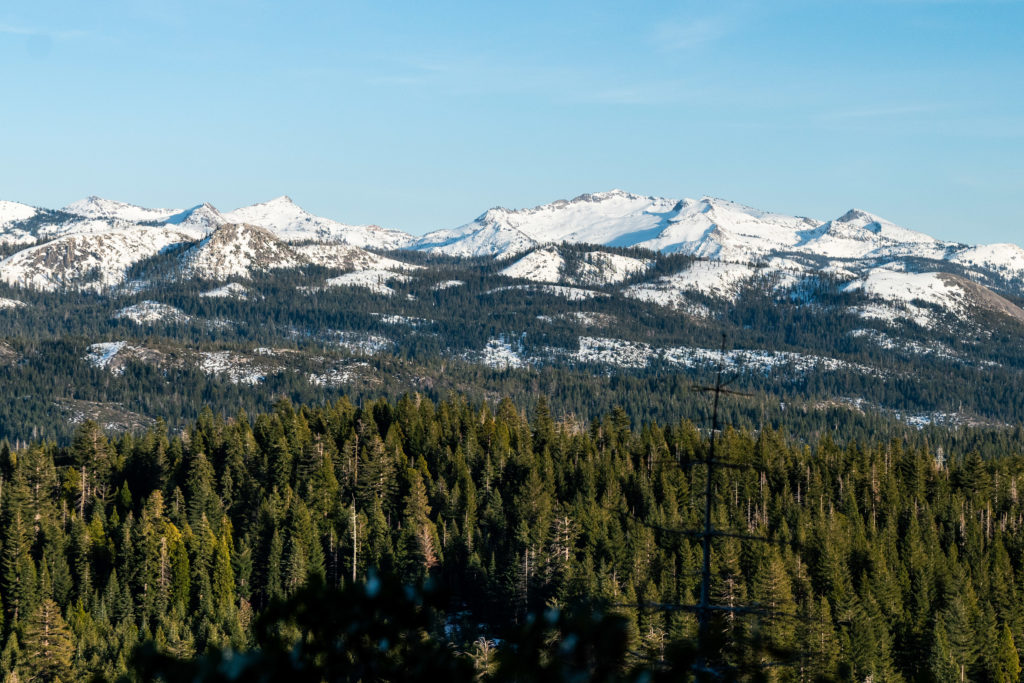 The Approach to Pyramid Peak
The fastest way to the summit of Pyramid Peak is via Rocky Canyon. It's also the steepest way. This trailhead is busy because of those two attributes. There is also very little parking, so get here early in the morning if you are attempting the Pyramid Peak to Price traverse. This hike gains 4100′ in 4.25 miles to the summit of Pyramid Peak.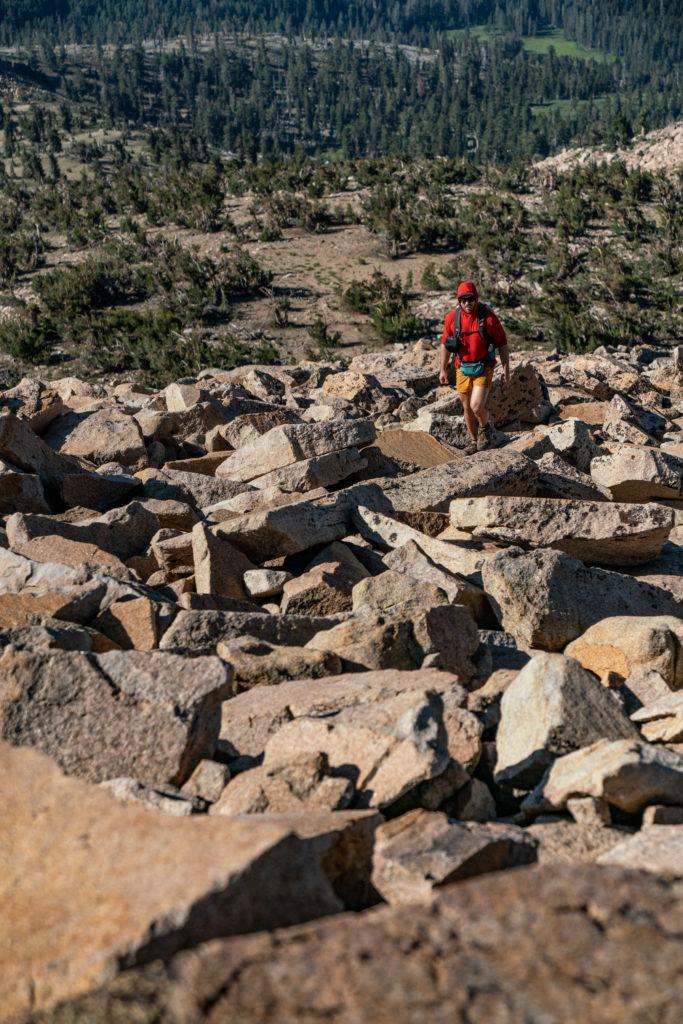 There is a well-marked and well-worn use trail to the talus at the base of Pyramid Peak. From the talus, just go straight up until you reach the summit.
Traversing to Mt. Agassiz from Pyramid Peak
From the summit of Pyramid Peak, pick your way through the talus on the North Ridge of Pyramid Peak. Stay close to the ridge as you get lower.
Between Pyramid Peak and Peak 9686, there's a little tower that you need to climb. Most folks refer to this as the "class 4 step". It's more like a ladder than a step. Keep your eyes open for it. If something looks too difficult to climb, it probably is too difficult to be what you are looking for.
This class 4 step (that is more like a little ladder) is the most difficult climbing you'll do on this entire traverse.
Follow the ridge line for maximum fun and exposure. It's all 3rd class climbing after Peak 9686. Choose your own adventure! If it's too exposed, drop down below the ridge and keep traversing. The final section up to Agassiz is quite loose and filled with scree. Bushwhack if you need to.
To get to the summit of Agassiz, head through the notch. Then walk to the north side of the summit block. There's easier class 3 climbing to the summit here. Go down the way you came up.
We couldn't find a summit register, but we also did not look very hard, since there was a storm blowing in quickly.
Traversing to Mt. Price from Mt. Agassiz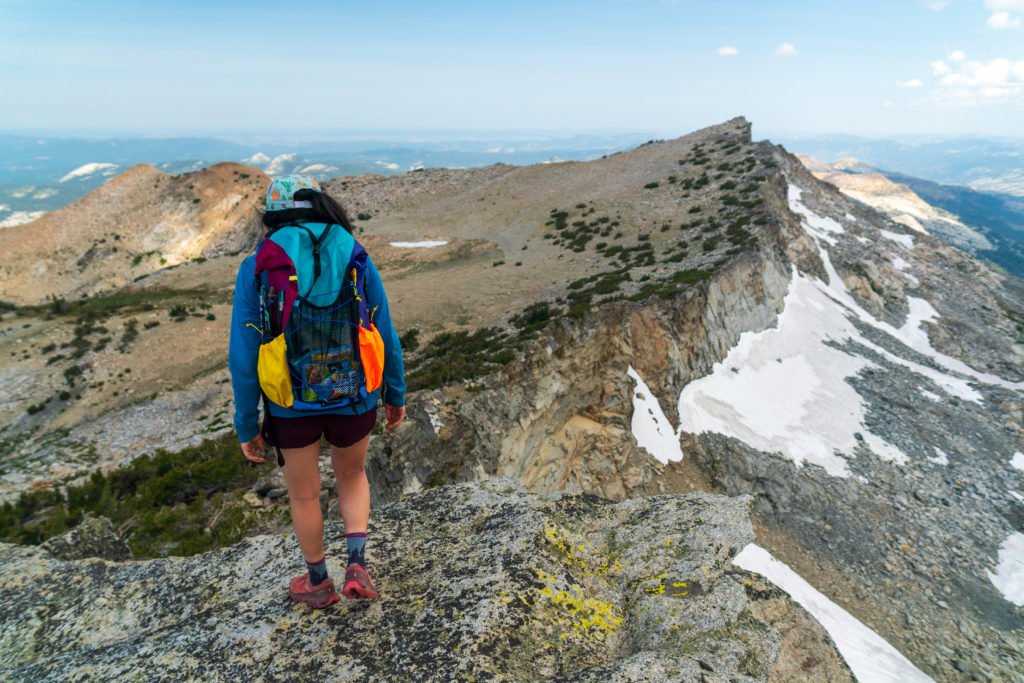 From Mt. Price to Mt. Agassiz, it's primarily 2nd class with a little bit of 3rd class. To get there quickly, hustle down the talus of Mt. Agassiz. It's easier to stay off the ridge, since this section is a little brushy. There's a faint use trail through the dirt to the talus of Mt. Price.
Don't forget to sign the register!
The Descent from Mt. Price
From the summit of Mt. Price, follow the West Ridge until you find a slightly exposed third class down climb on the north side of the ridge.
Once you are below the ridge, continue east until you can climb gain the North Ridge of Price. There are two prominent notches here. You can climb down the first one, but the second one is much easier. It is a little loose, but manageable.
From here, head down talus and scree on a faint use trail until you reach the slabs. Don't be fooled. These slabs are a long slog, despite the hard stuff being over. From above, the slabs look like a piece of cake, but they undulate and cliff out often. It is not a straight forward down from the Pyramid to Price traverse. Don't get caught on the slabs in the rain. Wet, granite slab is not a fun place to be.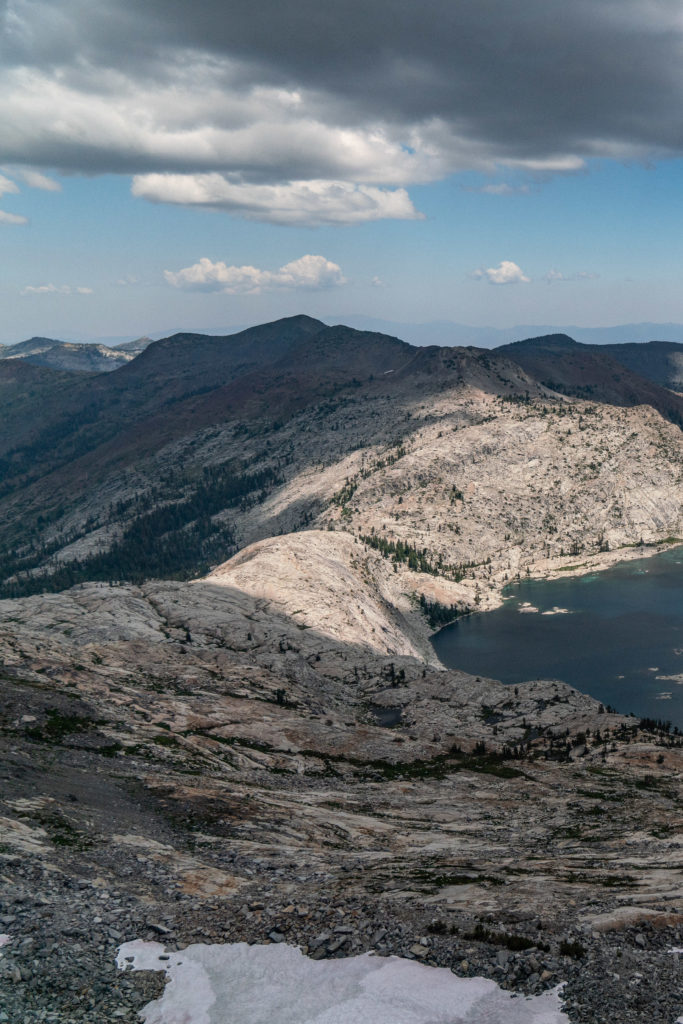 Head east on the slabs until you reach Mosquito Pass. At Mosquito Pass, turn right (south) to head towards Lake Aloha. Shortly after coming down all the switchbacks, the Mosquito Pass trail hits the PCT. Continue on the right fork of the PCT, going south around Lake Aloha.
The Exit for Pyramid Peak to Price Traverse
From Lake Aloha, take the first junction off the PCT to Lake of the Woods. Continue past Lake of the Woods to Ropi Lake. Once you reach Ropi Lake, cross the outlet. You can do so via the dam or on a bunch of logs. Choose your own adventure, your feet my get wet.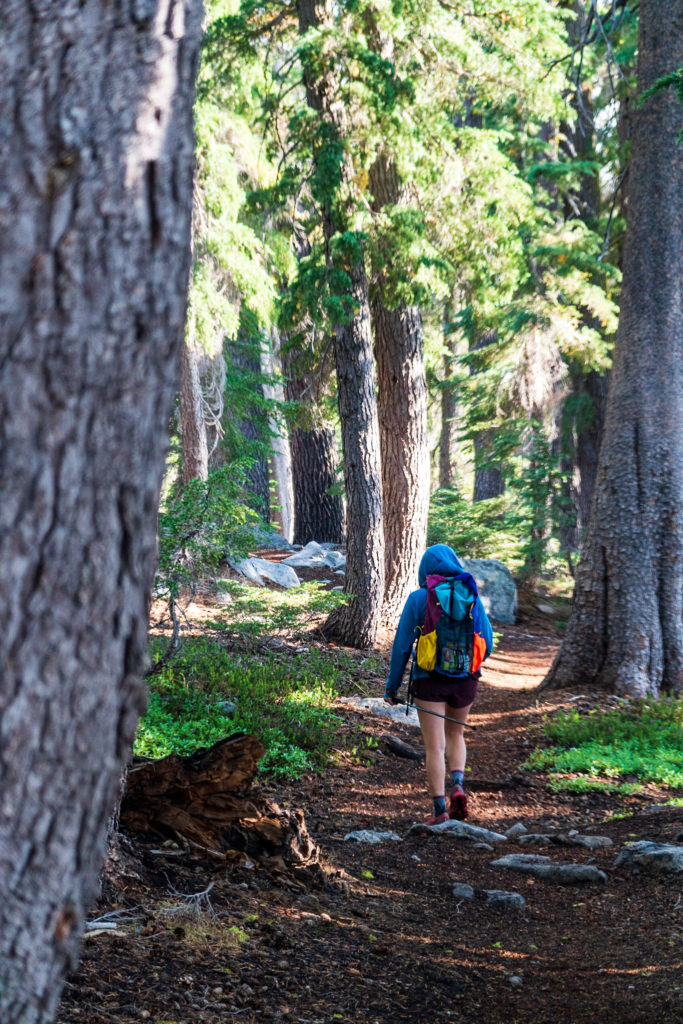 From here, it's all downhill. Keep following Pyramid Creek out. Once you get to the Pyramid Creek Trailhead, cross Highway 50 and walk (or hitch) the mile back to your car.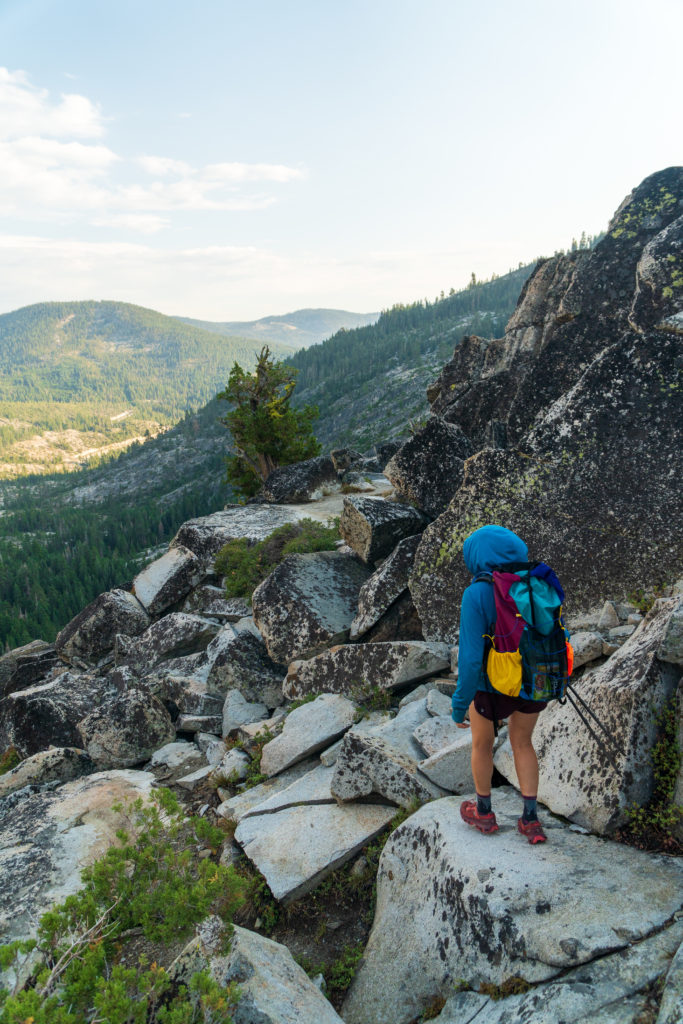 If it's raining, or you're just plain miserable, you can bail via the Pacific Crest Trail at Lake Aloha. This takes you out to Echo Lake. This way out is slightly longer, but it's all on the PCT, so it is a piece of cake. Once you get to Echo Lake, there is cell service and you can call someone to come get you. You can also attempt to hitch back up Highway 50 to your car.
If you want to keep on suffering, continue to Jack's and Dick's Peak before exiting out of the Bayview Trail.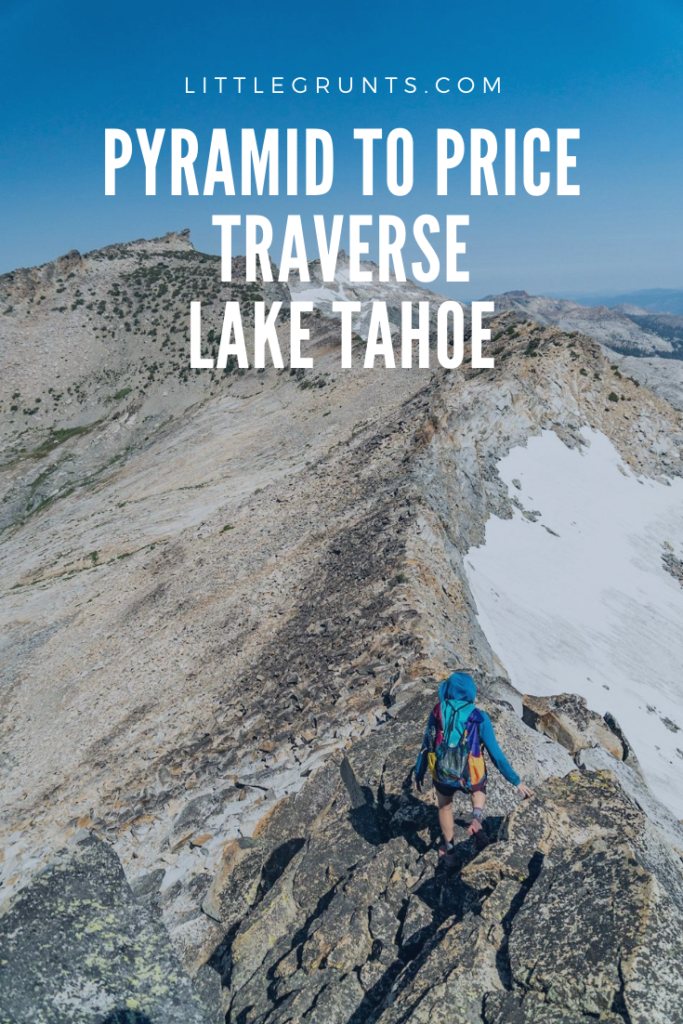 Last updated on July 28, 2020.