I really hate hiking. Like really, really, really hate hiking. I do it because sometimes I get to see cool things, or I get a little stir crazy and gotta stretch out my legs. Or sometimes it's just necessary to get to a rock I want to climb. I finally succumbed to hiking with jams this summer which has made walking just slightly more tolerable. After getting tangled with wired options, the Jaybird Vista Earbud are a godsend.
The important Jaybird Vista Specs
The Jaybird Vista has 16-hour battery life when used with the charging case. When fully charged, the earbuds provide 6 hours of play time. Each earbud can be used individually for 32 hours of music. A microphone allows you to make calls or record videos while you are the go.
A "sport fit" means these are designed for active use. The Vista is rated IPX7 waterproof & sweatproof.
Each pair of ear buds come with a charging case and USB-C charging cable. Jaybird provides three different sets of ear gels, allowing you to get the fit you want, which is a godsend for those of us with tiny ears.
You can pause or skip songs by pressing on either ear bud.
Other Jaybird Vista specs
Audio:
Noise-isolation: Passive
Impedance: 23 Ohm +-15% at 1KHz
Speaker sensitivity: 103.5 +-1.5dB at 1KHz Output 12 mW RMS (with level limit)
Total Harmonic Distortion <3% (1KHz, 1mW)
Audio Format: 16-bit Stereo
Codec: Bluetooth SBC Implementation Response Bandwidth 20Hz – 20kHz
Driver size: 6 mm
Weight & Dimensions:
Case Width: 74mm
Height: 36.5mm
Case Depth: 24mm
Earbud Width: 22mm
Height: 24mm
Earbud Depth: 18mm
Weight with medium eargel: 6g
Bluetooth:
Bluetooth version: 5.0
Frequency band: 2.4 GHz
Profiles: Handsfree, Headset, A2DP, AVCRP, SPP
Wireless Range: Class 2 standard range 10m/33ft
What I Like about the Jaybird Vista
The thing I love the most is being able to conserve battery and listen with one earbud at a time. I like being able to hear things around me, even when I'm jammin' out to music. Plus listening to each earbud doubles my listening time.
It's waterproof! I hiked with these for three days in the pouring rain with no issues. Jaybird says that the case isn't waterproof, but I accidentally drowned it in my pocket in Canada. I was convinced that my earbuds were toast and I'd never be able to charge my earbuds again. Boy, was I wrong! I emptied out the water out of the case, plopped my earbuds in, and they worked like they were never drowned.
They stay in my ears. I have really small ear holes (ear openings?). I always have to buy the tiniest ear plugs because everything is always too big. These fit. And better yet, these fit when I'm being active. The Jaybird Vista are my go-to music machines at the gym. My gym routine generally usually includes 10 minutes of jump roping. The Jaybird Vista stay in for all 10 of those minutes, and more.
What's not so great
Sometimes I'll pause my music to talk to people on the trail. With only one Jaybird Vista earbud in, this will occasionally turn off the ear bud entirely, so I need to reconnect to Bluetooth when I start hiking again. It's very annoying because I have to take the case out to connect again. I also hate that there's no way to connect to ear buds without the case. It's more fumbling and playing with my phone than I'd like when I'm on the go.
The actual process of putting them in my ears can be kinda annoying. You have to slide them in perfectly to get them to stay in. If you have stray strands of hair in the way, it makes it harder to form a perfect seal.
This is purely aesthetic, but it seriously looks like I have marshmallows in my ears when I wear these. Maybe that's better than Q-tips though (AirPods).
Buy the Jaybird Vista Earbud for $179.99 through Amazon or Jaybird.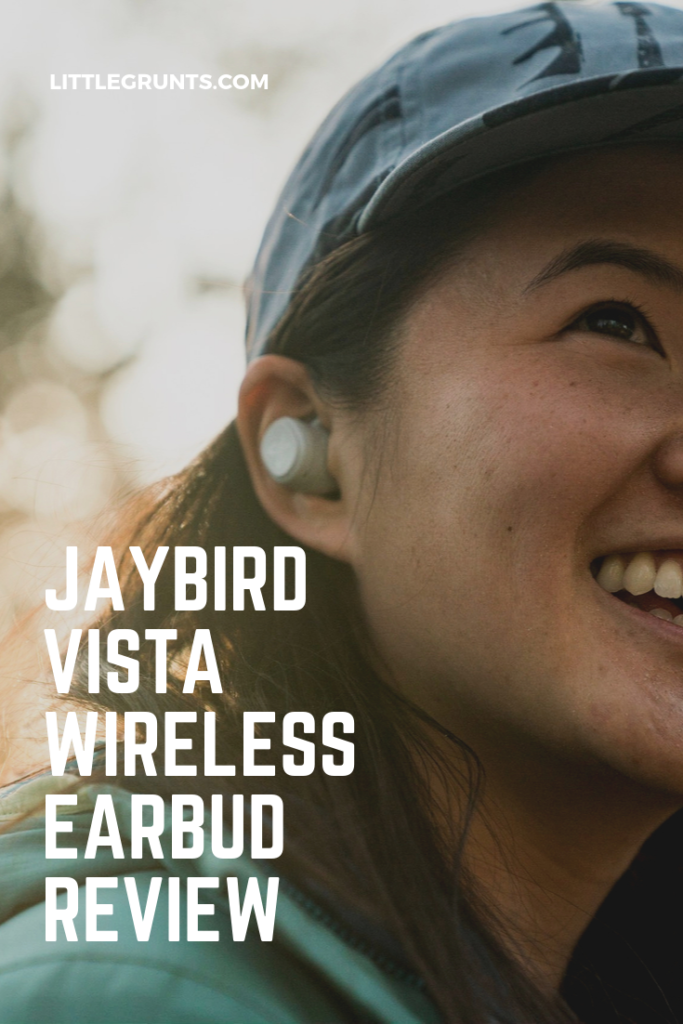 This post contains affiliate links.
Last updated on November 4, 2019.