Living in San Francisco, I'm super lucky to have many beautiful destinations within a few hours' driving distance. Mendocino, Napa, Carmel, Big Sur… For me, that means that most of these places are usually long day trips. I'm lucky to have finally spent a weekend on the Central Coast. Read on to see how to spend an idyllic weekend in Carmel.
I was invited to check out the Hofsas House Hotel in Carmel-by-the-Sea and couldn't pass up the chance. Carmel is one of those idyllic oceanside towns that I've passed through many times, maybe stopped for food on the way to or from the coast. I remember day trips to the beach with my family when I was a wee lass, but I've never actually spent a night in the city.
From San Francisco, it's about a two hour, maybe two and a half hour drive. Even with traffic on a summer Friday evening, I was able to leave Sunnyvale around 7pm and be in Carmel by 8:30. Much better than sitting in traffic all the way to Tahoe or Yosemite.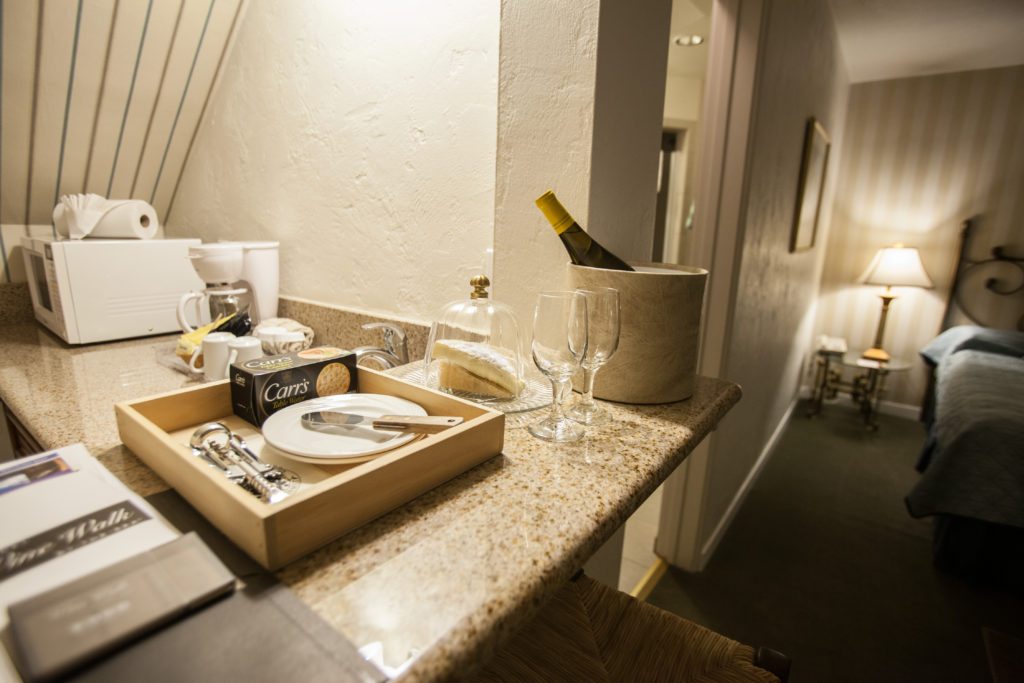 Enjoy Wine Tasting in Carmel
We'd both had particularly long weeks at work so arriving at the Hofsas House Hotel to a chilled bottle of Chardonnay and cheese plate was quite the treat. We popped open the wine and relaxed for a bit before setting out to wander around the city of Carmel. Along with never staying in Carmel, I've also never seen much of the city. At night, it was quiet and peaceful without the hustle and bustle of tourists during the day.
We didn't have any real plans other than climbing at Granite Creek at some point and some dinner reservations at the Beach House in Pacific Grove. The hotel had supplied us with the Carmel Wine Tasting Passport to check out some tasting rooms from local wineries. All of the tasting rooms were located within walking distance of our hotel. Wrath was open the earliest at 11am, and therefore our first stop.
Go Rock Climbing at Granite Creek
After lounging around, we finally decided to make our way out to the boulders. We stopped at 5th Avenue Deli to pick up some lunch for our destination; our stomachs grumbled. Granite Creek is located just south of Monterey at the third pullout after the Granite Creek bridge. From there, you hike a short ways down a loose hillside which ends at a 5.4 down climb to the rocks. Nothing is rated above a V4 with tons of potential for new development. However, dicey, dinosaur egg landings require pads.
Carmel was a fantastic and relaxing weekend getaway destination. Time kinda slows down when you're in a beach town, and this town was no different. Josh and I opted to stick to options closer to town, but with a central coastal location, it's super easy to pop over to Monterey to check out the aquarium or drive down to Big Sur.
Stay at the Hofsas House Hotel in Carmel
The Hofsas House Hotel was an incredibly lovely place to stay. Founded by Donna Hofsas in the late 1940s, the hotel is still family owned and run today by Donna's granddaughter, Carrie. From putting together special packages for your visit or assisting in planning out your day, Carrie and her staff go out of their way to ensure that each guest has a pleasant and memorable stay. Previous guests often come back to stay at the hotel time and time again.
The property has 38 spacious, one of a kind, family and dog friendly rooms. Each room is decorated uniquely so no rooms are alike. Our room was incredibly spacious with a mini kitchen and a fireplace. We wished it was cold enough to have a fire. Dutch doors in every room allow guests to have fresh air, pretend they're a character in "Beauty and the Beast", or enjoy the sunset from the comfort of the bed. Wifi is available in all the rooms, but it was slow and spotty at best. Other amenities include a continental breakfast with pastries from a local bakery, a heated swimming pool and a dry sauna.
Thank you so much, Carrie and crew, for having us. We had a lovely time and can't wait to be back.
Last updated on January 9, 2019.