I had accidentally stopped by Pfeiffer Big Sur State Park and headed up the Big Sur River Gorge last summer when we stopped too early in an attempt to do the Tanbark Trail & Tin House loop at Julia Pfeiffer Burns State Park. I mean, the names are confusing. Really.
The last time I was here, we made it up the river to the swimming hole, but opted to come back at a later time to jump in. I was determined to check this place off my bucket list! And this weekend, I did. Headed down to the park on a hot Sunday morning with some friends. We were afraid it would be foggy and cool, but the fog quickly burned off to reveal blue, blue skies for a marvelous trek up the river.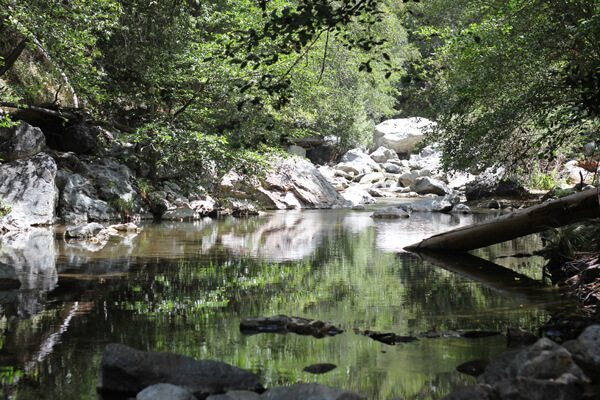 We parked at Parking Lot #3 and made our way up a paved road to the river where we began to walk up. Even with the drought, there was still a solid amount of water in the river. I found myself up to my waist during certain portions. I highly recommend bringing watershoes to hike in the river.
It makes it 10x easier than trying to scramble and boulder hop on slippery wet rocks or avoiding getting your feet wet. I was able to just hike up in the river for a good portion of the hike which made it quite enjoyable. The water temperature was cool, not too cool, and refreshing.
At the end of the trek, you reach the largest swimming hole, or the Big Sur River Gorge itself. Nestled by towering granite walls, this is the perfect place for swimming and jumping off rocks. This spot is very popular in the summer on a warm day so don't expect much privacy. There are swimming spots along the way up if you prefer less of a crowd.
Remember to pay careful attention to your surroundings. The rocks are slippery and loose and mossy, and sometimes water may be deeper than it seems. Your safety is your responsibility.
What to know about the Big Sur River Gorge
Trailhead: Big Sur River Gorge/Mt. Manuel next to Parking Lot 3
Level: Moderate
Length: 1.2 miles out and back
Cost of Parking: $10 inside the park
Gear: Icebreaker Aero Tank, Outdoor Research Turbine Shorts, Boreas Topaz 25, Outdoor Research Echo Ubertube, Outdoor Research Ultralight Dry Sack 2.5L, and Ahnu Tilden Sandal
For other notable Big Sur hikes, try Cone Peak or the Tin House.
Last updated on September 6, 2018.