Photo by Nelson Salvatera
Since moving to San Francisco, I've come to realize that space and storage is a premium. There's only so many backpacks I can own in a space that's sub 600 square feet. I find that solid, all-around backpacks are hard to find. Most only excel at one thing or another, resulting in a giant collection of packs that you use for one thing, maybe two.
This is where the Mountain Hardwear Scrambler 30 pack shines.
The Mountain Hardwear Scrambler 30 fit the bill for me this season. From hiking, climbing rock and ice, cycling and commuting, this pack has done it all. I love how incredibly versatile it is. With a watertight OutDry® construction main compartment and seam taped top pocket all of your belongings are guaranteed to stay dry in the heaviest downpour or the craziest white out.
The hydration sleeve is outside of the main pocket so you never have to cinch and uncinch your bag. Bonus: there are little drainage holes if you're a klutz like me and can never manage to close your bladder properly. The Scrambler 30's hydration sleeve also fits a 15″ MacBook Pro Retina perfectly, if you don't like having a separate commuter bag.
The HardWave suspension with padded shoulder straps is extremely comfortable for hiking and biking with heavy loads. Two deep side pockets lets you stow things like bike locks or water bottles. The Scrambler 30 has a sternum strap and waist strap as well.
The pack has ice axe/tool/trekking pole loops in addition to an incredibly useful rope strap on top. Haul loops on both sides of the pack give you more rooms to clip your shoes, rack, or what have you.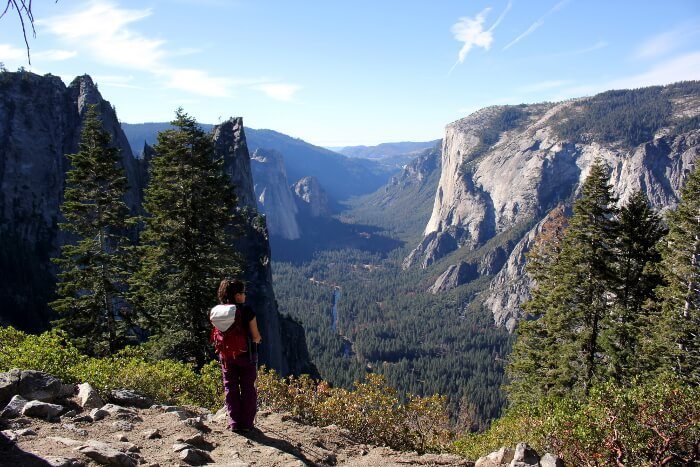 If you're a fan of going ultralight, the Mountain Hardwear Scrambler 30 will weigh you down at 1 lb 5 oz. It's not the heaviest, but it's not the lightest either. You pay for bomb-proof fabric. I found out the hard way that the top zipper is not waterproof, which is really a bummer.
When you're moving fast, who wants to take the time to fold down that seam to make sure the zipper is covered? Not me; I ended up with a top pocket of soaking wet things.
I would love to see side pockets with more elasticity. The fabric was stiff. It was tough to wrangle things into those pockets. A bit of extra stretch would have helped.
This 30L pack is incredibly roomy, but a day's worth of climbing gear topped off with a rope and full 3L bladder puts this at an almost uncomfortable weight for my shoulders alone. The waist strap doesn't do much to reduce the weight load, but it's nice to have for cycling or hiking long distances. Just one thing to keep in mind if you tend to over prepare (overpack) for all situations.
Photo by Nelson Salvatera
I'm a big fan of my Mountain Hardwear Scrambler 30. It's a jack of all trades, master of none pack that performs well for a good chunk of outdoor activities. If you're looking for something that comes close to doing it all, this is a good pack for you.
Buy the Scrambler 30 through Moosejaw, REI or Amazon for $130.
This was sent to me for review as a part of Mountain Hardwear's #findingwinter program.
Last updated on November 11, 2018.