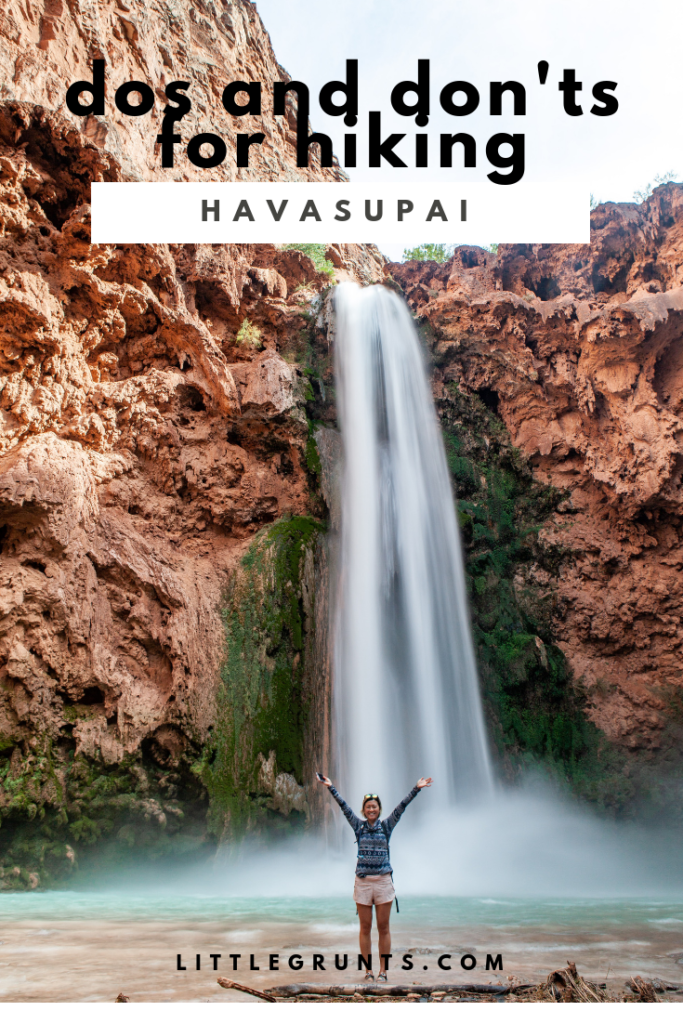 Hiking Havasupai is one of the most coveted backpacking trips in the United States. It's for good reason, too! There's nothing like the red desert of the American Southwest. Add in the beautiful blue green waters, of which the Havsuw 'Baaj derive their name, and you've got a recipe for magic.
Scoring a permit to hike here is like winning the lottery. You log on to the Havasupai website, cross your fingers and wait. There are plenty of guides to hiking Havasupai and planning your trip.
But what about everything when you're actually there? This is a list of everything I knew about when starting my Havasupai hike.
The Havsuw 'Baaj have lived in the Grand Canyon for centuries, potentially even appearing in this area more than a millenium ago. "I Am the Grand Canyon" details the lives of the Havsuw 'Baaj pre- and post-contact with European settlers. This book is a great insight into the lives of the indigenous people who were forcibly removed from the land to create Grand Canyon National Park. Remember whose land you're visiting when hiking to Havasupai.
Do visit the museum
The Havasupai Museum of Culture is another glimpse into the history and culture of the Havsuw 'Baaj. This is a must visit to learn about the people and the land.
Do bring cash
The Sinyella Store is the only spot that accepts credit cards ($10 minimum). It's also 2 miles from the Havasupai campground and a half mile up the canyon from Supai Village. Bring cash so you can eat all the yummy fry bread without having to hike all the way uphill each time.
Do pick up trash
You're on reservation land. Respect the indigenous people who live here and leave no trace. Pick up all your garbage and pack it out.
Don't bring drugs or alcohol
This one's easy. Respect the rules of the Havasupai Reservation. It's only a few days. You can live without.
Do wake up early to hike down to Mooney Falls
Waking up early to hike Mooney Falls is a must in the high season. Slippery cliffs and dizzying heights make tourists move slowly. Avoid the traffic jam by being the early bird. You'll be glad when you're in Cataract Canyon, looking at the hour-long Disneyland-esque line.
Don't hike at night
Hiking down to Mooney Falls can be treacherous. Obey this reservation rule and don't hike at night. If you get hurt, someone's gotta save your butt. Make it easier for everyone and just don't do it.
Do go swimming
Blue-green waters in the beautiful red desert? Why wouldn't you go swimming? In summer months, this is your only respite from the hot, dry heat. Jump in, except not. Maybe tip toe in, instead.
Don't jump off the rocks
Just don't do it. Nobody wants to have to save your butt. The water levels constantly vary in Cataract Canyon. Reservation rules say don't do it, so don't do it. Respect the rules. You're on native land.
Do mail a postcard from Havasupai
Supai is home to one of the most remote USPS locations. A postcard mailed from here will be stamped with Supai, AZ and brought out via mule. This is a must do!
I regret not doing this and would go back just for this.
Do buy fry bread
I regret not doing this too. We woke up too late to hike down to Mooney and Beaver Falls. The fry bread stands were not open late. We hiked out too early for the fry bread stands to be open. We got no fry bread. Don't make this mistake. Bonus: you don't have to pack in and out a meal!
Do give yourself a day for nothing
Another do, another regret. I wish I had a day to do nothing! Wake up late. Play some Uno. Meander around. Eat some fry bread. Read a book. Visit the museum. This whole trip felt very rushed and go, go, go. A zero day would have been great.
Lastly, have the most fun!
Have you hiked to Havasupai? What would you add to this list of dos and don'ts?