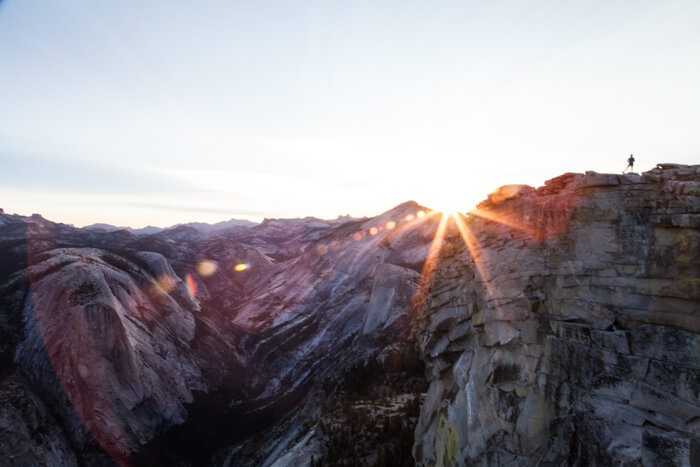 For the Last Adventurer, the hike that he says he'll never do again and always does is Mt. Whitney. For me? It's Half Dome. It's one of those hikes that I swear up and down that I'll never do again, but each time someone mentions doing it, I always end up applying for a permit.
This year was the third time hiking Half Dome for me. It was pretty mellow. I'm a big fan of night hikes, especially for this one. Less people on the trail, less heat, more peace and solitude, and more importantly, less people on the cables.
Saturday around lunchtime, we drove from San Francisco down to Yosemite. I snagged a campsite at Crane Flat for us to relax and hang out at before driving into the valley to begin the hike.
My friends and I started at the Happy Isles trailhead at midnight and ascended via the Mist trail. There was nearly no moon and the stars were super duper bright.
The route is very straight forward and very well signed. You would have to try very hard to get lost here, even in the dark.
I reached the bottom of the Half Dome cables around 5 in the morning and light was just starting to come through. I passed a group going up the cables and made it up to watch the sun rising over the High Sierra. It was so ridiculously beautiful. There were a good number of people up top with the same idea I had, but it wasn't crowded by any means.
I strongly believe that the best time to hike Half Dome is for the sunrise. You go up the cables in darkness so there's no oh shit factor from the steepness of the hike. You also don't have a conga line of people to avoid in both directions.
After sunrise, we headed back down the cables and retraced our steps down the Mist Trail past Nevada and Vernal Falls and drove back home. It was a pretty long day, but always so worth it!
Don't forget that you need to have a permit at all times to hike from Sub Dome to up the cables! There are rangers who check at the base of Sub Dome. If you don't have one, you will be fined up to $5000 or jailed for up to six months.
How to get a Half Dome permit
You can obtain a permit as a day hiker or as a backpacker, respectively. The process is slightly different for both.
For day hikers, there is a permit lottery system in place. You can apply online in early spring for slots. You can also apply online for permits 2 days before you'd like to do the hike.
If you don't score a Half Dome permit, hike Clouds Rest instead.
Gear: Outdoor Research Umbra Hoody, Outdoor Research Echo Ubertube, Outdoor Research Air Brake Gloves, Mountain Hardwear Stretch Ozonic Jacket, Norrøna Bitihorn Softshell Pants, Black Diamond Nitro 26 Backpack, Salewa Alp Flow Mid GTX boots
Last updated on February 27, 2018.