Two words: wet feet. If the previous day's theme was sandy shoes, today's was wet feet. Missouri Howell and I woke up just before sunrise in our little incognito BLM bush patch. It was a slightly restless night of cowboy camping, complete with the brightest shooting star I'd ever seen. Today we'd be hiking to Campsite 7 on the West Rim, located in a little section called Potato Hollow. Today would also be the most miserable day of the trip.
We ate breakfast outside the Hop Valley pit toilets, took care of business and set off for the day. Up until today, we had encountered very little snow. The La Verkin Creek trail was snow free. The Hop Valley trail had one or two small snow patches on the climb to the trailhead.
Today would be the test. The ranger at Kolob Canyon Visitor Center had mentioned being careful on the Wildcat Canyon trail. Our permit stated winter conditions on the West Rim. With little snowfall or precipitation prior to our trip and fully booked campsites along the entire trail, how bad could it be?
We shouldered our packs, backtracked about a hundred feet on the Hop Valley trail and started our way down the Connector trail. We each had about 3L of water to start the day and we were planning on filtering or melting snow when we encountered the next source of water.
The reliable source that we knew of was a spring on the Wildcat Canyon trail. Little did we know that we'd be crossing a creek about a mile into the hike. The water was a little silty, but we stopped to filter and boil anyway. We weren't sure of what the conditions were elsewhere and didn't want to take the chance.
We ended up crossing the creek again. We passed more snowmelt streams along the slabs that flanked Pine Valley Peak. We crossed another creek. There were plenty of snow patches to melt. The driest sections of the day were the beginning of the connector trail and about half a mile prior to the Wildcat Canyon Trail.
The most people we saw all day were by the Wildcat Canyon Trailhead. Once we hit the Wildcat Canyon trail, it was all downhill from there. Figuratively, not literally, since we had to climb up to the West Rim.
Winter conditions on Wildcat Canyon Trail weren't entirely incorrect. Snow covered a good portion of the trail. Anything else was a small, frigid creek. Keeping my feet dry required more effort than I was willing to put forth. Eventually, it was easier to simply trudge through the slushy, muddy stream. My feet were getting wet either way. There was no stopping it.
The marked Wildcat Spring on the Wildcat Canyon trail was fully flowing. We took a quick break to refill our 5L of water each and grab a snack. We didn't have much longer until we were at the West Rim Trail. All we needed to do was cross Blue Creek raging into Wildcat Canyon and hike up to Lava Point.
From here, the trail seemed to drag on and on to campsite 7 in Potato Hollow. Mud and snow, more mud, more snow, lackluster views.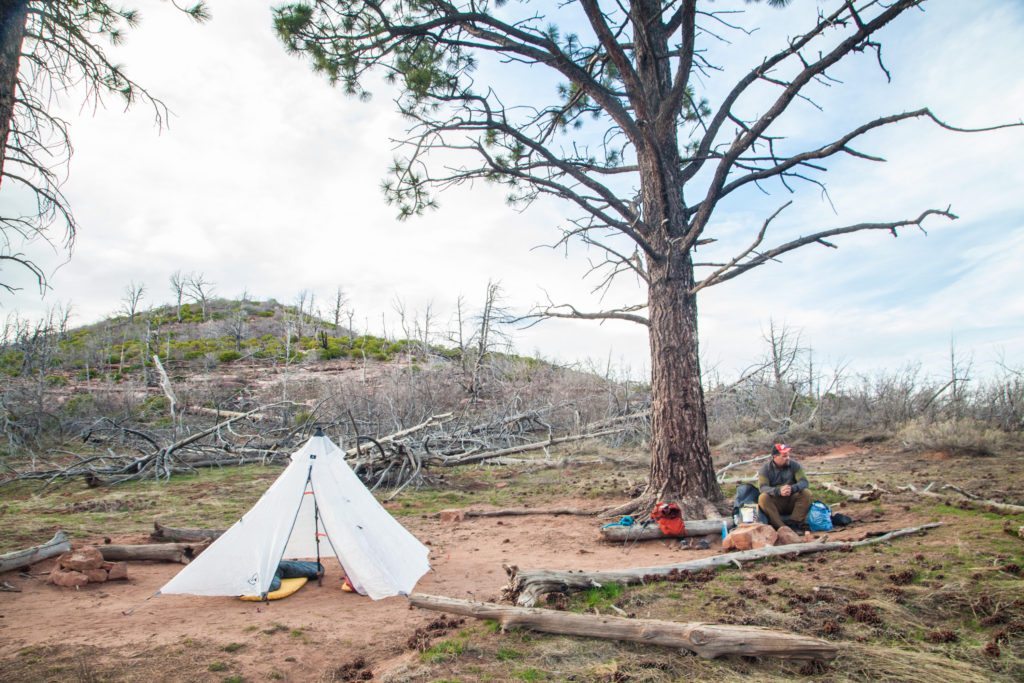 There's really no reason why you would ever hike the Connector Trail to Wildcat Canyon to Potato Hollow. The Connector Trail solely exists to connect backpackers to the rest of the park without needing to hike on a road. Wildcat Canyon, while only kind of scenic, was very underwhelming, and frankly, pretty miserable. Potato Hollow was something post apocalyptic.
Personal Gear: Arc'teryx Kea 45 Pack (similar), Western Mountaineering Summerlite Sleeping Bag, Therm-a-Rest Women's NeoAir XLite, Arc'teryx Sabria Pants, Pivotte Touring Tank, Arêt Basewear Toura Top, Patagonia Performance Better Sweater Hoody, Outdoor Research Filament Down Jacket, Merrell Agility Peak Flex Trail Runners, Black Diamond Ultra Distance Trekking Poles, Chaco Z/1 Sandals
Shared Gear: Snowpeak Litemax Stove + Single 600 Wall Cup, MSR Piezo Igniter, Sawyer Squeeze Filter, Hyperlite Mountain Gear Ultamid 2, Aquamira droplets
Last updated on October 30, 2017.