This post is sponsored by Tentrr. All opinions are my own.
Over the Fourth of July this year, I had the chance to stay at one of Tentrr's Sierra Foothill locations. I picked the Falling Waters Oasis due to its proximity to North Lake Tahoe. My plan was to use our Tentrr as basecamp to escape the madness of Fourth of July at the lake while we bouldered our little hearts out over the holiday.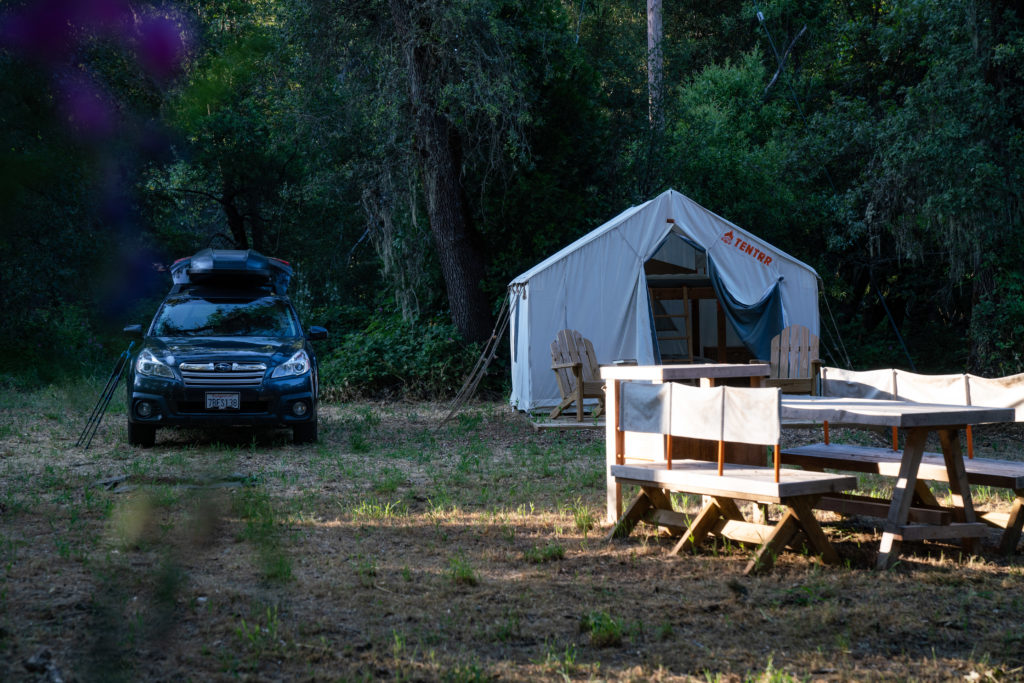 What is Tentrr?
Tentrr is camping on private land. Depending on the property, you have the option of picking from a Signature Site (pictured above), a backcountry site where you bring your own tent, or a specialty partner experience. Prices vary depending on property.
Tentrr works similarly to AirBnB with instant bookings and requesting to book. For this specific campsite, I looked at the availability and requested it with the campkeeper with a few sentences on why I wanted to stay here. The campkeeper approved my booking and I received an email with details about my stay.
Prior to your stay, you'll receive a welcome packet email detailing everything that you need to know, from what to bring, to how things work with Tentrr, and what to do in the general area. The packet includes things like how to use the included toilet, leave no trace etiquette, and other general campsite details. If there's anything specific about your site, your host will tell you. Tentrr also sends you a packing list.
Most campkeepers, or hosts, ask that you arrive with plenty of daylight so you can find your way to the site easily.
Staying at the Falling Water Oasis Tentrr
The Grass Valley location of Falling Waters Oasis makes it convenient to access the Sierra. It's about an hour away from the adventure hub of Truckee, where there's boundless hiking, climbing and mountain biking. The location is also far enough away where we could wake up early and leave early to beat holiday traffic.
This specific Tentrr location lives on a ranch, tucked between the trees. The site is easy to miss if you don't know what you are looking for. Located next to a creek, we fell asleep to the sound of the falling water.
The Falling Waters Oasis Tentrr specifically sleeps four in a queen bunk, with air mattresses. You'll need to check each individual listing to see how many people your site fits. Some sites also have an additional tent you can setup to sleep more people.
What to Expect at the Falling Waters Oasis Tentrr
Because this is a working ranch, there is noise from ranch activities during the day. It's quieter at night, but there were still animals roaming around and dogs barking in the distance. Don't forget your ear plugs.
Even in the summer, it got much cooler here than expected. Prepare for temperature fluctuations, especially at night.
If you're into blackberries, go later in the summer. Blackberry bushes surround this spot, but over the 4th of July weekend, all the berries were not ripe.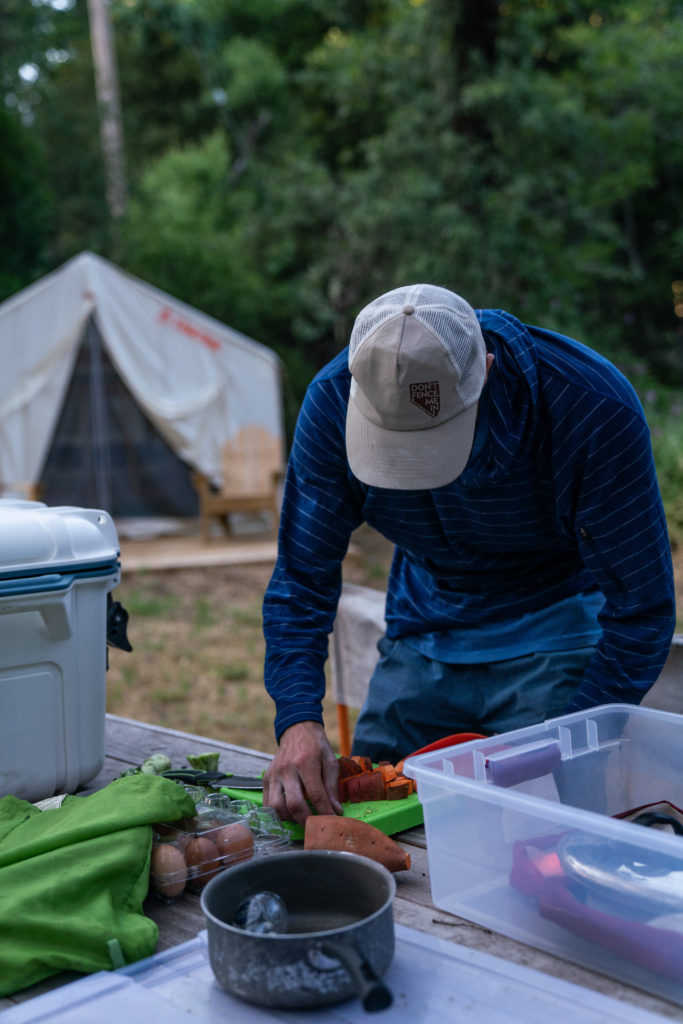 Tucked away in the trees in a private clearing, we felt like we had the whole place to ourselves, even with the main road running right by. The picnic table was spacious, with plenty of room for friends and cooking. We didn't need to use the special Tentrr loo; there was a Port-a-Potty onsite.
The property also had a waterfall that we could drive to, but we were so pooped from climbing that we didn't take advantage.
Our campkeeper came by to say hello. He had a jar of honey from the bees on the property for us. He also let us know that there were currently fire restrictions in the county, so fires are banned. Lastly, since it was the Fourth of July, he said that if we wanted to watch fireworks, to let him know so he could reserve us a parking spot at his lot. David was the perfect host and went above and beyond.
What to bring to your Tentrr
Sleeping bag
Pillow
Cooking supplies
Food (these salmon rice bowls are easy!)
Bug spray
Headlamp or lantern
Ear plugs
Water
Battery pack or power bank
Tentrr launched on the East Coast with most locations in New York, but they are slowly making their way west to California. If you're looking to introduce someone to camping, or if you want the experience of the great outdoors without having too much gear, Tentrr is the perfect stepping stone.
This post contains affiliate links.
Last updated on July 25, 2019.