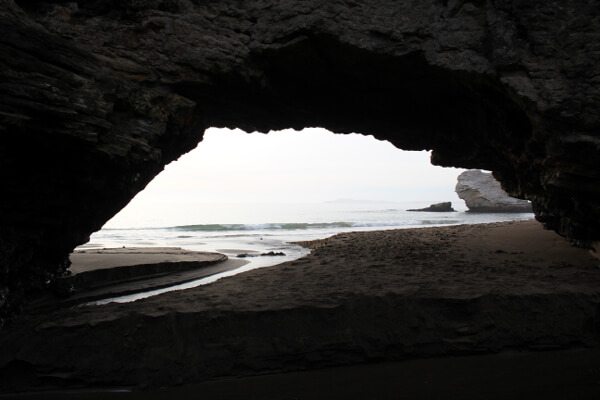 After over two years of non-stop commuting, I finally pulled the trigger and moved to San Francisco! Most of my free time thus far has been devoted to settling into the new place and trying to establish a sense of normalcy with all of my newfound time. Seriously, I went from commuting for about 4 hours every day to a 15 minute commute, if I walk extra slowly.
The boyfriend and I are not sports people; instead we hit the trails on Super Bowl Sunday, knowing that most people would be gone. Our first trail of choice since becoming San Francisco residents? Arch Rock in Point Reyes National Seashore.
This 8.8 mile out-and-back trail is family-friendly and super easy to conquer. Elevation gain and loss are minimal, and the trail is on a wide, well-maintained fire road until the scramble down to the Arch if you dare.
The trail is well signed with arrows and mileage towards Arch Rock. It's nearly impossible to get lost here. You'd have to try really hard to.
After this post was written, fissures appeared in the ground above the Arch. Eventually, some of the cliffside crumbled away. One person was killed and another injured. California's coastal bluffs are finicky, crumbly things. Use caution.
Once you reach the end of the trail, the scramble down into Coast Creek Ravine is about 50 feet from the cliff edge towards the land. From here, the path is unmaintained and follows alongside Coast Creek.
When dirt ends and rock begins, you'll carefully climb down about 15 feet of 5.3 climbing. Unlike the rocks at Alamere Falls, these aren't terribly crumbly or slippery, making the descent fairly easy and not nerve-wracking if you're not a climber. And voila! You're right underneath Arch Rock.
Make note of the tides before you go. It's easy to get stuck down here at high tide.
Gear: Outlier Daily Riding Pants, Icebreaker Tech T Lite, Outdoor Research Constellation Hoody, Ahnu Footwear Sugarpine Boots, and Mountain Hardwear Scrambler 30 pack
Last updated on March 4, 2018.