Pyramid Peak via Rocky Canyon… oh boy. This one is a tough one with approximately 4,083′ of elevation gain. I huffed and puffed my way up and down this Pyramid Peak. The altitude, elevation change, and a wicked hangover were not my friends.
I hiked Pyramid Peak mid-November during a dry year. The route up Rocky Creek to Pyramid Peak is the shortest, most direct route. 6.6 miles with 4000 feet of elevation gain makes this one heck of a thigh burner. There was some snow on the trail, a little bit more snow on the peak, and freezing cold winds on the peak.
The Rocky Canyon approach gives you a little bit of everything on the way to Pyramid Peak. Creek cross, pine forest, and scrambling up talus. On a good day, the view from the top is supposedly amazing with views for Lake Aloha and its little islands. Unfortunately, on my summit day, the clouds rolled in quick, despite a bluebird morning. An 80% chance of snow kept us on our toes on top of the summit.
I brought a ton of gear, including the Sierra Designs Tov Jacket and Outdoor Research Valhalla Softshell. It seemed like a lot of gear, but it all came in handy for this shoulder season ascent of Pyramid Peak. We had high winds around 40mph pelting us in the face.
Despite lack of views and a hangover, Pyramid Peak is one stunning hike, complete with a log book on top. This was the the very first logbook I ever signed. I'd love to come back and do this in the summer, maybe even from Lake Aloha if I'm not lazy.
Hike: Pyramid Peak via Rocky Canyon
Where: Desolation Wilderness
Trailhead: US 50 after Twin Bridges, but before Strawberry. Look for a mile marker that says 50 and a giant tombstone looking thing that says 43. The trail is directly across HW50 from this point.
Level: Strenuous
Length: 6.6 miles out and back
Gear: CamelBak Women's Aventura 100oz Hydration Pack
, UNIQLO Heat-Tech leggings, REI Sahara Convertible Pants – Girls'
, Icebreaker Women's Oasis Crewe
, Sierra Designs Women's Tov Down Jacket
, Outdoor Research Women's Valhalla Hoody
(review here), Ahnu Women's Montara Waterproof Boot
, Outdoor Research Women's Longhouse Glove
, Black Diamond Ultra Distance Trekking Poles (100cm)

Cost of Parking: Free along the side of HW50.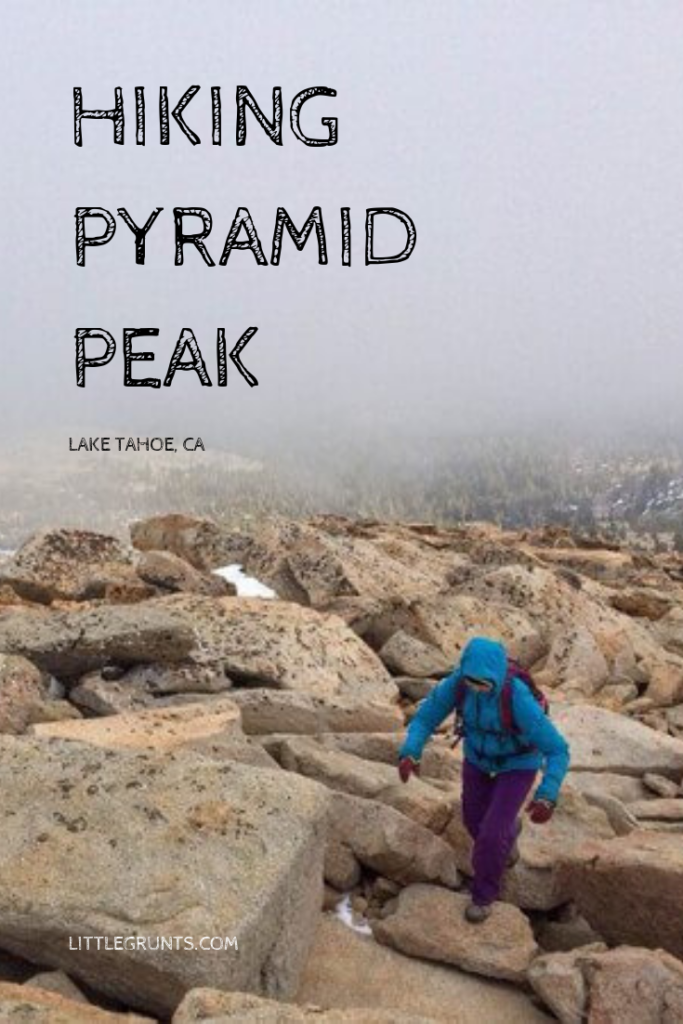 Last updated on January 31, 2019.