It was the last day of our little trek. After a night of little sleep and lots of Kovas' snoring, we all woke up at the buttcrack of dawn to pack up. I was psyched. It was crappy diner food time. Day one had been an ordeal. Day two was less so. Day three was our shortest day. Nothing could go wrong on this day where we were retracing our steps from Wilder Lake to the Highline Trailhead, right?
Wrong.
The group planned on retracing our steps back uphill. Up from the lake basin to the Highline trail, and then up from the Highline trail to the trailhead and parking lot. It was pretty simple. We'd hiked everything on the way in, and then some when Rozanne and I missed the turn off.
One by one, we all hit the trail. I played leapfrog with most of the crew, stopping at Scuddard Lake to take in the beautiful reflections. Then I passed most of the crew on the way out except for Jes, who was waiting patiently at the trailhead.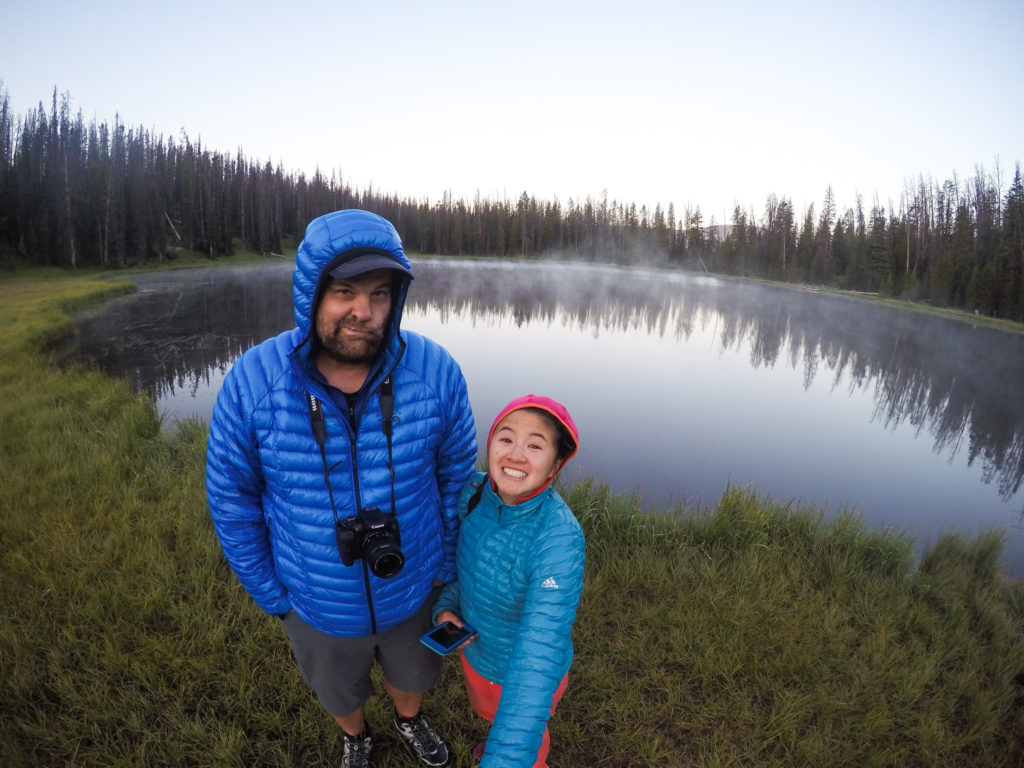 We'd taken two cars in. She and I readied our things, emptied our garbage. There was no sign of Rozanne, Jeff or Kovas. We estimated that they were still a good distance behind us. We hastily scrawled a note on some paper saying we'd meet them at the diner in Kamas and then headed on out. We blew past the diner because it looked closed and blew past Park City too. About 20 minutes out from a Thai restaurant in Salt Lake City, we got a text message from the guys that asked if we had Rozanne.
No… they had to be joking. They were joking, right? There's no way they didn't see her; she was in front of them. We frantically called Car #2 and confirmed that they indeed did not have Rozanne. Jes and I promptly got off at the next exit and hightailed it back to Highline Trailhead, about an hour and a half away. We were going to meet the guys at Mirror Lake after we checked our original location.
Luckily once we pulled up to where we'd been parked, we saw a lone figure waiting for us. It was Ro! All was right in the world. She was, understandably, a little shaken but relieved to see us. We loaded up her things in the car and went to find Jeff and Kovas to let them know everyone was alive and safe. And then back to Salt Lake City we went, thus concluding our three days of wild adventure.
Gear: Arc'teryx Kea 45 pack (similar), Norrøna bitihorn lightweight pants, Mountain Hardwear Plasmic Jacket, Pivotte touring tank, Woolx Basecamp Hoodie, Merrell Capra Bolt Mid GTX Hiking Boot, Adidas Outdoor Flyloft Jacket, Black Diamond Ultra Distance Trekking Poles, Sunski Dipseas, Chaco Z/Cloud X2 sandals, Cloudline medium cushion hiking socks
Many thanks to our sponsors: Bounce Balls, Catalyst Case, Cloudline, Enerplex, Lawson Hammocks, LifeStraw, Merrell, Mountain House, Opinel, Oxygen Plus, TravelChair, Simple Squares and SoulCare by CCC.
Visit Chronic Climber Chick, Midwest Basecamp, Missouri Howell, Mountain Matron, and Raw Trails for different perspectives on the trip.
Last updated on December 4, 2017.