Hike: Bay Area Ridge Trail to Ancient Oaks Trail to Charquin Trail to Borel Hill
Where: Russian Ridge Open Space Preserve
Trailhead: Russian Ridge Open Space Preserve
Level: Moderate
Duration: 3 hours
Length: 8 miles
Gear: Icebreaker Women's Tech T Lite T-Shirt
, Outlier Women's Daily Riding Pants, REI Flash 18 Pack
, Triple Aught Design Artemis Hoodie, and Ahnu Sugarpine Waterproof Hiking Boots

Cost of Parking: Free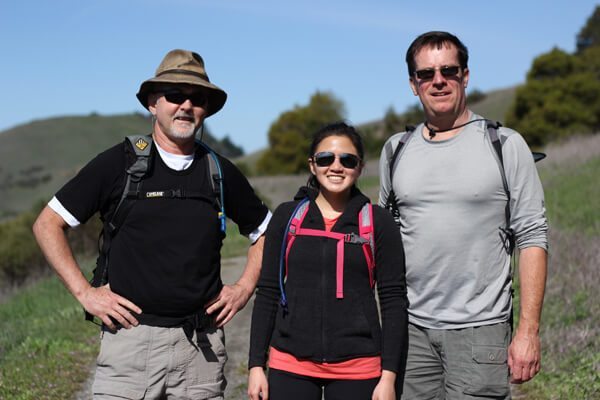 Met up with Russ the Wine Hiker & Karl from Alpha Roaming this past Sunday for a quick hike off of Skyline Blvd at Russian Ridge Open Space Preserve. The Bay Area is chock-full of these Open Space Preserves, open to hikers, bikers and equestrians. They tend to get very busy and are quite open and unprotected, so I tend to avoid them. But they all offer miles of gorgeous trails and amazing views.
We've been getting a wee bit of rain in the Bay Area, so the hills are currently lush, green and dotted with wildflowers. It was the perfect time to hike an open space preserve.
We started off at the parking lot off of Alpine Road and hopped onto the Bay Area Ridge Trail. Enjoyed sweeping views of Silicon Valley beginning to wake up under a cloud of fog, and then made our way over to the Ancient Oaks Trail. Hiked beneath the shade of some gorgeous oak trees and then dropped down onto Charquin Trail until it hit Mindego Hill Trail.
From there, we retraced our steps back up Charquin and Ancient Oaks. We popped up to Borel Hill which was quite windy, and then took the Bay Area Ridge Trail back to the parking lot.
Last updated on February 23, 2016.