I've never been one for group travel, but after experiencing REI's new Greek Islands Under 35 adventure, I'm singing a different tune. This trip isn't your average group tour. It's more like hanging out with friends than being tourists. We traveled to places and trails that are off the beaten path, rather than the usual sights. Read on for the shenanigans we got into on the Greek Islands with REI.
Day 1 – Getting to Athens and the Greek Islands
Our trip started in Athens. We met at a hotel close to the Acropolis to drop off gear. Everyone arrived early, so we kicked things off early. Our trip began with a short meeting with introductions and to set expectations. Then we all headed to our first Greek meal.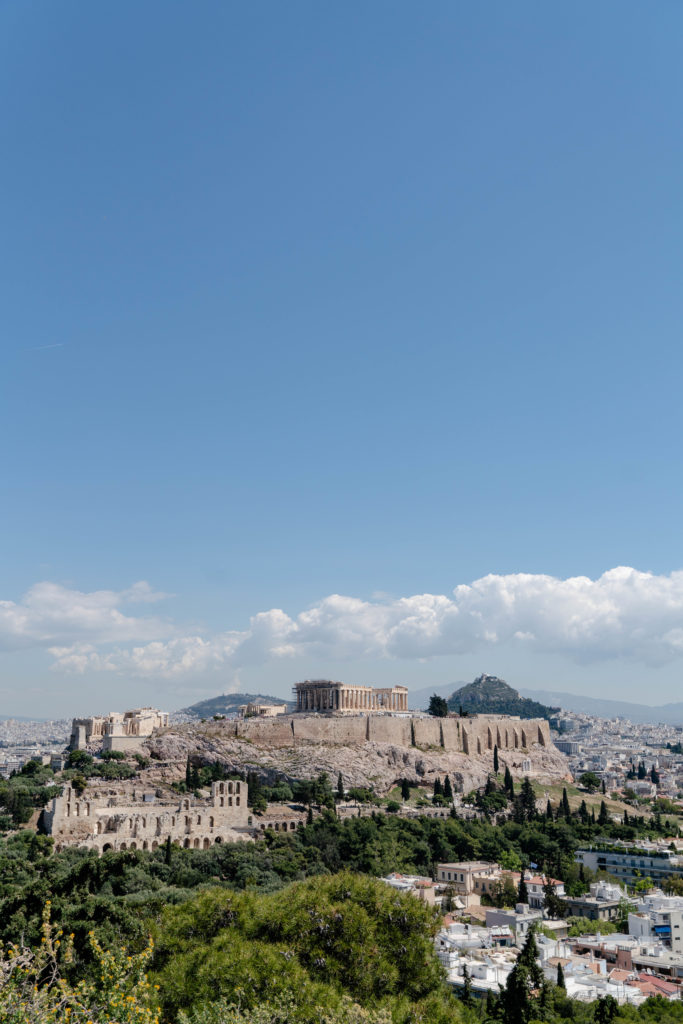 After our meal, we had time to wander to the Acropolis. If you have the chance, fly in a day or two early to beat jet lag and visit. A tour to the Acropolis isn't on the itinerary to keep costs low. (The Acropolis and museum are best explored with an actual guide.) It is well worth a stop.
We hustled back to our hotel to pick up our belongings. Then off to the Port of Piraeus to catch our ferry to our first island: Paros.
Day 2 – Cruising Paros and Antiparos
Our first day on the Greek Islands with REI got shuffled around due to weather. High winds and rain the next day meant our chances of getting out on the water were very low. The weather on this day wasn't amazing, but it didn't keep some of us from swimming.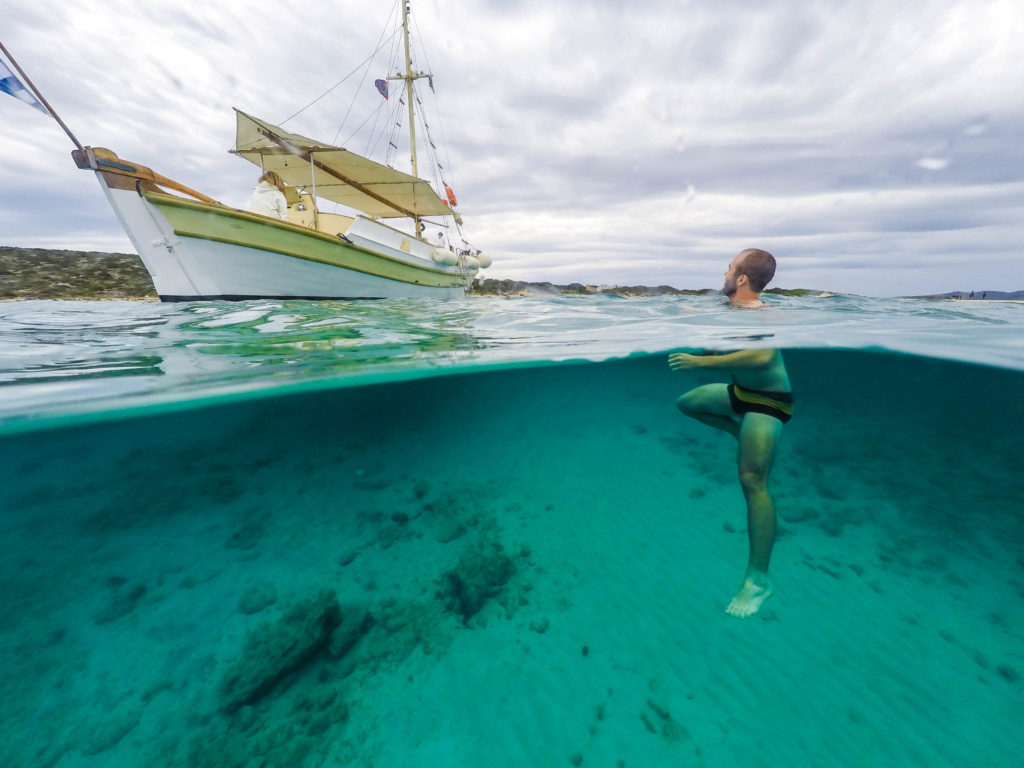 Unfortunately, we weren't able to go cliff jumping or visit Despotiko because of the weather. We did, however, enjoy a fantastic lunch and many snacks before heading back to Aliki.
This might have been my favorite day despite not sticking to the itinerary. The water was so darn clear and blue. I could have spent all day jumping off the side of our boat.
After returning to our hotel, dinner was on our own. We ended up eating together as a group, though we all paid separately.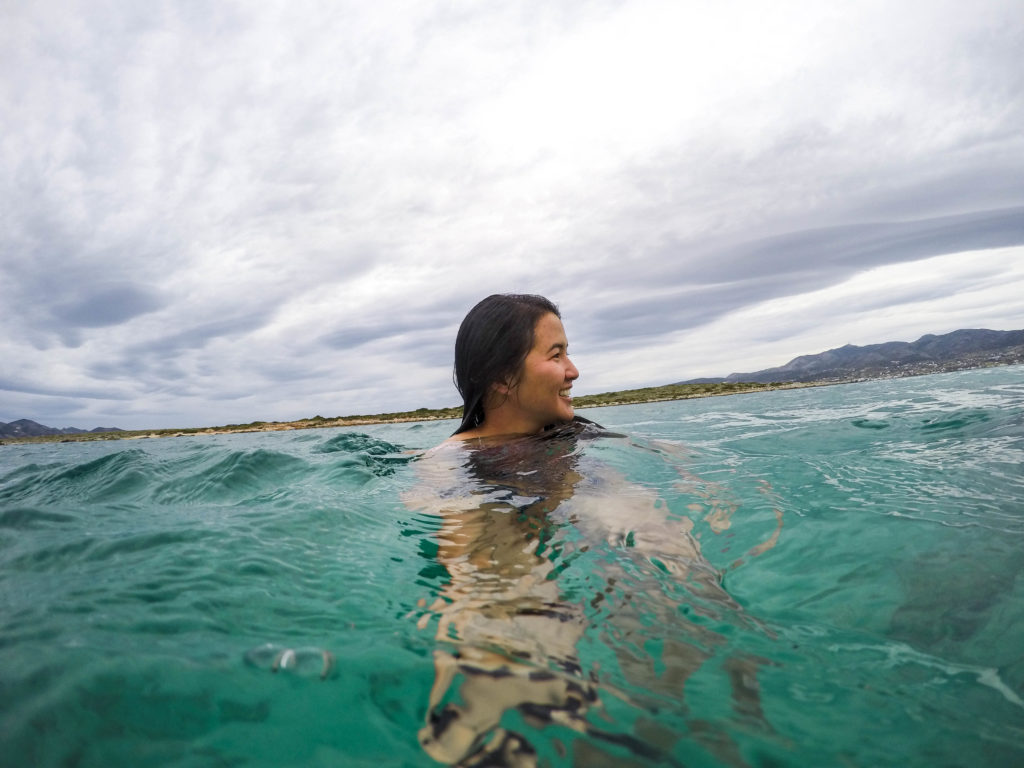 Day 3 – Hiking the Byzantine Trail
Another day in paradise, and another day with inclement weather. The morning started off sunny and clear. We thought we'd be safe for the day. Our itinerary was traveling along the Byzantine Trail, the oldest trail on Paros which connects the villages of Lefkes to Prodromos. Our hike would conclude with swimming at Piso Livadi, a total of 4.7 miles.
We hopped aboard a bus to get to the trailhead for our hike. As we began hiking on the Byzantine Trail, the wind picked up and the sky darkened. Soon, it began to rain. The rain didn't stop.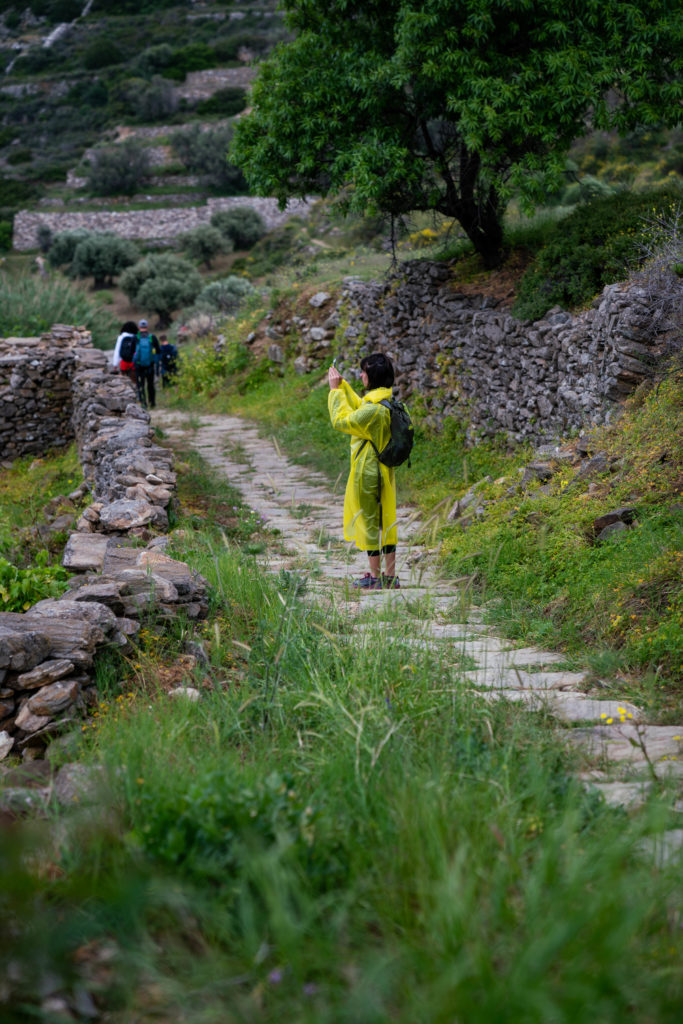 Our guides, Anna and Archelaos, made the executive decision to end the hike in Podromos, after stopping at a café for refreshments. They arranged for a pickup at the village at 1:30. This gave us some time to wander around Podromos, marveling at the blue doors and white walls.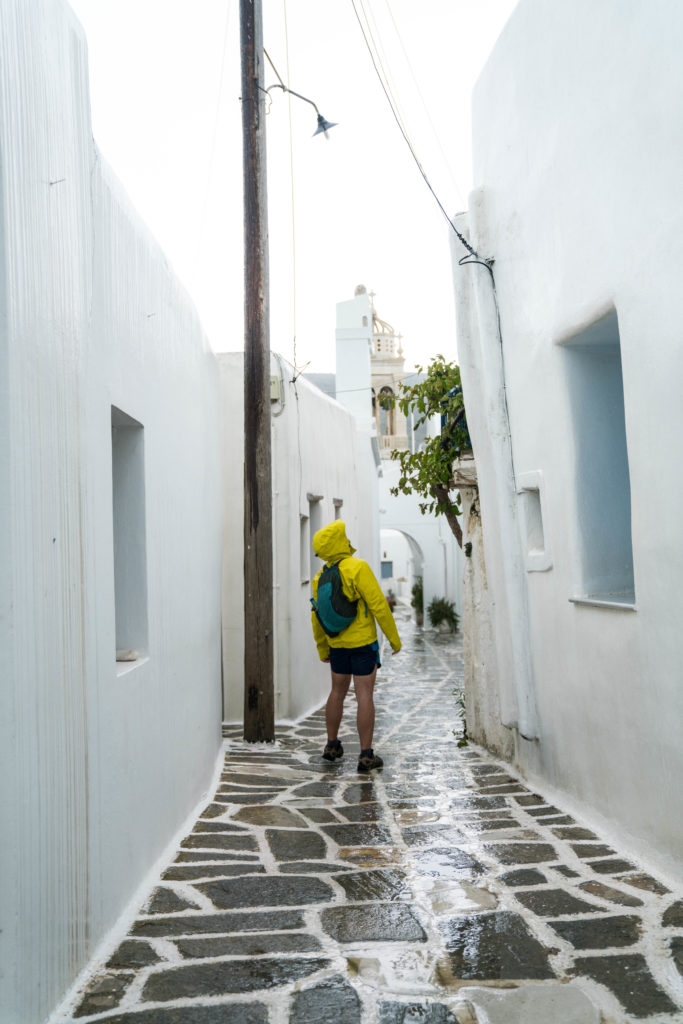 The rest of the afternoon was free. Mac, Dylan, Archelaos and I hired a taxi to take us to Kolympḗthres, a destination I saw on a postcard in town. Much to my surprise, there were small outcroppings of granite on this beach.
We spent the afternoon scrambling on rocks and jumping in the water. Instead of taking a taxi back to our hotel, we grabbed beers and walked the hour long journey back.
We met in the evening for dinner with the rest of our Greek Islands group in Naousa.
Day 4 – Sunset Hiking on Amorgos
A bright and early ferry ride greeted us on our fourth day on the Greek Islands with REI. Today, we headed to another island: Amorgos. Its claim to fame is a feature in a French movie. The majority of tourists on the island are Greek and French.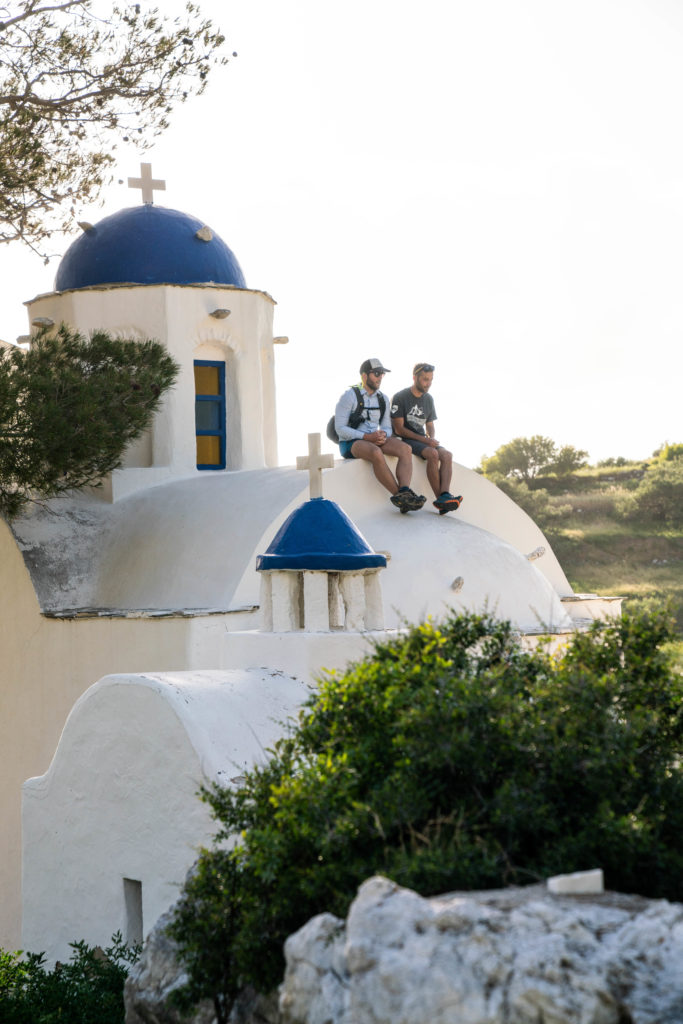 We briefly checked into our hotel before embarking on our next hike. This hike was my favorite on the whole trip. The trail would take us from our hotel in Aegiali Bay to Tholaria. From Tholaria, we traversed to Lagkada, and then back down to our hotel. Golden hour at Lagkada was absolutely stunning.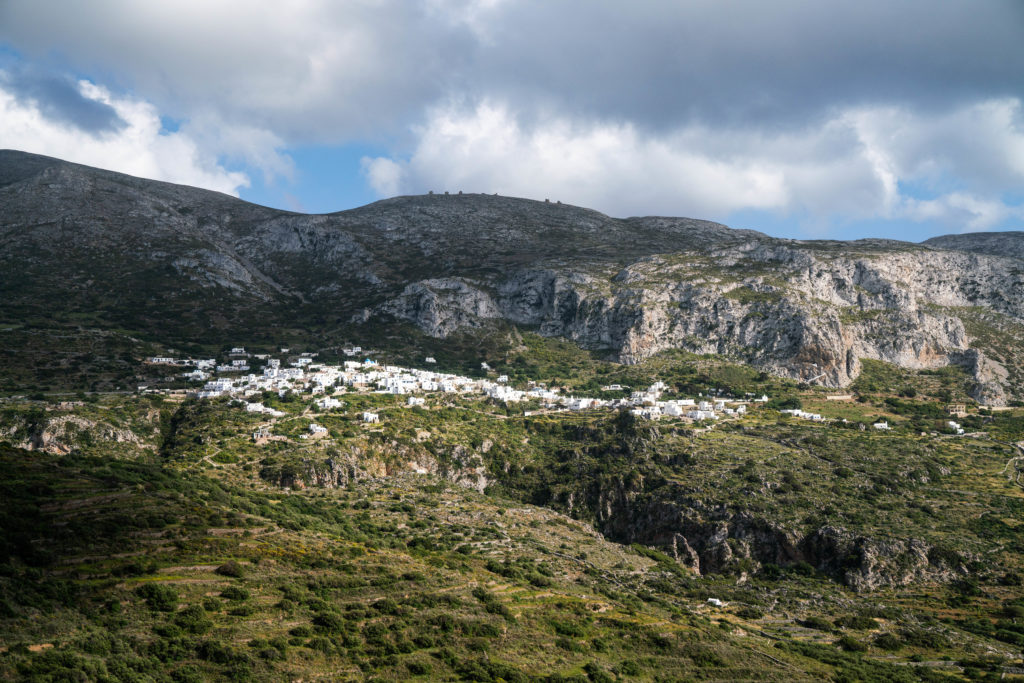 Dinner was on our own this night, either at the hotel or in town. The hotel restaurant menu was not impressive, so some folks and I walked into town for food.
Our pick was Amorgialos, and it might be one of the best meals we tasted on this trip. The menu changes every evening. Eating with several people allowed us to try the majority of the menu. It also was quite affordable.
Day 5 – Hiking to a Cliffside Monastery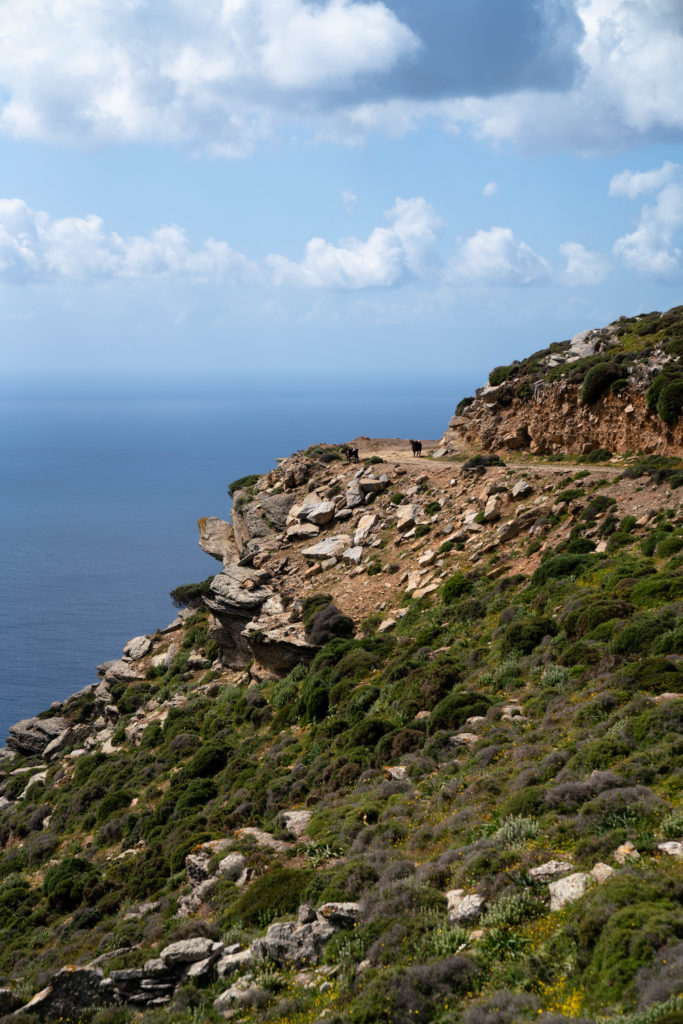 Our last day on Amorgos called for a hike to the most famous destination on the island: the Monastery of Hozoviotissa, built in the 11th century. We hopped aboard a transfer that took us to Asfontilis on the middle of the island. From Asfontillis, we traversed south across the island until we could see the ocean on the other side.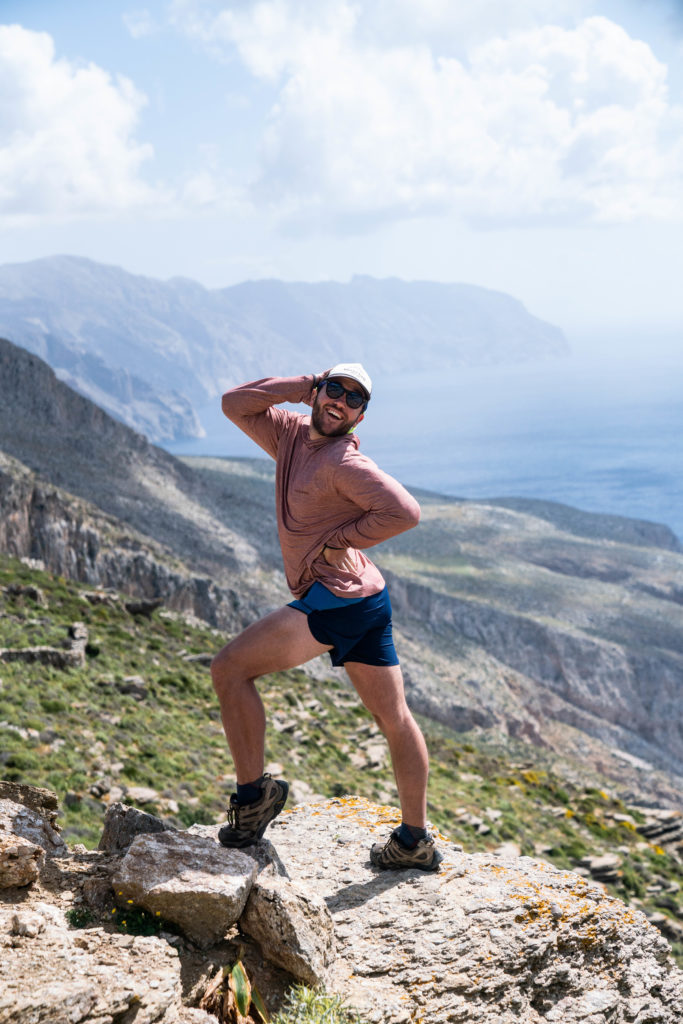 The south side of Amorgos is stunning. The weather was perfect, too. The views were absolutely unreal. The trail skirts around the cliffs until the Monastery of Hozoviotissa comes into sight.
We stopped inside the monastery. Men must wear pants and women must wear skirts. At the entrance there are clothes for you to borrow during your visit. The climb to the top balcony is a must. Cameras are not allowed in the chapel where the treasures and icons are kept.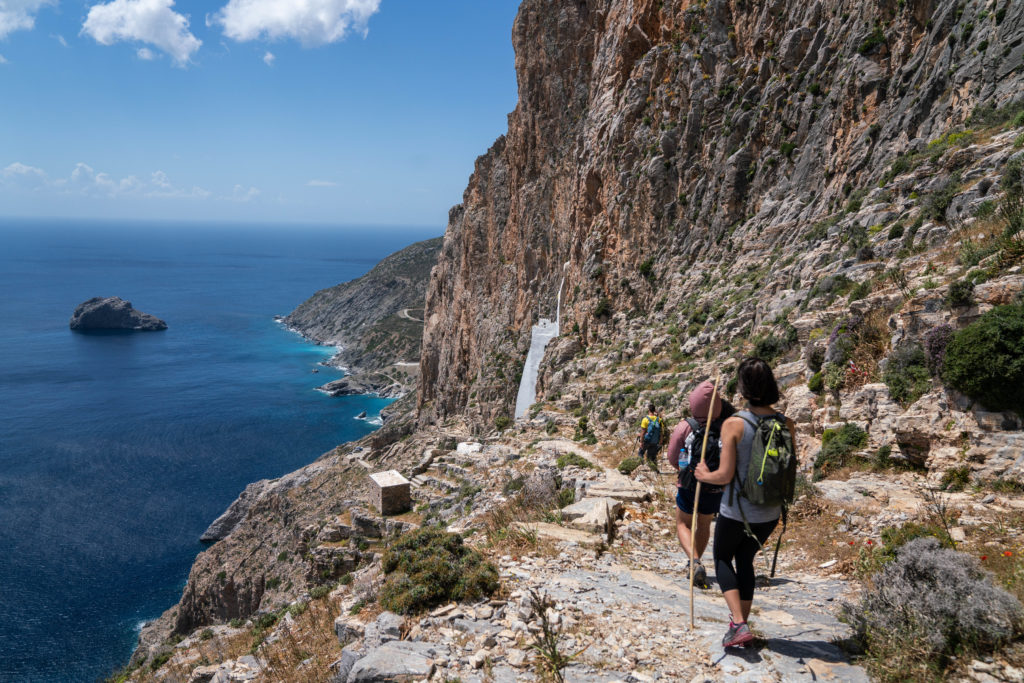 After the monastery, we continued to the town of Chora, or the capital of Amorgos. Lunch here was on our own. We also had time to wander around and explore. Amorgos is also the last destination to purchase souvenirs or anything you might want from Greece for reasonable prices.
We had the afternoon to ourselves before our Greek cooking and dance lessons. Some friends and I decided to head to the beach near our hotel to find some rocks to jump off of. We didn't find any, but the water was so clear and blue, it was still magical.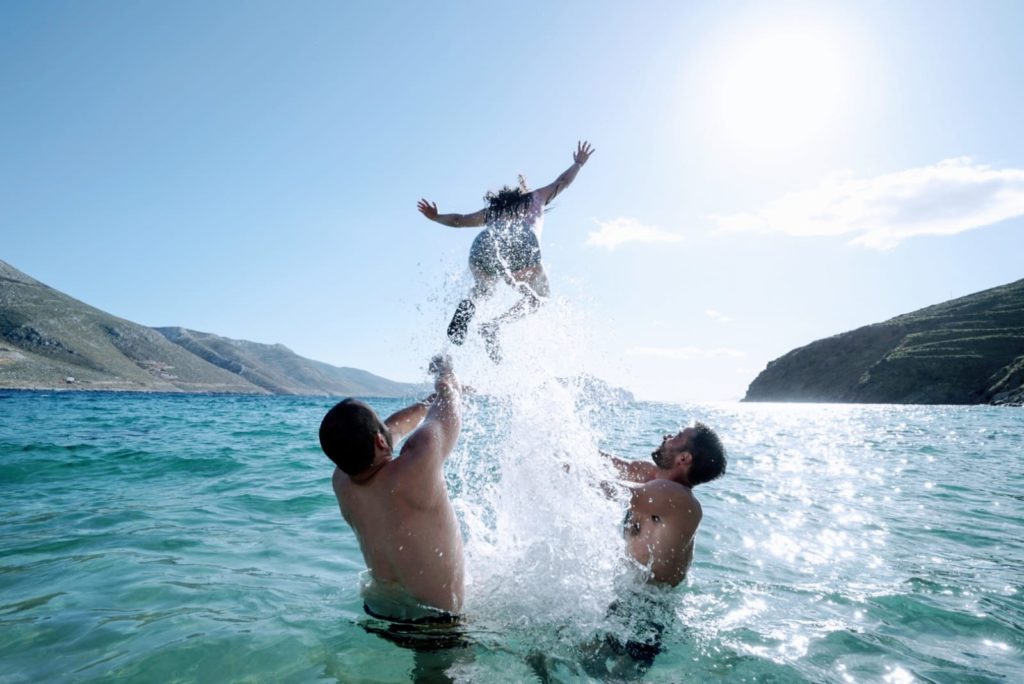 That night, we made our own dinner and drank too much wine. Greek dance lessons were a bit of a blur, but maybe that's because my dance skills are close to zero.
Day 6 – Last Day on Santorini
Day 6 was our last full day on the trip. We boarded a small Viper boat bright and early in the morning to head to Santorini. This specific trip ran in the pre-season before the ferry to Amorgos was running. In season, travelers will hop aboard the ferry. This boat seemed a little precarious, but it floated across (most of) the waves! I napped for most of the ride, until a huge wave drenched the whole boat.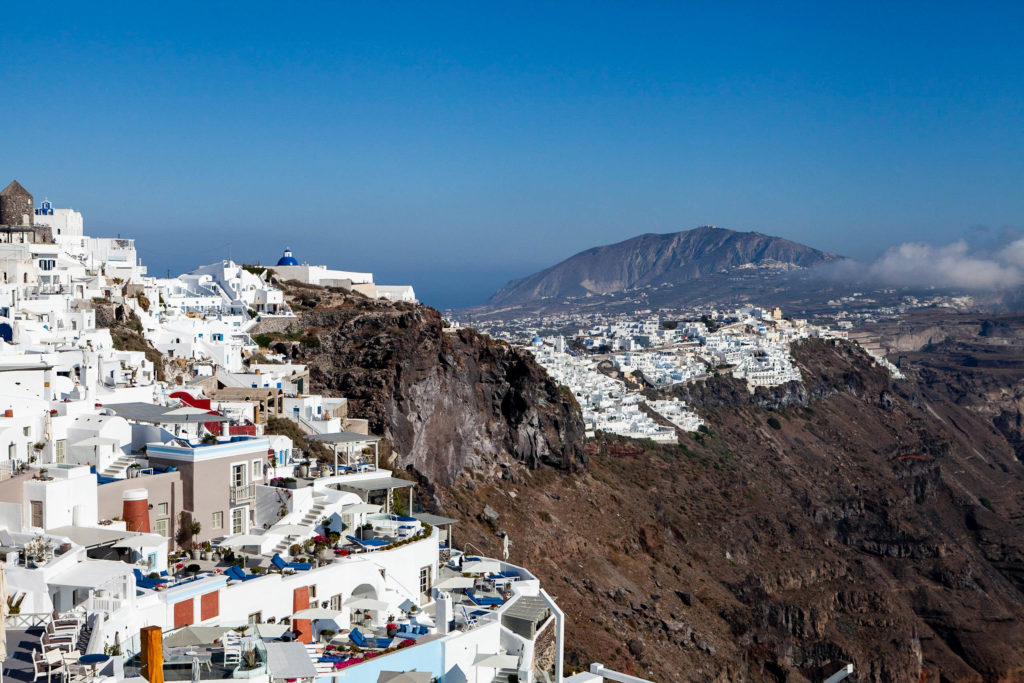 Once on Santorini, we checked into our hotel. Our schedule allowed for a few hours of free time before our last hike. I had lunch at the hotel and opted to spend some time catching up on work and relaxing.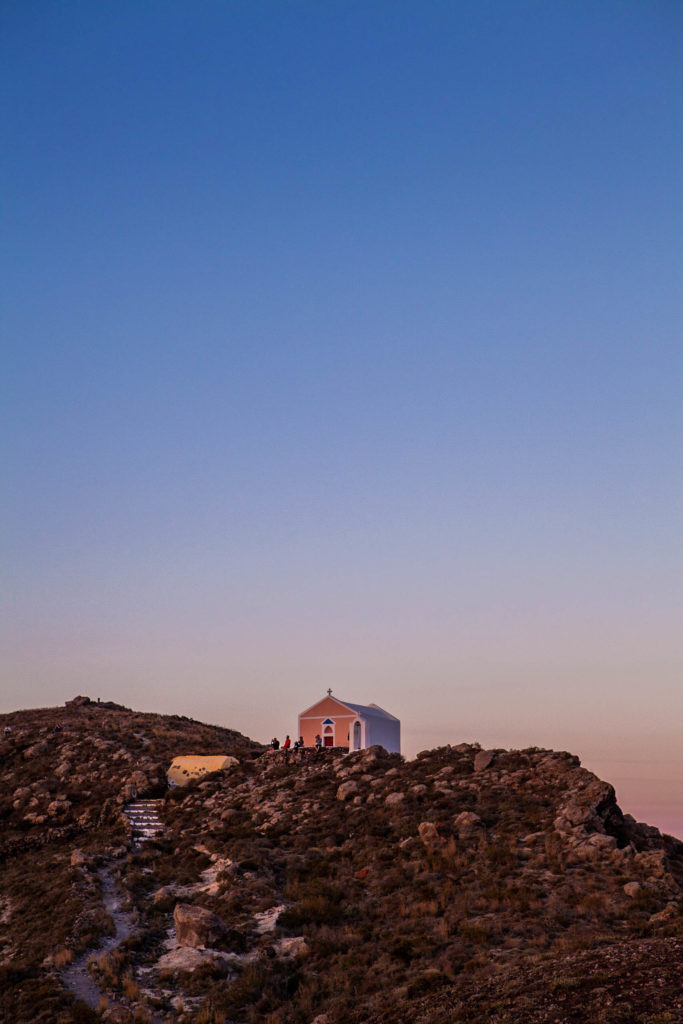 In the afternoon, we caught a bus to Oía where we'd begin the famous 6.6 mile hike to Fira. Santorini, with all of its tourists, was a change from Paros and Amorgos where we encountered few people. Be prepared for the shock of people!
Our last dinner of the trip was in Fira with a stunning sunset over the caldera. It was bittersweet. After dinner, we returned to the hotel for one last round of drinks. Mac and I also decided to go swimming one more time, because what else are ya gonna do in the Cyclades?
One by one, we went to bed and our separate ways.
Know Before You Go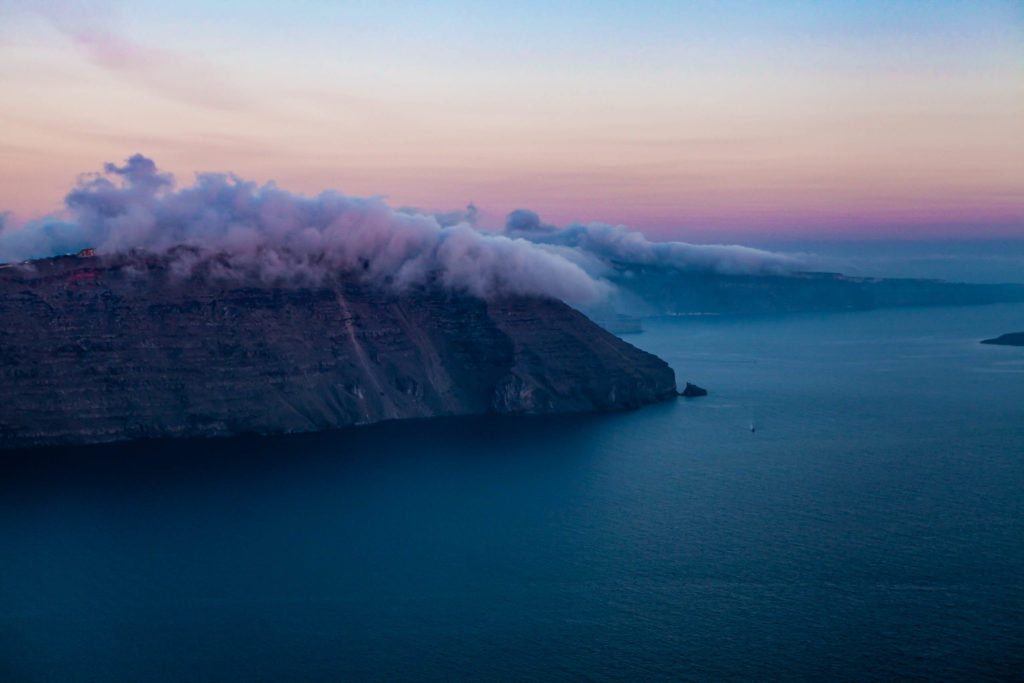 Not all your meals and activities are included. Part of the Under 35 trips includes free time. Your guides will tell you the plan for every day. Don't worry though, you might not be entirely alone. People tend to partner up to head to town or go out for dinner.
Be flexible. Weather can be unpredictable. Ferries are prone to delays.
Plans might get shuffled around. Extend your trip if you can! Go kayaking on Santorini, or visit Akrotiri. Santorini is also an easy spot to head to other islands, like Milos.
Experience the Greek Islands for yourself!
The REI Under 35 trip to the Greek Islands begins at $1999 (or $2199 if you don't have a REI membership, so get one today!) for a double occupancy room. The price increases for a single occupancy room, but part of the fun of group travel is meeting new people, right?
What's included in the price?
Guides
Accommodations
Ferry and boat transportation
Transfers for the duration of your trip
Most meals
Cost for group activities
What's not included?
Airfare
Transportation to/from the airport
Travel insurance
Tips for your guides
Some meals
If heading to Greece isn't really your thing, REI also has several other international Under 35 trips, along with some domestic Under 35 adventures as well.
My Gear for Exploring the Greek Islands with REI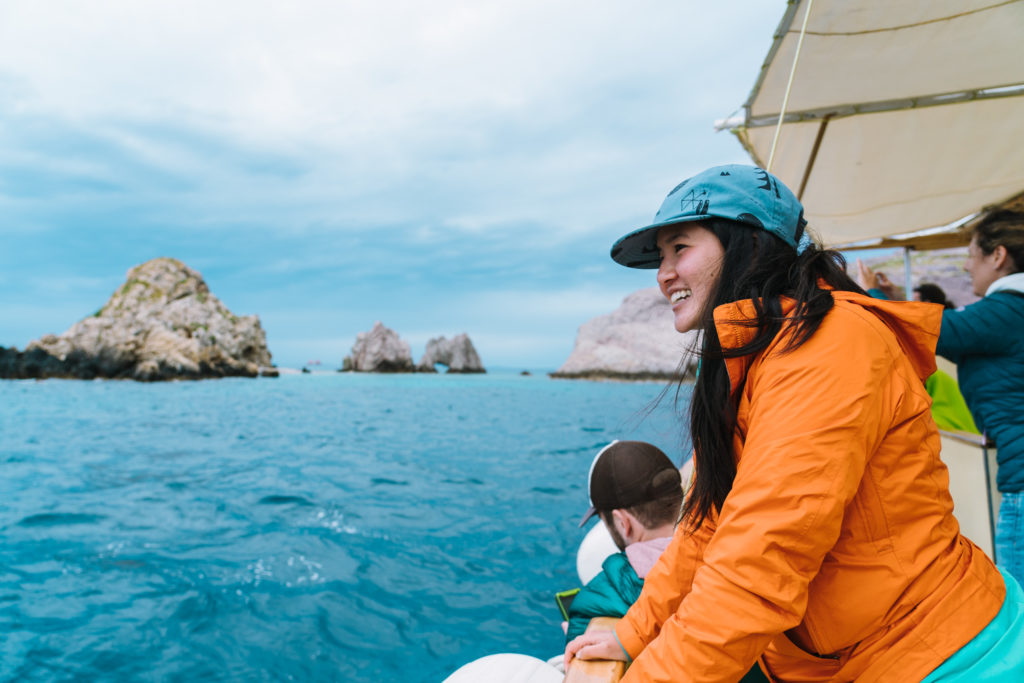 Clothing
Arc'teryx Oriel Leggings, Arc'teryx Proton FL Jacket, Arc'teryx Atom LT Jacket, Marmot PreCip Rain Jacket, Outdoor Voices Merino t-shirt, REI Co-Op Rockridge Cap, Chaco Z Cloud X/2 sandals, Arc'teryx Aerios trail runners
Camera Equipment & Electronics
GoPro Hero, Dome.cam, GoPro 3-Way Grip
Sony A7RIII, Sony 24-70 f/2.8 lens, Sony 70-200 f2.8 lens, Peak Design capture camera clip
Gear
Topo Designs Mountain Backpack, Topo Designs Camera Cube, Nalgene Wide Mouth 48 oz. Water Bottle
New Friends
I had the pleasure of traveling with the following amazing people. Go give them a follow!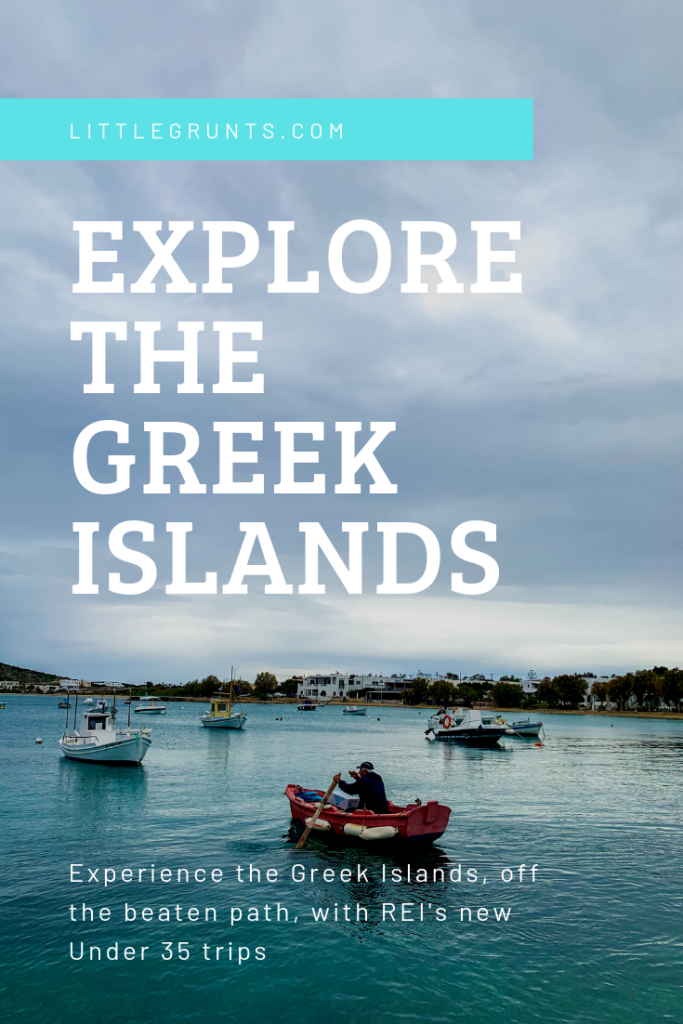 This trip and post were sponsored by REI. All opinions are my own.
Last updated on May 17, 2019.