You're heading to Zion National Park and you want something a little more off the beaten path? Try backpacking in Zion! The Zion Traverse, also known as the Trans-Zion Trek, is a set of trails that traverses the entire park.
It's typically done from north to south so you're going downhill-ish for most of the hike, but if you wanted to get extra miserable, you could do it in the reverse direction. Read on for my tips on planning a successful trip across Utah's first national park.
Best Time to Hike the Zion Traverse
Late spring! Depending on the snow year, snowmelt means that water sources will be flowing. Summer is hot, hot, hot. If you're backpacking without resupply, water sources will be scarce.
How to Get Permits for the Zion Traverse
If you're an ultra runner or a super strong and fast hiker–which I am neither–you can do the entire thing or exit out Zion Canyon in one day.
Online reservations are available up to 3 months in advance on the 5th at 10am MT. A separate reservation is needed for each spot you intend to camp at.
If you don't score a permit reservations, you still have a chance of scoring a walk in permit at any Zion visitor center up to a day before you'd like to start. The park states that 1/3 of permits are not available to book online. This is how Missouri Howell and I nabbed ours for three days out.
Permit costs vary by the number participants. For 2 people it was $15.
Where to Camp on the Zion Traverse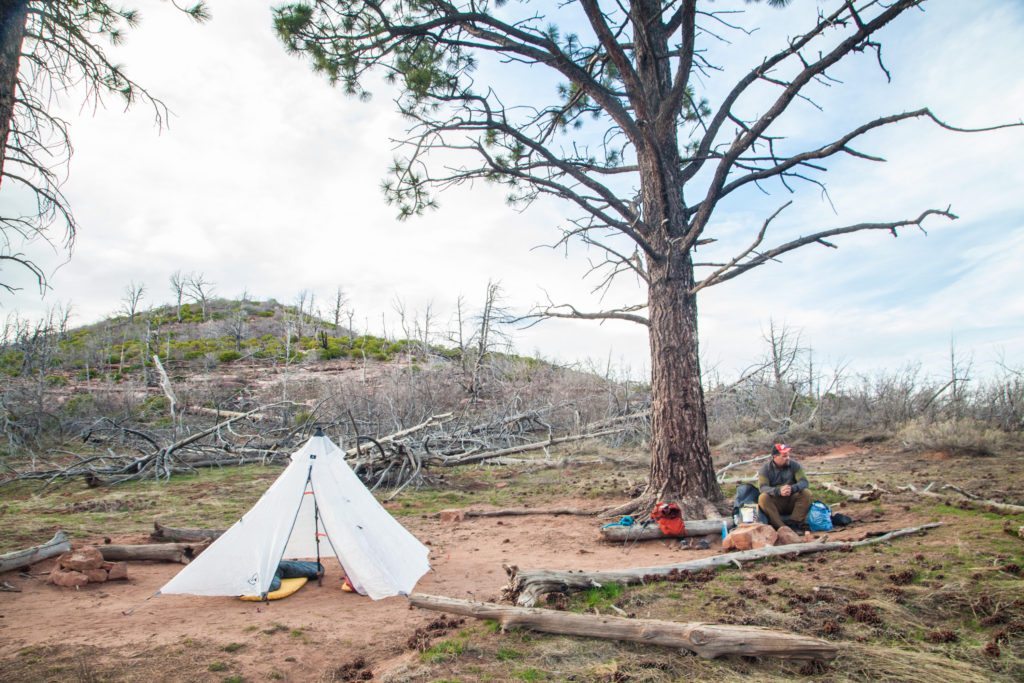 Don't let the visual distances on the Zion maps fool you. The backcountry sites are fairly spread out all along the trail. There will be long days of hiking.
Anything along the Lee Verkin Trail is 20+ miles to your next legal campsite. Hop Valley isn't much closer either.
There is BLM land outside of Hop Valley that you may want to utilize to decrease mileage.
Camping is available at Wildcat Canyon, though when we passed through, spots were scarce.
Campsites along the West Rim are also far apart, from campsite 9, by Wildcat Canyon to 7 and 8 in Potato Hollow, something resembling a post-apocalyptic sci-fi movie set. 1-5 are arguably the most scenic, situated near viewpoints of steep, sandstone canyons, but if you are coming from La Verkin or Hop Valley, they also require a lot of hiking.
Camping is also available in zoned sections on the East Rim, first come, first served, with a permit.
Water on the Zion Traverse
The Park Service updates their site with information on marked water sources here. Signs are also posted in the visitor centers indicating which springs are flowing and which aren't.
I was paranoid about running out of water on the trip so I carried about 5L of water every day. However, I went in late spring after a good snow year, so water was readily available everywhere as unmarked streams or snowmelt.
Itinerary for the Zion Traverse
On day zero, we dropped our second car off at the end of our thru-hike at the East Entrance and shuttled ourselves up to the Kolob Canyon Visitor Center area. We spent the night on some BLM land close by so we could start early the next day.
Day one, we stopped by the Kolob Canyon Visitor Center to double check conditions and set off at Lee Pass. We stopped at our permitted campsite in Hop Valley and decided to continue on the trail. We camped outside of Zion National Park by the Hop Valley Trailhead on BLM land.
Day two, we trudged through mud and slush from Hop Valley to the West Rim. We camped at site 7 in Potato Hollow.
On our last day, we hiked to Zion Canyon, utilizing both the Telephone Canyon and West Rim trails. We hitchhiked back to our car at the East Entrance.
Zion Traverse shuttles
If you only want to rent one car, there are shuttle services available to grab you after you drop your car off at the East Rim. The park's free shuttle doesn't go to the East Rim.
If having flexibility is more your style, use AutoSlash to find the cheapest rates on rental cars. Don't bother with cab pickups, the closest cab company is in St. George. We tried this as an option when we were struggling to hitch a ride to my car.
Gear for backpacking Zion
Personal Gear: Arc'teryx Kea 45 Pack (similar), Western Mountaineering Summerlite Sleeping Bag, Therm-a-Rest Women's NeoAir XLite, Arc'teryx Sabria Pants, Pivotte Touring Tank, Arêt Basewear Toura Top, Patagonia Performance Better Sweater Hoody, Outdoor Research Filament Down Jacket, Merrell Agility Peak Flex Trail Runners, Black Diamond Ultra Distance Trekking Poles, Chaco Z/1 Sandals
Shared Gear: Snowpeak Litemax Stove + Single 600 Wall Cup, MSR Piezo Igniter, Sawyer Squeeze Filter, Hyperlite Mountain Gear Ultamid 2, Aquamira droplets
Not enough time to backpack Zion? Seattle Bred shows you how to spend 24 hours in Zion.
Last updated on March 26, 2019.