My choice of hiking bottoms changes a lot. Sometimes I'm a pants kinda lady. Sometimes it's leggings. Right now, it's shorts. (Maybe you can blame my thru-hiker partner, Halfway Anywhere.) I've hunted high and low for shorts that are flattering on my 5' tall body, and the winner is the Vuori Clementine Shorts. Here's my review.
The Vuori Clementine Shorts have seen miles of trails in Barbados, the Sierra, and Sacramento. I've worn these non-stop for the last 6 months now. We've been on multi-day backpacking trips, and we've bouldered in Tahoe.
Vuori Clementine Specs
| | |
| --- | --- |
| Sizes | XS-XL |
| Fabric | 92% Polyester 8% Elastane |
| Inseam | 2.5″, also comes in 4″ |
| Weight | 4.2 oz (measured from an XS) |
| Liner | Yes |
| Pockets | 1 zippered key/credit card pocket |
| Activities | Hiking, backpacking, running, bouldering |
What I like
The waistband! I carry most of my weight in my stomach. You'll never see a six pack from me, ever, just muffin tops from most pants and shorts. These are the first pair of shorts with a wide and soft waistband that doesn't squeeze it all in unflattering shapes like a toothpaste tube. This alone gives it 5 stars for me.
The length! My torso is short and stubby. My legs are long. Give me all the short shorts, because anything else makes me look like a stump. Plus I've heard my legs are my greatest asset, you can be the decider of that. But again, the length may deter folks from buying because scratches and bruises from scrambling and bushwhacking, and sunburn are the real deal. The Vuori Clementine also comes in a 4″ version, if 2.5″ is too scandalous.
What's just okay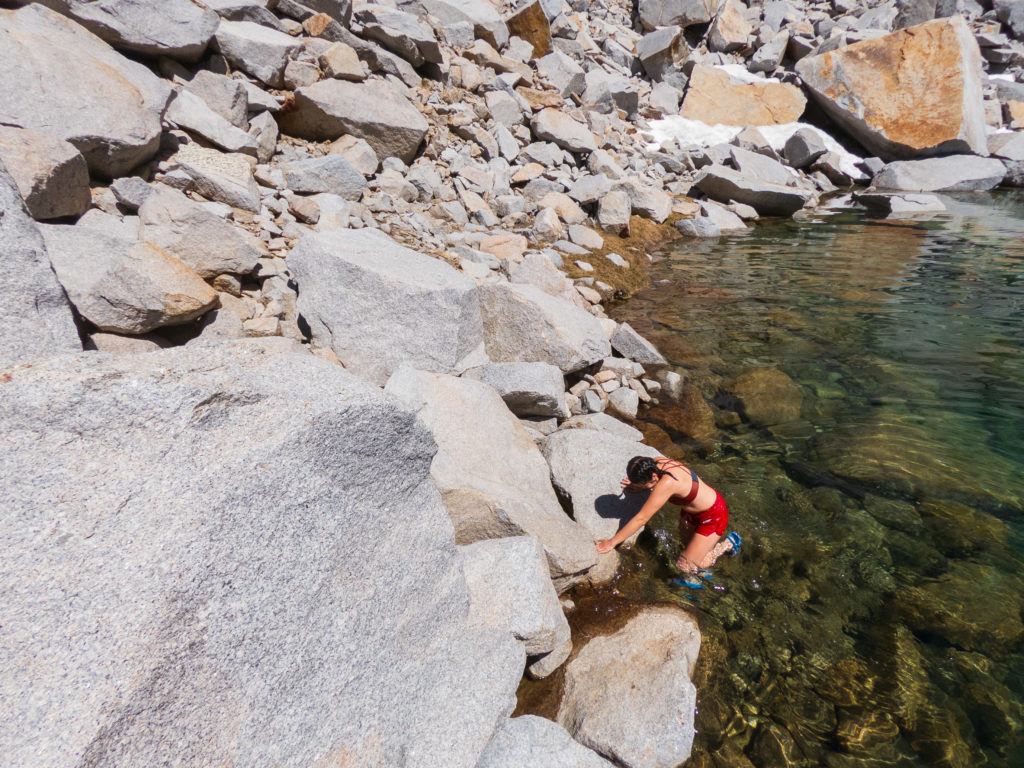 Dry time. The Vuori Clementine shorts don't dry super quickly. They don't dry slowly, either, but they don't dry fast. You'll need to wring them out well and lay them out to dry, which can be a bit of a problem because there's a liner and all. If you want to dry them in the sun, that means you'll be sitting around pantsless, which may or may not be win, depending on how you look at it. Sometimes I'll just jump in naked to avoid drying my shorts.
Rise. These are a mid-rise short. I wish they were high-rise. My pack belt hits the waistband in a way that makes me feel like the Vuori Clementine shorts are about to fall off. They haven't fallen off yet though.
What I don't like
Lack of pockets. In clothes-made-for-women land, this is nothing new. Nothing ever has pockets. There's one zippered pocket on the shorts. It will hold one or two keys–not a whole key ring, some spare change, and a credit card and ID. However, if there's anything that I've learned from my volleyball days, it's that you can tuck your phone into the waistband of your pants. The liner keeps it from slipping out.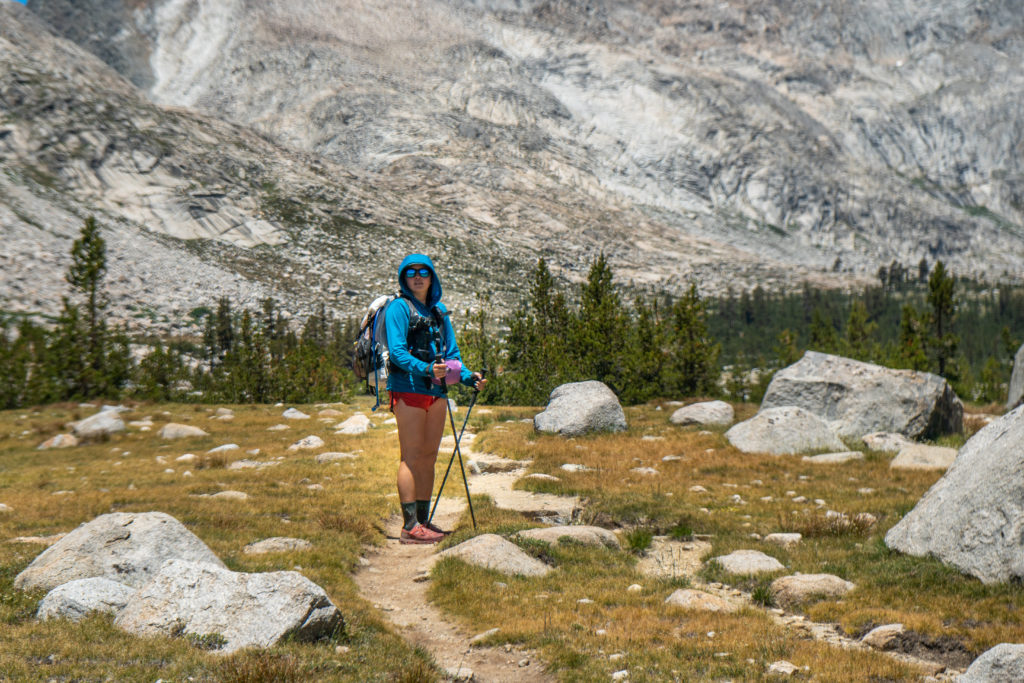 The Verdict
Would I buy these again? Absolutely. In addition to backpacking and bouldering, I wear them to lounge around the house, to ride my bike, to run on occasion. They are now a staple in my closet. I need one in every color.
My decision is very heavily influenced by how well these fit my waist. I'm not sure I'll find active shorts that fit me so flatteringly again.
Last updated on August 31, 2020.