Growing up, I read a lot. No joke, I'd sit in the bathroom and read while getting ready for school until my dad yelled that we had to leave. I'd read books by white authors with white characters. I tried to imagine myself in their shoes with blonde hair and blue eyes. Hearing stories about and reading the words of people who look like you is important. Learning from others who do not look like you is also important. Representation matters. For #AAPIHeritageMonth I've rounded up a list of outdoor books by Asian authors. Many of these are children's books I wish I had growing up; I send all of them to my nieces. Some are memoirs. Some are raunchy romances interspersed with climbing. And some speak my love language: food.
A * indicates books I've read.
Fatima's Great Outdoors by Ambreen Tariq*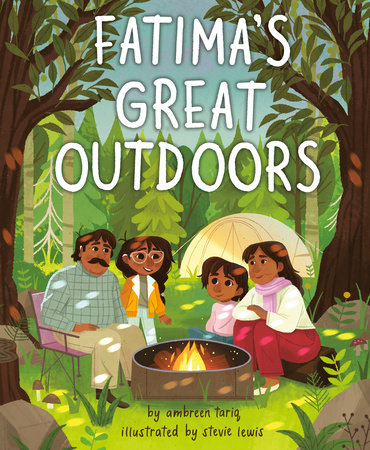 My friend, Ambreen, wrote this fantastic children's book about immigrant family that resembles hers embarking on their first camping trip in the Midwest. Buy it here.
Catfish and Mandala: A Two-Wheeled Voyage Through the Landscape and Memory of Vietnam by Andrew X. Pham*
Catfish and Mandala is the story of an American odyssey—a solo bicycle voyage around the Pacific Rim to Vietnam—made by a young Vietnamese-American man in pursuit of both his adopted homeland and his forsaken fatherland. Buy it here.
Sherpa: The Memoir of Ang Tharkay by Ang Tharkay
The autobiography of Ang Tharkay, who was born in 1908 and became one of the most renowned Sherpas of early Himalayan exploration, has long been a collector's item in the original French-language edition but it has never been available in English until now. Buy it here.
How to Solve a Problem: The Rise (and Falls) of a Rock-Climbing Champion by Ashima Shiraishi*
Ashima Shiraishi draws on her experience as a world-class climber in this story that challenges readers to tackle the problems in their own lives and rise to greater heights than they would have ever thought possible. Buy it here.
A Different Pond by Bao Phi*
This isn't your typical outdoorsy book, but it's a story of how one Vietnamese immigrant family uses the outdoors for survival. This one tugs on my heartstrings because I see myself and my family in this book, even if our stories are not the same. It's also beautifully illustrated by Thi Bui. Buy it here.
The Feed Zone Cookbook: Fast and Flavorful Food for Athletes (The Feed Zone Series) by Biju Thomas and Dr. Allen Lim
Chef Biju and Dr. Lim vetted countless meals with the world's best endurance athletes in the most demanding test kitchens. In The Feed Zone Cookbook: Fast and Flavorful Food for Athletes, Thomas and Lim share their energy-packed, wholesome recipes to make meals easy to prepare, delicious to eat, and better for performance. Buy it here.
Sarah and the Big Wave: The True Story of the First Woman to Surf Mavericks by Bonnie Tsui
Have you ever seen a big wave? One that's twenty, thirty, forty, even fifty feet tall? Here's a better question: Would you ever surf a big wave? Sarah Gerhardt did—and this is her story, as told by Bonnie Tsui. This tale of perseverance and indomitable spirit is about the first woman to ride the waves at Mavericks, one of the biggest and most dangerous surf breaks in the world. Buy it here.
Campfire Stories: Tales from America's National Parks by Dave Kyu and Ilyssa Kyu
Co-editors Dave and Ilyssa Kyu spent five months traveling and researching the stories in this book. They gathered each of these stories from public libraries, historical societies, arts and cultural organizations, museums, research centers, and national park archives. They interviewed park rangers, historians, artists, curators, educators, and local residents, who all offered insights and guidance into the essence of each place, which was than used to select entertaining, diverse, and engaging writings that reflected each park and best told around a campfire. Buy it here.
Salmon Forest by David Suzuki and Sarah Ellis
One fall day, Kate goes with her father, a fish biologist, to the river where he works — a river in the Pacific rain forest — the "salmon forest," as he calls it. Together they watch the sockeye salmon returning to the river to spawn, and witness a bear scooping up a salmon. Next, Kate and her dad run into a Native boy named Brett and his family fishing at a pool in the river. From her adventures, Kate discovers how the forest and the salmon need each other and why the forest is called the salmon forest. David Suzuki and Sarah Ellis's charming and informative text and Sheena Lott's watercolors magically evoke the spirit and mystery of the West Coast rain forest. Buy it here.
Burlfriends series by Jen Trinh
The Burlfriends series combines rock climbing and romance into saucy little novels. Author Jen Trinh is also based in the Bay Area, and infuses a lot of its soul into the books. Buy them here.
Touching My Father's Soul: A Sherpa's Sacred Jouney to the Top of Everest by Jamling Tenzing Norgay and and Broughton Coburn
Touching My Father's Soul recounts Tenzing's son, Jamling Norgay's treacherous climb to the world's most forbidding summit. As retold in Krakauer's Into This Air, the 1996 IMAX climbing expedition collided with tragedy. As the climb unfolds so too does Norgay's inner journey. His desire to finally stand alongside his father's soul on the summit of Everest is realised, as is an understanding of his family's Sherpa history and a realisation of the power and significance of the Himalayas. Buy it here.
Two Trees Make a Forest by Jennifer Lee
A chance discovery of letters written by her immigrant grandfather leads Jessica J. Lee to her ancestral homeland, Taiwan. There, she seeks his story while growing closer to the land he knew. Buy it here.
Honouring High Places: The Mountain Life of Junko Tabei by Junko Tabei*
Honouring High Places is a compelling collection of highlights from Junko Tabei's stirring life that she considered important, inspiring and interesting to mountaineering culture. This beautifully curated collection of essays captures the essence of a notable time and the strength of character of one of the 20th and 21st centuries' female mountaineering pioneers. Buy it here.
The Island of Sea Women by Lisa See
Written by Lisa See, the Island of Sea Women is an epic set over many decades, beginning during a period of Japanese colonialism in the 1930s and 1940s, followed by World War II, the Korean War and its aftermath, through the era of cell phones and wetsuits for the women divers. Buy it here.
Long Trails: Mastering the Art of the Thru-Hike by Liz Thomas
Have you been dreaming of the summer when you can hike the Appalachian Trail? Or marvel at the snow-capped peaks along the Pacific Crest Trail? Or simply section hike the Continental Divide Trail? In Backpacker's Long Trails, Liz "Snorkel" Thomas, former women's speed record holder for the AT and veteran of twenty long trails, gives you the tools to make this dream a reality. Buy it here.
Dirty Gourmet: Food for your Outdoor Adventures by Mai-Yan Kwan, Emily Nielson, and Aimee Trudeau
Dirty Gourmet's mission is to get more people to eat well outdoors and have fun doing it! The book emphasizes healthy eating with fresh ingredients, efficient techniques, and global flavors. Camp cooks can choose recipes based on the type of activity they are pursuing—from picnics, day hikes, and car camping to backcountry adventures by foot, bike, or paddle—as well as find recipes perfect for large groups. Buy it here.
Peak Nutrition: Smart Fuel for Outdoor Adventure by Maria Hines and Merceded Pollmeier
Peak Nutrition details 100 simple and tasty recipes within the context of outdoor goals and body science: motivation, recovery, hydration; how our digestive system works; how food provides energy; effects of weather and altitude; the relationship between food, muscle, and cramping; how nutrition relates to mental and physical stress; and much more. The authors also explore shifting eating habits and ways to develop a healthier approach, whether bouldering, climbing, backcountry skiing, mountain biking, trekking, or trail running. Buy it now.
Yoga for Climbers by Nicole Tsong
Nicole Tsong writes a series of books on fitness for outdoorspeople. These books show you how to stay healthy, prevent injuries, and support and improve outdoor passions. Buy it here.
Saving Sorya: Chang and the Sun Bear
A gorgeously rendered middle grade graphic novel based closely on the author's experiences, in which a young conservationist overcomes the odds to save and return a sun bear to its natural habitat. Buy it here.
Let me know if there are any books or authors that I left off this list.
This post contains affiliate links.
Last updated on June 4, 2021.