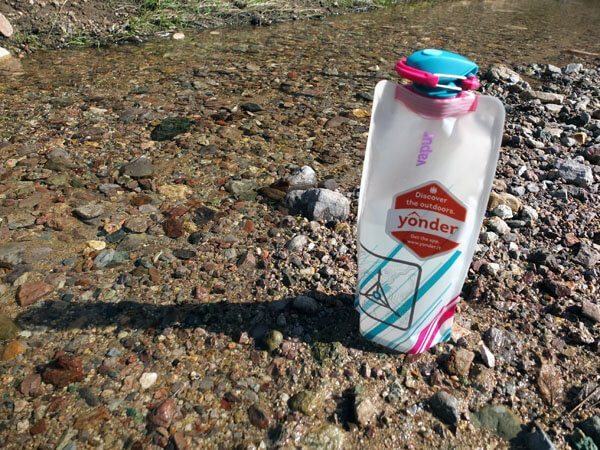 I was lucky enough to score big time in the first ever #YonderGames with a Vapur Element bottle!
I've never really understood the appeal of these "anti-bottles". But now I get it.
My Vapur Element holds 1L of water. The fact that it's clear makes you hyper-aware of just how much water you are drinking. You can see every ounce disappear into your body, and you're watching the plastic shrink as it happens!
Are you a fan of having water handy at all times? The Element is inconspicuous, lightweight and easy to carry. It's sleeker and less clunky than a bottle. The carabiner makes transportation of this baby incredibly easy. It's great for short walks and hikes where you don't want the full weight of a backpack.
Now the cons… This bottle has a too hard, too soft plastic conundrum. If you only have one hand available, this thing is darn hard to use. It's difficult to open, and difficult to pour into your mouth when full. This is because the plastic is pliable for packability. But on the other hand, it's difficult to fill this up all the way. Filling the bottle up with water doesn't fully expand certain sections of it, so you end up coming up a bit short of a liter. If you need to carry exactly 1L of water of you at all times, this might be a deal breaker.
If you're willing to sacrifice one-handed ease of use for extreme portability and lack of weight, this bottle is for you. Buy through Amazon, Vapur or http://www.anrdoezrs.net/click-7165177-10456937?url=http%3A%2F%2Fwww.rei.com%2Fmp%2Fcj%2Fproduct%2F862538%3Fmr%3AtrackingCode%3DDBA6AB1F-EAE0-E211-A755-BC305BF82162%26mr%3AreferralID%3DNA&cjsku=862538" target="_top">REI
for $12.99.
Edit 03/12/2015: Almost a year later my Vapur bottle cracked! I emailed customer service some photos of the bottle and they got me another one lickety split. I am very pleased.