Backpacking the Milford Track in New Zealand is something I've wanted to do for years, basically since my last New Zealand trip. It's touted as one of the best trails in the whole world. If that isn't a must-do selling point, I don't know what is.
Read on for all the details like getting a permit to things to bring for backpacking the Milford Track.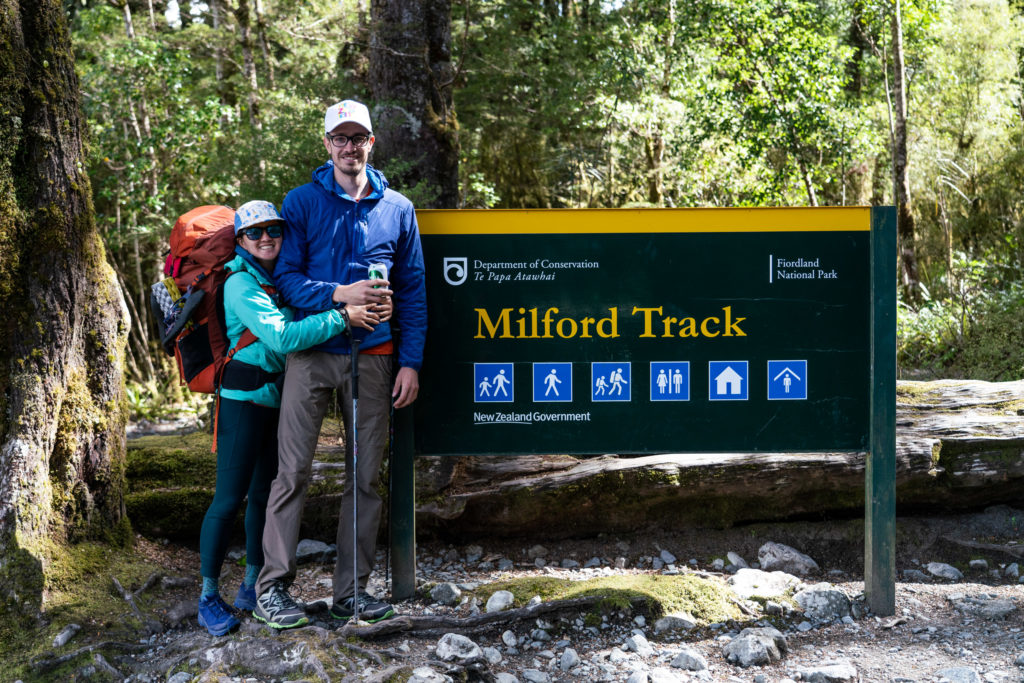 Getting permits for the Milford Track
First things first, you need a permit for the trail. You will not be allowed on it without this crucial slip of paper. I live in California where lightning fast abilities are necessary for having summer backpacking plans. This helped greatly.
Around April or May of 2018, I started checking the Department of Conservation website. But one day, the website gave me a date and a time that permits would go live.
As of publishing, the Department of Conservation site says bookings for the 2019/2020 Great Walks season will be opening mid-June.
I blocked off the time on my calendar. (Luckily, on the West Coast, New Zealand is 21 hours ahead so I didn't have to wake up at an unreasonable hour.) On the day of, I set an alarm for 10 minutes before the Go Live time. Then I waited. And waited. And waited some more. At 2:30PM PST, spots opened up on the Milford Track.
I selected the dates I wanted. They were put on hold while I filled in personal details. I forked over a bunch of money and the spots were ours.
In 2018/2019, the Department of Conservation tested out a new pricing model for several of the Great Walks. Hut prices for New Zealand residents are $70 NZD per night. Kiwi kids 17 and under are free. Hut prices for international visitors are $140 NZD.
Getting to the Milford Track
Now that you've got a permit in hand, you can figure out transportation to Glade Wharf, the beginning of the trail.
To get to Glade Wharf, we hopped on a boat at Te Anau Downs. Only hikers with track bookings will be able to book a boat to Glade Wharf. Once a booking is in your Department of Conservation account, you'll see a link to reserve boat transport.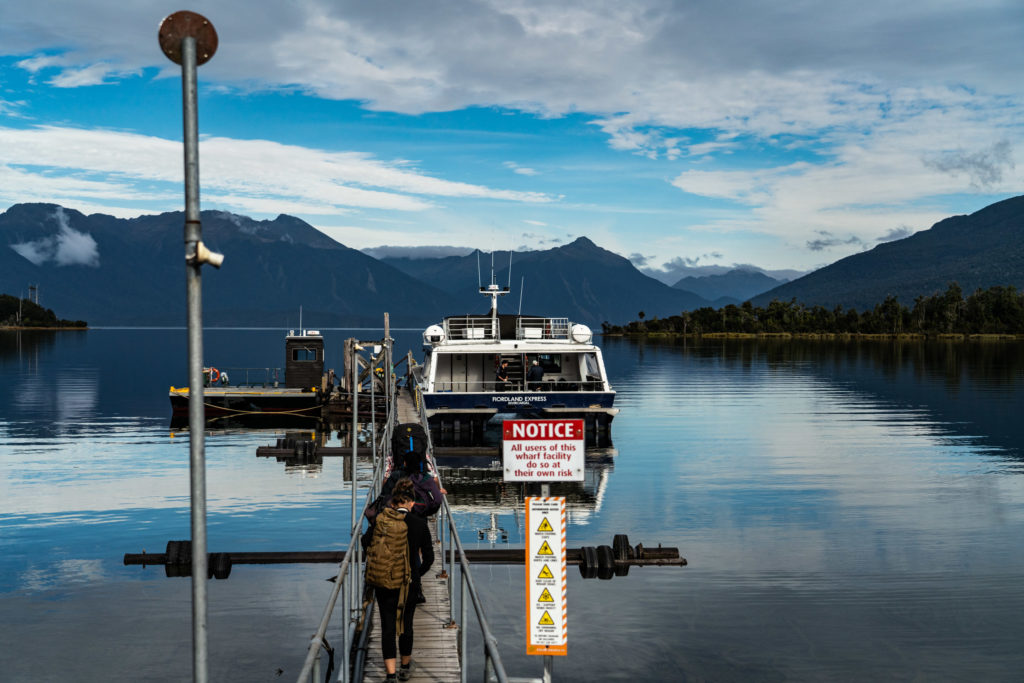 To get to Te Anau Downs, we took a Tracknet bus. Departing Queenstown at 6:55am, we arrived in Te Anau around 9:30am, with a brief stop in Mossburn for coffee and a bathroom break.
In Te Anau, we had a fifteen minute break to swap buses and pick up our permits for the Great Walk at the Fiordland Visitor Centre. The bus stops right in front of the Visitor Centre. We hopped back on the bus at 9:45am to go to Te Anau Downs.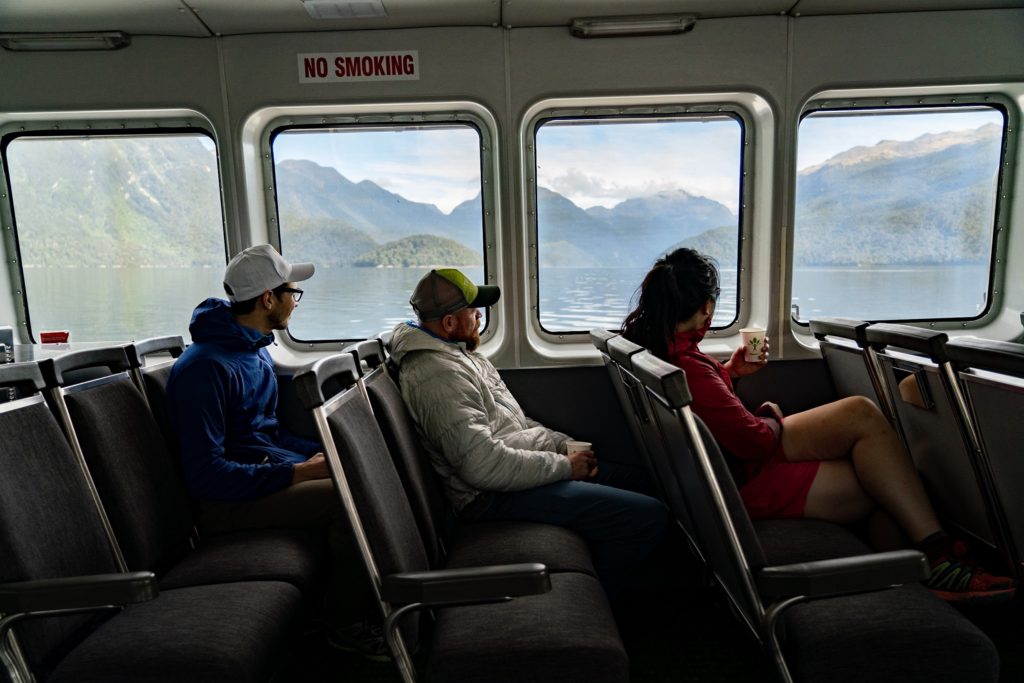 If you're planning on driving yourself, there's plenty of parking.
Note: you do not need to catch the earliest bus out of Queenstown to get to Glade Wharf. This hour and 20 minute boat ride operates several times throughout the day. The first day of hiking is very mellow and short, so you do not need to rush to get there.
Hiking the Milford Track
The Milford Track is highly regulated. Hikers follow a strict schedule while on the track. You cannot hike faster and skip a hut, and you cannot spend more time in a hut.
Day one on the Milford Track – Te Anau Downs to Clinton Hut
On your first day on the Milford Track, you'll cruise across Lake Te Anau to get to Glade Wharf. Glade Wharf is where your hike begins!
Day one is extremely mellow. This section of the track is 5 kilometers or 3.1 miles. It follows the Clinton River and is mostly flat. You'll spend the night at the Clinton Hut.
Day two on the Milford Track – Clinton Hut to Mintaro Hut
For your second day on the Milford Track, you hike up to Mintaro Hut. Supposedly there are beautiful views on this day. I personally don't know since it was a very wet and rainy day.
There are plenty of waterfalls on this section of trail. Don't forget to stop and enjoy them.
Day three – Mintaro Hut to Mackinnon Pass to Dumplung Hut
The third day on the Milford Track is the most beautiful. Cross your fingers and hope for good weather. It'd be a shame to not see what's around you. On this day, you hike up to Mackinnon Pass and down into the Arthur Valley.
Don't forget the detour to Sutherland Falls. TLC says don't go chasing waterfalls, but this is one you shouldn't miss. You'll spend the night at Dumpling Hut.
Day four on the Milford Track – Dumpling Hut to Milford Sound
The Dumpling Hut is your last night on the trail. Hopefully. Your fourth day might be the worst day. It's filled with creek crossings. Your feet will be very wet. But at least you'll be hiking to Milford Sound!
Day four is your longest day on the trail, but it's also the flattest day. We got another round of rain, but supposedly it's beautiful when it's clear. Don't forget to check out the big, marked waterfalls on the track. When will you ever get to do this again?
You'll finish and bid adieu to the Milford Track at Sandfly Point.
Getting from the Milford Track
You'll book your return "cruise" at the same time you book your entry cruise. The earliest boat leaves Sandfly Point at 2pm. That said, boats drop off and collect day hikers throughout the day. If there's room on a boat, they will take you.
If you hiked faster than you expected, and your boat isn't for hours? That's okay. You can get on an earlier boat.
Staying in Milford Sound? Make sure you book early for the Milford Sound Lodge. It's the only accommodation available in Milford Sound!
While in Milford Sound, head out on the water with Rosco's Milford Kayaks for an adventure you won't forget. Tired of powering yourself everywhere? Kick back and relax with a Milford Sound cruise.
If you're heading back to Te Anau Downs, Te Anau or Queenstown, the earliest bus you can catch back is at 2:30PM. Book with Tracknet because they monitor track conditions in case you are delayed. They transfer your booking to the next day you are able to exit.
If your plans are messed up due to weather delays, there is no cell service in Milford Sound. You can stop by any of the tour operator booths and they'll dial out for you. We were able to easily rearrange our bus plans because we missed starting the Kepler Track.
Make sure you have plans that are flexible after the Milford Track. Weather can be unpredictable and fickle. Don't schedule anything that you might miss if inclement weather holds you back a day or two.
Must Haves for the Milford Track
Gear for the Milford Track
Aside from everything listed above, here's what I brought for backpacking the Milford Track.
Clothes: Arc'teryx Oriel leggings, Aret Basewear Toura bra, Woolx shirts, Woolx Callie Hoodie, Arc'teryx Proton FL jacket, Arc'teryx Atom LT jacket, Arc'teryx Aerios trail running shoes
Gear: Arc'teryx Kea 45 pack, Western Mountaineering Summerlite Short sleeping bag, Feathered Friends Geoduck pillow, Otterbox Power Pack 20,000 mAh, Snow Peak Titanium Spork, Otterbox 20 oz. tumbler, Black Diamond headlamp, Black Diamond trekking poles
Food: Wild Zora meat & veggie bars, ClifBar ShotBloks, Good2Go Herbed Mushroom Risotto, Trailtopia Chicken Cashew Curry (This was very terrible and bland. Do not buy it.), Backpackers Bistro Wild Rice & Mushroom Pilaf, Backpackers Pantry Chicken and Dumplings, Ti Ora tea
Looking for similar hikes to the Milford Track? Try the Routeburn Track. (I actually loved it more.) The Laugavegur in Iceland is equally stunning.
Last updated on May 14, 2019.